The Muck: Daniel Negreanu on Players Who Duck Tough Opposition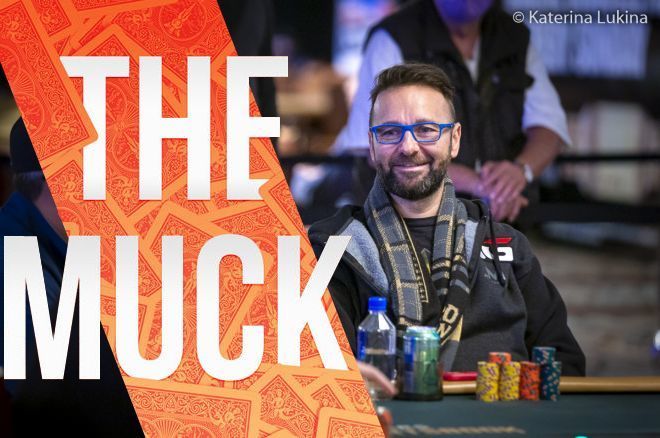 Table Of Contents
Daniel Negreanu has some advice for players that want to improve their poker game: face tough lineups. In this edition of The Muck, we look at the most interesting Twitter responses to the Poker Hall of Famer's debatable claim.
In recent years, Negreanu has been critical of Phil Hellmuth's game. He often says the "Poker Brat" couldn't win over time in the highest-stakes tournaments. PokerNews reached out to the six-time World Series of Poker (WSOP) bracelet winner to find out if he was specifically taking a stab at Hellmuth in the above tweet.
"It was not a dig at Hellmuth but I can see how some would perceive it as such," Negreanu said. "It was directly related to my sessions on High Stakes Poker this week playing with some players of yesteryear."
Not Everyone Agrees
With the Hellmuth issue out of the way, we move on to the responses from poker Twitter. As per usual, there was a mixed bag of responses to Negreanu's tweet.
@pow_dee @RealKidPoker I doubt very much he has ZERO worries about money. He only profited $400k at the series this… https://t.co/bD9SSYWSPr

— Ry (@getthevaccinery)
@cardplayerlife I don't have a percentage in mind but it's clear to me that playing in easy games allows you to win… https://t.co/1N0PNJbC2g

— Daniel Negreanu (@RealKidPoker)
Phil Galfond chimed in to agree with "DNegs." The pot-limit Omaha G.O.A.T. wrote: "Most people are too short-sighted when it comes to their career." He then joked that "They should all play HU challenges vs me." Playing Galfond heads-up, of course, is a losing proposition as we saw in his four consecutive Galfond Challenge victories.
"I don't know, Daniel. I remember Barry Greenstein saying he'd rather play with bad rich players than good poor players. And @badams78 said on his podcast recently that the edge for good players is disappearing rapidly due to solvers. We need to promote mixed games to new players," @getthevaccinery tweeted.
"that's the same mentality as chess improvement - playing against higher rated (but not too much higher rated) is the best way to improve and playing someone much lower rated may be fun to beat them up (or make money) but you won't improve always aiming low," @caerbannogkitty argues.
What's the Purpose of Poker?
Many of Negreanu's followers argued that the point of playing poker is to make money, not to prove you can compete with Stephen Chidwick. So, what's the point of constantly facing tough competition instead of fishy lineups?
Negreanu suggests that playing against the best in the world will help a player improve. Whereas, if they're only facing weak opponents, they'll never get better at poker. Not everyone agrees with that take, however.
"If you aren't improving in soft games, that's on you," @troy_mcartor wrote.
"But the good thing about poker is that you're usually sitting with at least other 5 people at a table, especially online and if one or two of them are bad it doesn't hurt. You can still learn from those though ones around you if you're able to recognise them," @moondance0907 tweeted.
"Do you care about profitability, or poker acumen more? If you can find soft games that grow your bankroll consistently enough for satisfaction, why stop? If you strive for more, aim higher. Everyone's goals are different," @WillBloodworth argues.
Mike Matusow, who disclosed on his podcast Monday that he's contemplating purchasing Johnny Chan's 88 Social poker club in Texas, doesn't agree with his pal Negreanu.
Dnegs everyone dont play with top 10 players in world everyday! Poker is about making money and there's a million g… https://t.co/sUTNAs2LPB

— Mike Matusow (@themouthmatusow)
Matusow, and others make a valid point. At the end of the day, most people play poker to make money. The wealthiest pros, such as Negreanu, are just as concerned with proving they can play with and beat the best of the best. But the average grinders who are trying to make a living playing poker can't afford to consistently compete in the high rollers.
What do you think?