The Muck: Poker Twitter Debates Potential Angle-Shooting in WSOP Main Event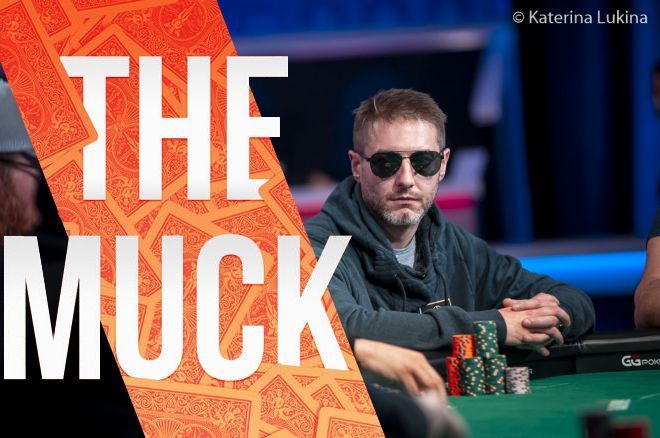 Table Of Contents
In this edition of The Muck, the poker community debates if Chance Kornuth angle-shot in a hand during the 2021 World Series of Poker (WSOP) Main Event.
Kornuth reached Day 6 of poker's world championship event with a big stack and is in contention for the $8 million prize. He's among the favorites going forward given that he's one of the best players in the field.
Was a Penalty Warranted?
Chris Brewer, an up-and-coming high roller, felt Kornuth's actions in a Day 5 hand deserved a penalty. Here's the video he posted on Twitter. We'll let you be the judge.
@RyanLeng9 This is pretty absurd and clearly trying to trick person to act on their hand https://t.co/vWQPRQCaeU

— Chris Brewer (@Chris_D_Brewer)
Brewer wrote: "There should be penalties for intentionally moving your chips in a way such that you are making opponent think you are calling/raising for reads."
In the video, Kornuth is holding
on a
board, and is facing a 710,000 bet from Kyle Arora with 1,915,000 in the pot. Arora only had 735,000 behind, so the Chip Leader Coaching founder had to be sure making the call was the right play.
Kornuth paused for 25 seconds before grabbing a stack of chips, moving them away from his stack sideways as if he was about to put them into the pot. Instead, he again paused, stopped his motion, and then went back into the tank.
Was it an Angle-Shoot?
By rule, unless a player announces call or raise, or moves their chips forward, the action doesn't constitute a call/raise. But Brewer, and others, argue that Kornuth's play deserved a penalty.
Jans Arends jokes that Kornuth staring down a "recreational player" for two minutes was the biggest fault.
@Graftekkel @Chris_D_Brewer He fake moved his chips around/his hands around, to induce a reaction, a physical tell.… https://t.co/RFnuEZmic9

— ChippinUpBig (@ChippinUpBig)
"Disappointed by responses on here. I agree this should not be allowed. Under current rules it is so obviously nothing should be done here… just think this *should* be made against the rules," Dan Zack, who is in contention for WSOP Player of the Year, tweeted.
Most responses, however, had different viewpoints on this issue. Paul Smith (@pauls551) tweeted: "Disagree. Please don't sterilize live poker more than it already is."
"I mean if anything chance moved the chips backwards or to the side but not forward. I kinda get what you're saying I never do anything like this but I also don't mind it that much," @BadKid420 tweeted.
"Not great but ok. Live poker is live poker and focusing on that type of shenanigans can actually result in you making terrible plays. If I'm his opponent I'm just betting than staring at the felt until a decision has been made," @KingPouLou argues.
Ryan Leng, who is also in contention for Player of the Year, also added his two cents:
@Chris_D_Brewer @jsmith84poker For me, the line is drawn at an intentional attempt to trick that an action has been… https://t.co/DQOff8cXOK

— Ryan Leng (@RyanLeng9)
Brewer made it clear that he wasn't accusing Kornuth of being scummy, he just felt that in this case his actions warranted a penalty. Kornuth is one of the most respected players in the game. He won his third bracelet earlier in the series in Event #29: $10,000 Short Deck and has over $8.7 million in live tournament cashes.
At the time of publishing, the Chip Leader Coaching poker coach had a top 10 stack in the WSOP Main Event on Day 6. Should he go on to win, his live tournament cashes will surpass $16 million.