Who is GGPoker Ambassador and YouTube Vlogger 'Greg Goes All In?'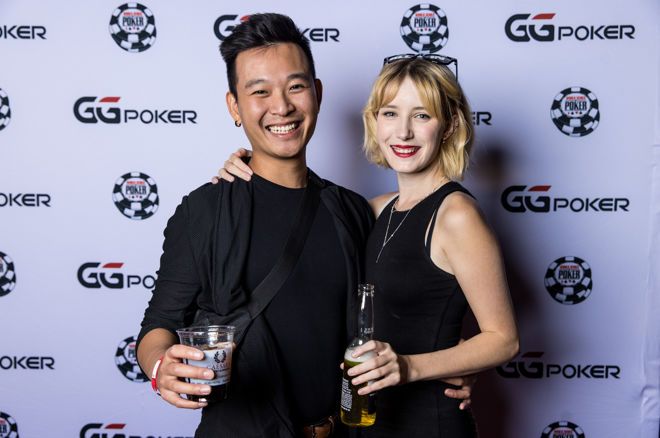 "Greg Goes All In," as you probably know, makes funny short YouTube videos parodying poker players. PokerNews caught up with the sponsored GGPoker Ambassador to find out more about who he is beyond the felt, and if those parodies are actually his own poker habits in hiding.
Greg isn't alone in his poker vlogging ventures. The Toronto, Canada resident has a supportive girlfriend, Courtney Binnie (both pictured above), who not only assists in the production of the videos, but plays a key role on-camera.
"It is a collaboration," Courtney told PokerNews.
"She's a liar, she's the boss," Greg jokingly interrupted.
"The scripts, he comes up with everything," Courtney responded. "I am just in awe of his creativity. I studied in theater, behind the scenes kind of stuff, so that's where I come in and help."
New to the Game
Like many others, Greg took up poker during the pandemic. He sought a career change and began the YouTube vlogging gig in December 2020.
"Before this, I was an actor, I graduated from theater school in 2019," the vlogger said. "I did little bit of Netflix, did a little bit of commercials, a lot of regional theater. So, I never thought I'd end up here."
When asked how long he'll continue vlogging, he joked, "it's at least three years because that's how long my (GGPoker) contract is."
In all seriousness, he takes his sponsorship deal with GGPoker quite seriously, and he's committed to growing the YouTube channel. As of now, he has just over 21,000 subscribers, a number he'd like to see increase significantly over time. As for his poker playing goals, well, they aren't quite so lofty.
"I just want to be a break-even player," he joked. "I am trying. I think the Greg Goes All In persona is very much a donkey, and that's not too far off from where I am."
Greg plays low-stakes games, mostly $1/$3 and $1/$2. Due to his vlog becoming a serious gig, he's working on improving his game so that he can morph into more than just a break-even player. But he isn't very experienced at poker and began playing less than two years ago.
The vlogger admits his goofy on-camera persona isn't far off from the real Greg. He says there are some parallels between the two, but he isn't a complete donkey. Greg is quick to give credit to his girlfriend for helping him with the vlogs, and also praising her poker game.
"Courtney is on the Hendon Mob," he proudly proclaims. "She binked her Flip & Go. Out of 250 people that made it into the cash, she placed 50th. She was the number one Canadian. The number two Canadian was an Egyptian. The number three Canadian was Daniel freaking Negreanu."
Binnie finished in 50th place for $3,755 in Event #20: $1,000 FLIP & GO No-Limit Hold'em. Negreanu, who has $43,985,218 more in live tournament earnings than Binnie, busted in 124th place for $2,155.
For more on what Greg and Courtney do, check out one of their latest videos. You can also follow him on Twitter at @GREGGOESALLIN.