GGPoker Successfully Brings Online Flip & Go Concept to Live 2021 WSOP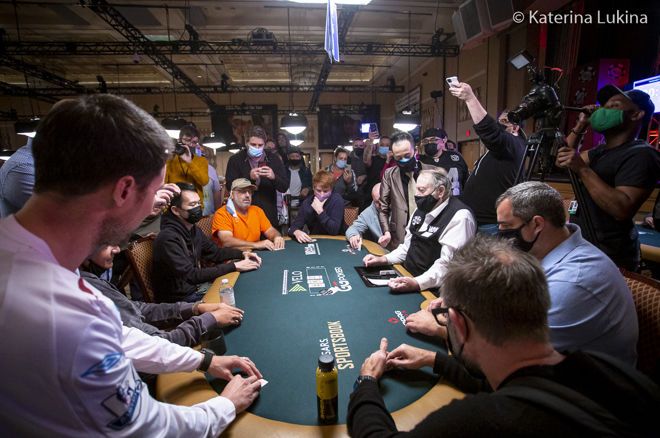 Table Of Contents
The first portion of Event #20: $1,000 Flip & Go No-Limit Hold'em at the 2021 World Series of Poker (WSOP), a GGPoker special, was wildly entertaining, and for some players such as David Williams and Daniel Negreanu, perhaps a bit frustrating. But that's exactly what made this unique bracelet event so intriguing.
For those who aren't familiar with the Flip & Go game on the GGPoker poker site, the concept is unique and action-packed. In the case of Sunday's WSOP event, each player paid $1,000 to enter.
Participants were initially seated at an eight-player table but didn't receive any poker chips. Instead, they were dealt three cards face-down. The dealer then turned over the flop. Moving clockwise, players looked at their hands and then mucked one card. They each turned over their hands and the dealer flipped over the turn and river. After all five community cards were dealt, the player with the best poker hand at the table moved on and everyone else was eliminated.
You might think it's all a bunch of luck, and you're mostly correct. But two-time WSOP bracelet winner Chance Kornuth told PokerNews there's a minimal amount of skill involved in determining which card to fold.
Follow our Flip & Go updates here!
Flip & Go Structure
Play began at 10 a.m. PT inside the Brasilia room at the Rio for the first of two opening sessions. Each player who won the initial hand automatically advanced into the money. Those who lost the first hand could rebuy and give it another try up until 3 p.m., or they could enter the 4 p.m. session.
Negreanu, a GGPoker ambassador, advanced but it took him nine tries. Williams, the 2004 WSOP Main Event runner-up, bought in 19 times ($19,000) and finally won a hand. He clenched his fist and frustratingly shouted, "it's about f*****g time" upon hitting a river six for trips to take down the hand.
Other big name pros who survived and advanced, most after multiple tries, included Shaun Deeb, Josh Arieh, Jeff Gross, and Paul Volpe. A min cash is only worth $2,000, so some players will have to advance deep just to break even. First place pays out $180,665, plus a gold bracelet.
In total, the tournament attracted 1,232 buy ins, and 155 players reached the money. Those individuals came back at 7 p.m. to compete in the actual poker tournament portion of the event. Play should move along quickly as the competitors began with 160,000 chips and they'll start at 1,000/2,000 blinds with a 2,000 big blind ante. You can follow the action via PokerNews live reporting.
Lively Atmosphere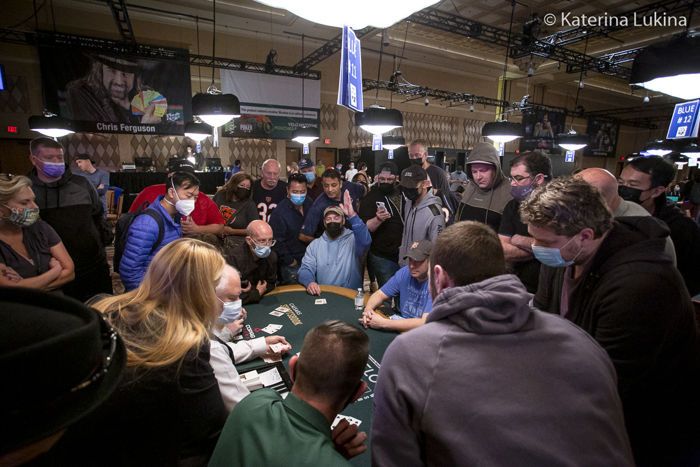 When each opening session started, the players took their seats but only one dealer dealt a hand at a time. This allowed players, media, and spectators to hover over the tables to watch and cheer as the cards came out. PokerNews' Chad Holloway captured the action during a 10 a.m. hand in which Courtney Binnie, the girlfriend of popular poker vlogger "Greg Goes All In," a GGPoker ambassador who was nearby to celebrate, won.
Up early to sweat the @WSOP @GGPoker Flip & Go Event. Lots of excitement. Some bad beats taking place. 8 players st… https://t.co/F5nExfWMAF

— Chad Holloway (@ChadAHolloway)
In most cases, it took two pair or better to win the flip hand. But there were a few hands in which a marginal hand somehow held up against seven other players. During the 4 p.m. session, one player flopped a pair of sevens with an ace kicker and somehow was able to hold on, dodging just about every out in the deck on the turn and river, to win and advance.
Winning players cheered and high-fived, and some acted rather shocked they actually won the hand. A number of recreational and lower stakes players won a flip hand, not just the big name pros like Negreanu. That includes Jim Reid, host of "Forums Edition" of the RecPoker Podcast, and he was rather stoked to reach the money.
Reid, from Ontario, Canada, is on his first trip to the World Series of Poker, and the Flip & Go event is his first-ever WSOP cash.
While the flip-and-go portion of the event is over, the rest will play out as a standard no-limit hold'em tournament.