Phil "Gandalf" Hellmuth Makes Grand Entrance in 2021 WSOP Main Event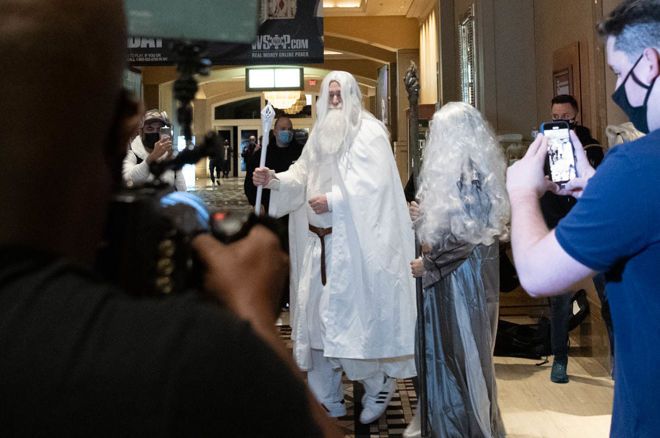 Table Of Contents
Phil Hellmuth arrived in style and fashionably late (as always) on Day 1f of the 2021 World Series of Poker (WSOP) Main Event. The "Poker Brat" came decked out in a Gandalf the White costume, flanked by 16 models, two elves, and Dan "Jungleman" Cates, who was also dressed in Lord of the Rings character.
More footage from @phil_hellmuth's entrance into the 2021 #WSOP Main Event! https://t.co/Now4s1QefE

— PokerNews (@PokerNews)
A crowd of fans and media members crowded the Pavilion room inside the Rio Convention Center in preparation for the poker legend's entrance. Upon arrival, numerous players snapped photos of the poker great.
Poker Celebrity in Action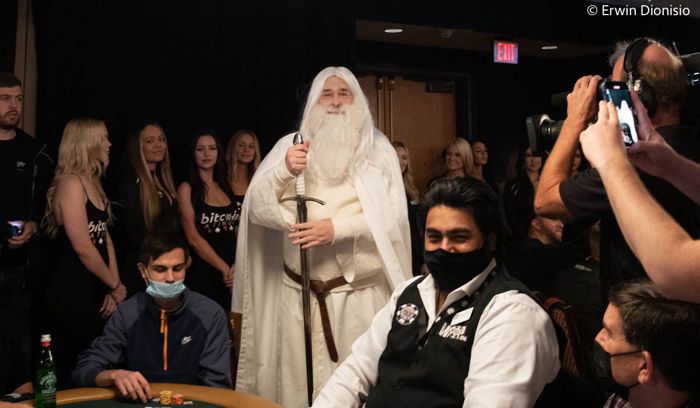 Hellmuth, seeking his 17th bracelet, dressed appropriately for the occasion — as a wizard. Shortly after his grand entrance, he took his seat and attempted to use the same sort of wizardry on his opponents that helped him win this very same tournament 32 years ago.
At the end of his first orbit around the table, the 16-time bracelet winner was at 59,000 at the dinner break, just a smidge below his starting stack. He didn't play any eventful hands early on, mostly folding or limp-folding preflop.
Hellmuth won his 16th bracelet last month, in Event #31: $1,500 No-Limit 2-7 Lowball Draw, extending his previous record. He has five final table appearances at the 2021 WSOP, and sits in seventh place in the Player of the Year race. A deep run in the Main Event could catapult the Poker Hall of Famer back to the top.
Hellmuth's Most Memorable Main Event Entrances
Phil Hellmuth has a lengthy history of unique and goofy entrances to poker's world championship event. Each year, he chooses a different theme, but one part of his routine remains constant — a late arrival. Let's take a look back at some of his best Main Event entrances prior to 2021.
In 2006, not in costume, he pulled up to the Rio in a black limo, headed straight to the feature table where he was to be seated, and then proceeded to shake hands with the other players at the table, perhaps buttering them up before he inevitably berates their poor play later on.
"Is Phil running for office?" ESPN announcer Norman Chad joked. "It's like he's looking for a reception line, so he just goes out and creates one."
The following year, then an 11-time bracelet winner, Hellmuth arrived dressed up as a NASCAR driver. But he should have just stayed in costume instead of trying to actually become one.
Perhaps, his most memorable appearance to date came in 2009 when the "Poker Brat" showed up in full Caesar costume, of which the ESPN commentator poked fun at.
"If Tom Brady came to the Super Bowl this way, the NFL would shut down, but we embrace this," Chad said on the TV broadcast.
In 2010, he arrived in an Ultimate Bet boxing robe, promoting the now-defunct poker site he once repped. Eight years later in 2018, Hellmuth went all in on his Thor costume with a dozen models dressed as Wonder Woman following him to his seat in the Amazon room.
Check out all of the WSOP Main Event updates