Everything You Need to Know About the 2021 WSOP Main Event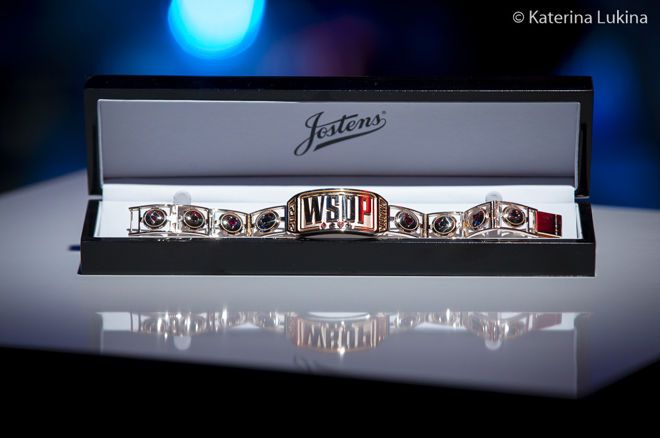 The pièce de résistance of the World Series of Poker calendar is finally here. The first starting flight of the 2021 WSOP Main Event gets underway on Thursday, November 4 at 11 a.m. PT and marks the kick off of two weeks of Main Event action.
It feels like a lifetime since we experienced the last full live instalment of the tournament, which always gets the entire poker world buzzing. The 2020 Main Event had to adapt to the pandemic and played out online in both the US Domestic Circuit as well as internationally. The final tables of both legs moved off of the online felt to the Rio All-Suite Hotel Casino in Las Vegas and King's Resort in Rozvadov respectively.
The winner of each leg then squared off against each other for an extra million dollars in prize money as well the gold bracelet. It was Damian Salas who etched his name in the history books, overcoming Joseph Hebert in the Heads-up Championship match for the title, gold bracelet and the additional seven-figure payday.
You could be forgiven if you've forgotten a thing a two regarding the Main Event, as it has been a while since it ran under the format that we're all accustomed to. PokerNews has collated all the information, so you don't have to, on all things related to the biggest tournament in town.
How to Verify Proof of COVID-19 Vaccination to Enter 2021 WSOP - CLEAR App Guide
2021 WSOP Main Event Schedule
With players from all over the world being able to fly to the United States due the US government easing travel restrictions from November 8, two additional starting flights have been added and the late registration period has been extended.
Day 1E and Day 1F, the two new flights, shuffle up and deal on November 8 and November 9, respectively. Also on November 9 is Day 2 for the players who navigated their way through Day 1A, 1B, and 1D.
November 10 sees the survivors from 1C, 1E, and 1F combined for their Day 2.
| Date | Time (PST) | Tournament |
| --- | --- | --- |
| Thu 4 Nov | 11:00 a.m. | 2021 WSOP Main Event Day 1A |
| Fri 5 Nov | 11:00 a.m. | 2021 WSOP Main Event Day 1B |
| Sat 6 Nov | 11:00 a.m. | 2021 WSOP Main Event Day 1C |
| Sun 7 Nov | 11:00 a.m. | 2021 WSOP Main Event Day 1D |
| Mon 8 Nov | 11:00 a.m. | 2021 WSOP Main Event Day 1E |
| Tue 9 Nov | 12:00 p.m. | 2021 WSOP Main Event Day 1F |
| Tue 9 Nov | 11:00 a.m. | 2021 WSOP Main Event Day 2A, 2B & 2D |
| Wed 10 Nov | 11:00 a.m. | 2021 WSOP Main Event Day 2C, 2E & 2F |
| Thu 11 Nov | 11:00 a.m. | 2021 WSOP Main Event Day 3 |
| Fri 12 Nov | 11:00 a.m. | 2021 WSOP Main Event Day 4 |
| Sat 13 Nov | 11:00 a.m. | 2021 WSOP Main Event Day 5 |
| Sun 14 Nov | 11:00 a.m. | 2021 WSOP Main Event Day 6 |
| Mon 15 Nov | 11:00 a.m. | 2021 WSOP Main Event Day 7 |
| Tues 16 Nov | 1:30 p.m. | 2021 WSOP Main Event Day 8 |
| Wed 17 Nov | 1:30 p.m. | 2021 WSOP Main Event Day 9 |
---
Read More: Looking Back At The Illustrious History of the Poker Players Championship
---
2021 WSOP Main Event Streaming
If you're wanting to watch the 2021 WSOP Main Event, you can watch it exclusively on PokerGO.
"PokerGO is proud to present the 2021 World Series of Poker live streaming schedule, featuring 36 days of live broadcasts including comprehensive coverage of the WSOP Main Event from start to finish," said Mori Eskandani, President of PokerGO.
They will be bringing thirteen consecutive days of live streaming as you can see from the following schedule:
If you're not currently subscribed to PokerGO, you can get a monthly subscription for $14.99, a three-month plan for $29.99, and an annual subscription for $99.99. You can also save $10 off an annual subscription by using promo code "PokerNews" at checkout.
2021 WSOP Main Event Structure
The structure for the Main Event in something gets universal praise, which is rare amongst the poker community. A deep starting stack (60,000/300BBs), as well as two-hour levels, gives players plenty of opportunity to put their chips to use.
Due to the extraordinary circumstances that coronavirus brought, last year's Main Event allowed players to re-enter if they were eliminated for the first time ever. For 2021 however, the event will revert back to its traditional self and will operate under freezeout rules. Be sure to check out these tips for freezeout tournaments before you begin your Main Event run.
On each Day 1 flight, as well as on Days 2-4, there will be 5 levels of play. On the fifth and sixth day of the Main Event, the schedule is not yet confirmed. However, the lucky few who make it that far will expect to play 5-6 levels.
Day 7 will see play conclude when just 9 players remain, Day 8 will then see the field reduce to the final four and finally, Day 9 will play out until the 2021 Main Event Champion is crowned.
Late registration will be open until the end of Level 7, so if you wish to, you can bypass Day 1 and start your WSOP Main Event adventure on either of the Day 2 flights. For those that wish to use this option and enter as late as possible, the blinds for Level 7 are 500/1,000/1,000 and for Level 8, they are 600/1,200/1,200. This will net players a starting stack within the 50-60 big blind region.
It is also worth noting that adjustments may be made to the number of levels played each day.
Live Satellites to the 2021 WSOP Main Event
Every year, the WSOP run satellites to the Main Event, among other tournaments.
Satellites for the 2021 WSOP run from November 3-8 at the Rio All-Suite Hotel & Casino in Las Vegas, NV.
| DATES | TIME | BUY-IN | SPEED | PRIZES |
| --- | --- | --- | --- | --- |
| Nov 3-8 | 08:00 | $140 | Turbo | Entry into 1pm $1,100 Mega |
| Nov 3-8 | 14:00 | $250 | Turbo | Entry into 8pm Mega |
| Nov 3-8 | 10:00 & 16:00 | $580 | Regular | Multiples of $10,000 Tournament Buy-in Chips |
| Nov 3-8 | 13:00 | $1,100 | Regular | Multiples of $10,000 Tournament Buy-in Chips |
| Nov 3-8 | 20:00 | $2,175 | Regular | Multiples of $10,000 Tournament Buy-in Chips |
Will There Be Any Controversy?
It wouldn't be the WSOP Main Event without some controversy, with 2019 throwing up some of the wildest stories of the year. In that year, two players were disqualified in a matter of hours, one for stealing another player's chips and another for throwing a show at a dealer.
Aside from the disqualifications, the Main Event saw Phil Ivey bust on Day 1c in less than an hour, and Phil Hellmuth also bust after registering on Day 2c.
As the tournament wound on, Dario Sammartino was on the receiving end of a controversial ruling late on Day 7 with 11 players left. Sammartino would recover to finish second for $6,000,000.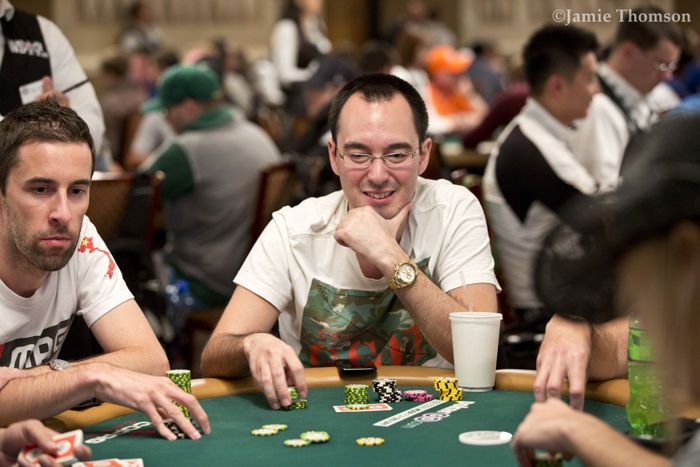 Previous years have also not been devoid of controversy. In 2018, Hellmuth offered to buy Massachusetts firefighter and father of two James Campbell into the following year's Main Event after a typical Hellmuthian outburst. In 2016, loudmouth Will Kassouf (pictured) took center stage, receiving a penalty early on in the tournament, tustling with Griffin Benger deep in the Main and spawning one of the most iconic poker catchphrases of the past decade - "Nine-high like a boss!"
---
Read More: Phil Hellmuth Blows Up AGAIN; Rails Against WSOP POY Rules
---
What Former Main Event Champions Are In Vegas?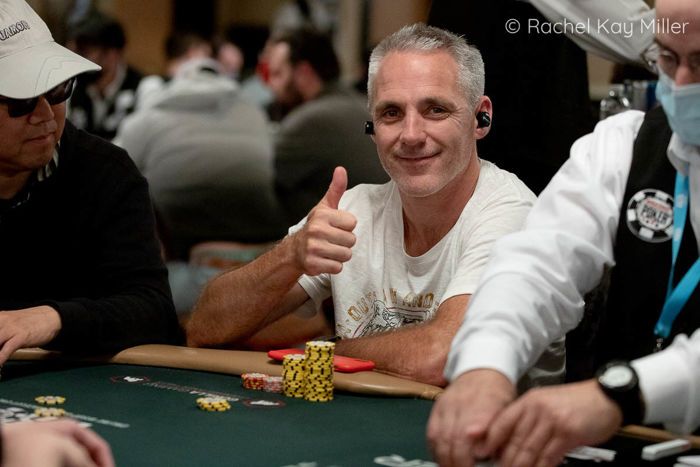 As always, the spotlight will be on former WSOP Main Event champions as they return to the Main Event field. The defending champion of the WSOP Main Event is Damian Salas (pictured), who has already notched up one cash at this year's festival and is expected to attempt to defend his title.
Other recent champions active in Vegas so far this fall include Hossein Ensan, Qui Nguyen, Joe McKeehen, Martin Jacobson and Ryan Riess.
Former champions Phil Hellmuth, Joe Hachem, Greg Raymer and Robert Varkonyi have all been spotted at the Rio All-Suite Hotel & Casino, and would be expected to play. However, it's not expected that Doyle Brunson will be entering the Main Event, despite his return to the WSOP earlier this week.
Other champions confirmed not playing include Jamie Gold, Chris Moneymaker and Greg Merson.
---
WSOP 2021: Former Champ Chris Moneymaker Set to Miss This Year's WSOP
---
When is the Money Bubble Expected and What Will the Main Event Prize Pool Be?
According to WSOP.com, the money bubble is expected to burst early on Day 4, popping in Level 17.
Having a play around with the WSOP payout calculator, if there were to be 7,500 entries into the Main Event, an estimated prizepool of $69,937,500 would be generated. This would see $8 million awarded to the winner, $15,000 for the min-cash and 1,125 places paid.
There has been a lot of debate regarding how many entries the Main will get, even us here at PokerNews can't seem to find a consensus which you can see in our WSOP predictions.
With the anticipation from the two year wait for the Main Event as we know it and the two additional starting flights, we could potentially be looking at the biggest WSOP Main Event ever. This year could see 2006's record eclipsed, which saw 8,773 total entries as well as a $82,512,162 prize pool.
Calum has been a part of the PokerNews team since September 2021 after working in the UK energy sector. He played his first hand of poker in 2017 and immediately fell in love with the game. Calum's proudest poker achievement is winning the only tournament he has ever played in Las Vegas, the prestigious $60 Flamingo evening event.
Will Shillibier is based in the United Kingdom. He started working for PokerNews as a freelance live reporter in 2015 and joined the full-time staff in 2019. He graduated from the University of Kent in 2017 with a B.A. in German. He also holds an NCTJ Diploma in Sports Journalism.