Chris Moneymaker Makes Late Decision to Play WSOP Main Event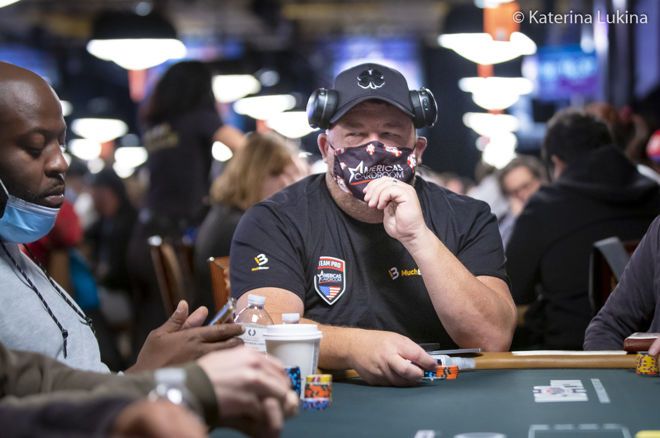 At long last, one of poker's most storied players has arrived at the 2021 World Series of Poker (WSOP) on Tuesday — Chris Moneymaker. The 2003 world champ entered Day 1f of the Main Event and it was a bit of a surprise to many that he even showed up.
Three months ago, Moneymaker announced on Twitter that he would skip the series altogether due to COVID-19 concerns. He worried that he could potentially bring the virus back to his family in Mississippi even though he's vaccinated. The former Main Event winner told PokerNews at the time that he expected that he'd be exposed to the virus in the crowded Rio, which forced him to make a tough decision.
Moneymaker Back in Action
Over the past few weeks, Moneymaker began to tease the idea of competing in the Main Event due to the vaccination requirement at the WSOP. But he hadn't announced his official decision to play publicly until Monday.
Moneymaker arrived about 30 minutes prior to the first break of the day, just after 2 p.m. PT. His session began mostly uneventful and PokerNews chronicled a full early orbit of nine hands on the live reporting blog.
Moneymaker cashed in the Main Event in 2019, a 687th place finish for $20,200, his first cash in the world championship event since he won the whole thing 18 years ago.
At the time of publishing, on the second break at 5 p.m. PT, Moneymaker was sitting on 50,000 chips, a bit down from his 60,000-chip starting stack. There are three levels of play remaining before the final Day 1 starting flight concludes.
Moneymaker Reps WSOP's Main Sponsor, Shares Poker Tips
Moneymaker is now a sponsor for Velo, the World Series of Poker's main sponsor in 2021. As part of his new sponsorship deal, the Poker Hall of Famer shared some tips and tricks for applying poker skills to real-life situations in a light-hearted Velo video.
Whether you're on a bad date, at the in-laws for the holidays, or at an office Christmas party, Moneymaker has some solid advice on how to avoid sticky situations, which you can learn about it in the above video.
Check out all of the WSOP Main Event updates