GGPoker Signs Greg Goes All In as a Content Creator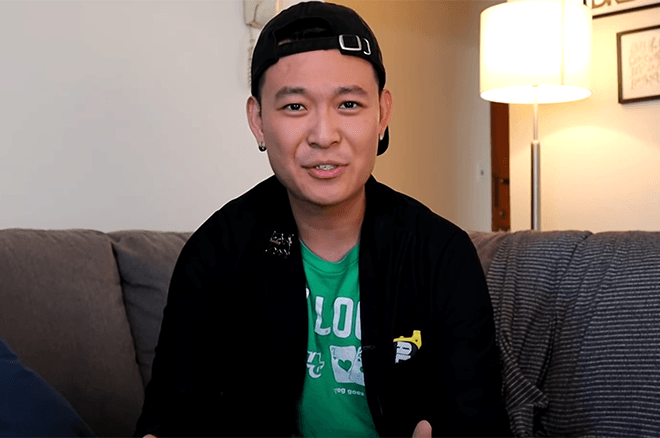 There was a time when becoming a sponsored poker player or an ambassador of an online poker site required you to be an elite player. That or at least have one marquee tournament victory on your resume. Those times are long gone, as evidenced by GGPoker signing popular poker content creator "Greg Goes All In."
Greg Goes All In loves playing poker, even if he admits to not being anywhere near the best player in the world. Creating amazing, fun poker-related content is one of Greg's major strengths, and it is his content production skills that have secured him a place on the GGPoker Team.
Greg is now a fully-fledged member of the Content Creators Team, part of the GGTeam stable. His tongue-in-cheek, self-deprecating videos are a massive hit with his 16,500 YouTube followers. He even poked fun at himself when announcing his new content creation deal with GGPoker!
The self-proclaimed "memelord" has created dozens of viral poker videos over the past 12-months and even managed to bag himself an exclusive interview with 15-times WSOP champion Phil Hellmuth earlier this year.
Flip & Go Tournaments Are Perfect For Greg Goes All In
If one GGPoker game is perfect for Greg Goes All In, it is the Flip & Go tournaments, which GGPoker recently revived with a swath of improvements.
GGPoker made Flip & Go's more exciting than ever before by making them multi-flighted, meaning players can play up to eight Flip Stages and take all their chips through with them to the Go Stage where everyone is in the money.
Flip & Gos have two distinct stages: Flip and Go. There are eight Flip Stages every hour, with buy-ins of $0.05, $0.50, $3, and $20, meaning there is a Flip & Go for everyone, regardless of their bankroll's size.
| Buy-in | Guarantee |
| --- | --- |
| $20 | $5,000-$6,000 |
| $3 | $1,500-$3,000 |
| $0.50 | $500-$1,000 |
| $0.05 | $100-$200 |
DON'T MISS: Unlimited Attempts at WSOP Main Event Seats for $49.99 at ClubGG
You can increase your starting stack by buying into the Flip Stage up to five times. A flipout takes pace, with everyone receiving three hole cards and having to discard one. Making strong hands at this stage grants you bonus chips, straights, flushes, three-of-a-kind, and straight flushes are what you are aiming for here, particularly the latter, which boosts your chips by 4x your starting stack!
| Hands | Cards (e.g.) | Bonus |
| --- | --- | --- |
| Straight Flush | J♦Q♦K♦ | 4x Starting Stack |
| Three of a Kind | 8♣8♦8♠ | 3x Starting Stack |
| Flush | K♠5♠4♠ | 2x Starting Stack |
| Straight | 8♣9♦10♠ | 2x Starting Stack |
Everyone at your table is set all in until only one player has all of the table's chips.
It is time for the Go Stage, which plays out like a regular multi-table tournament, except every player is already in the money. There is the potential for huge differences between players' chip stacks, which adds a unique twist to your traditional tournament experience.
The fact they have plenty of gamble during the Flip Stage, conclude pretty quickly once in the Go Stage, and you can play a lot of them means PokerNews expects to see Greg Goes All In not only playing Flip & Go tournaments but creating some awesome content about them. Why not try busting him from one? You will probably end up on one of Greg's viral videos or memes.
How to Join our FREE Club PokerNews at ClubGG
Join Greg at the Flip & Go Tables With a $600 Welcome Bonus
You are going to need a GGPoker account if you want to play with Greg whatever he plans on grinding. Download GGPoker via PokerNews, create your free account, then make a deposit into your account. Your initial deposit is matched 100% up to a maximum of $600. This bonus money then releases into your account in $10 increments each time you generate 6,000 Fish Buffet Points, or the equivalent of $60 in rake or tournament fees.
New players can get their GGPoker careers off to a flying start by coupling the welcome bonus with the site's Honeymoon promotion. The Honeymoon promotion runs for the first 30-days after creating your GGPoker account and sees you complete missions for tournament tickets and cold, hard cash.