The Muck: Did "Poker Brat" Phil Hellmuth Angle-Shoot vs. Slime on Hustler Casino Live?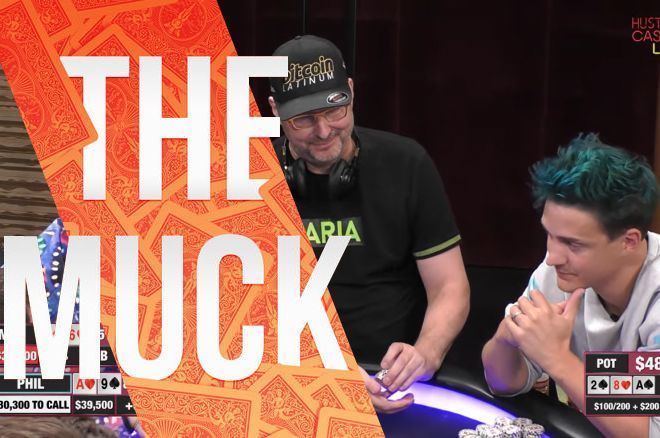 Table Of Contents
Poker fans accused Phil Hellmuth of pulling an angle-shoot in an all-in pot against Twitch streamer Slime, an amateur poker player, during Sunday's special Hustler Casino Live stream, and it's the topic of our latest edition of The Muck.
Those at the table casually joked about Hellmuth "cheating," and no one in the game seemed to think his play was suspect. But the viewers in the chat on YouTube and Twitter saw something different.
The historic stream had over 28,000 users during its peak, making it perhaps the most watched free livestream in poker history.
What Happened?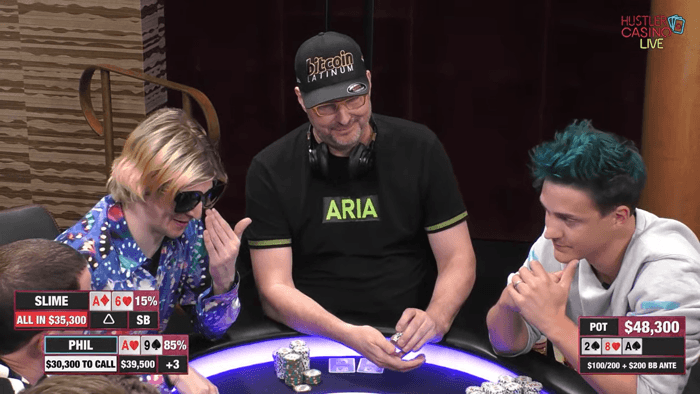 The $100/$200 no-limit hold'em cash game brought about some wild action at a table of mostly amateurs mixed in with Hellmuth and Tom Dwan. Early on, there were multiple all in preflop bets. In fact, Alan Keating was down three buy ins within the first hour.
The "Poker Brat" was finally engaged in a potentially massive pot about two hours into the stream, and his action in the hand was criticized by many on social media.
Hellmuth raised to $700 with
preflop and was called by three players, although the only hand that matters for the purpose of this article was Slime's call with
. The flop came out
, giving both players top pair. This is where the hand took a turn for the weird.
MrBeast, one of the most popular YouTubers ever with over 94 million subscribers, led out with a $5,000 pot with nothing —
. Hellmuth called and then Slime moved all-in for around $35,000.
Best Free to Play Slots
After MrBeast mucked his cards, the 16-time WSOP bracelet winner had a tough decision with top pair and a marginal kicker. He could have conceivably been up against a number of hands that were superior (sets, top pair better kicker, etc.).
"F**k, I just have no idea what to do here," Hellmuth said as he pondered his move.
Hellmuth then appeared to fold his cards, although it certainly wasn't clear based on the camera angle that was visible. David Tuchman, Hustler's commentator, even announced that he folded. Slime then exposed his cards and the "Poker Brat" claimed he was still in though and hadn't folded.
The 1989 world champion then offered to allow Slime to pay just $5,000 and take his bet back for the misunderstanding. Hellmuth was awarded the pot. The dealer then ran out the turn and river, and a
appeared, which would have given Slime the pot. We'll let you be the judge on if Hellmuth pulled an angle-shoot from the clip below posted by the Cracking Aces Podcast.
What's weird is Phil isn't so dumb to purposely angle on a stream. No way he would...right? But his table talk afte… https://t.co/H0Z3UQWYlz

— Cracking Aces (@CrackingAAces)
Poker Twitter Erupts
It's been a rough couple of weeks for Hellmuth, or at least his reputation. During his first round match in the PokerGO Heads-Up Poker Showdown, he was criticized for using vulgar language repeatedly against opponent Eric Persson, who flipped him the bird in response.
On Sunday, the Twitter critics were back to bash Hellmuth, and that includes high stakes poker legend Scott Seiver. But not everyone hopped on the "Hellmuth's an angle-shooter" bandwagon.
on closer look I take back my priot tweet. @phil_hellmuth you have to give him the whole pot and apologize what is… https://t.co/cDTC26yeRk

— Scott Seiver (@scott_seiver)
"I thought the same, but if you watch back closely, Dwan asks to see his hand and he throws to show him. Hellmuth would never fold so quickly when he could have TV time here, or try and get a read etc. I think should rec shouldn't have lost anything though, how should he know?" Patrick Leonard wrote in response to Seiver's tweet.
@DanSmithHolla @realcharder30 @padspoker @scott_seiver @phil_hellmuth Can someone let me know what I am missing her… https://t.co/lEMBeuPTCm

— Haralabos Voulgaris (@haralabob)
"Bad look for Phil I thought I heard fold a9 as well," Shaun Deeb tweeted.
Daniel Negreanu may have added some fuel to his feud with Hellmuth. The GGPoker ambassador, who was recently blocked on Twitter by the "Poker Brat," seems to have sided with those who accused Hellmuth of angle-shooting. And he shared a lengthier video of the supposed angle-shoot.
"How???? How is this not a fold? He slides his cards face down forward clearly way past the line," @mnsports3 argued.
Now it's your turn to vote on what you thought of the Hellmuth incident. Vote in our poll below: