Poker Dealer Battling Cancer Wins Seat in WPT Choctaw Main Event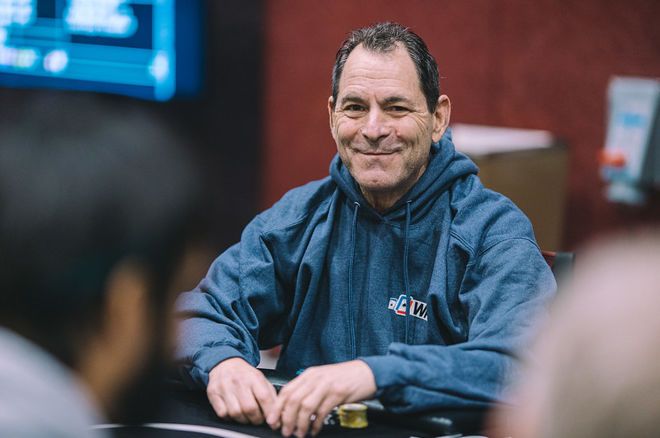 Table Of Contents
Randy Gordon, a beloved long-time poker dealer, worked Day 1a of the World Poker Tour Choctaw Main Event and then, after earning a seat into the tournament via a Twitter contest, stepped outside the box to compete for potentially life-changing money on Saturday.
Gordon, as he explained in an interview with PokerNews on the Day 1b dinner break, is currently battling bone marrow cancer and will be forced to quit working in October to begin treatment. Still, he has a positive outlook and was excited to compete in a major event.
Unfortunately, for the Las Vegas resident, he busted shortly after the dinner break in a hand against three-time WSOP bracelet winner Chance Kornuth.
"I played like s**t," a brutally honest and reflective Gordon said the following day.
In the hand, the board read
and Gordon, holding
, was facing a bet of 15,000 from the Chip Leader Coaching founder. With 26,000 total in his stack, the poker dealer opted to move all-in, a decision he admitted wasn't the correct play. Kornuth quickly called and turned over
for a winning full house, sending the freerolled player home.
On a positive note, Gordon referred to Kornuth as "the nicest person," so he couldn't feel too bad about who collected his chips. Even better, the player who busted him is giving Gordon a 1% freeroll on his payout in the WPT Choctaw Main Event. At the time of publishing, Kornuth was among the chip leaders.
Although the outcome wasn't favorable for Gordon, he returned to his job on Day 2 (Sunday) and is back in the action on the other side of the table, pitching cards to the player who busted him and the others chasing World Poker Tour glory of which he'd love to achieve one day.
Long-Time Dealer and Poker Enthusiast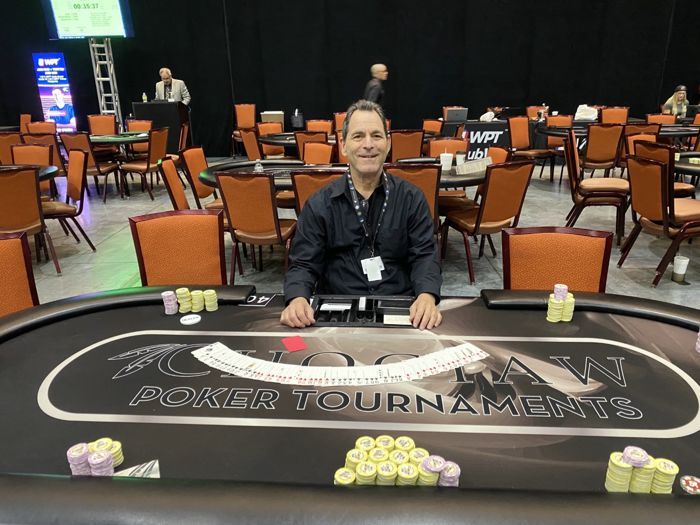 Gordon, who deals at the Wynn in Las Vegas, has been around the block in this industry for years. He's dealt in major events including the WPT and WSOP, and of course numerous cash games in various card rooms across the country, but he's also an experienced player.
"I've probably played gobs of $1/$3 and $2/$5 no-limit," Gordon told PokerNews. "I used to play for a living years ago, but I don't play as much these days."
Gordon said he "luckboxed" his way to a free $3,800 buy-in via a Twitter drawing during a Brad Owen meet-up game contest. Owen, the popular poker vlogger and WPT Global ambassador, was in attendance at Choctaw and reached Day 2.
As a dealer, he's had many memorable and pleasant experiences, but there was one in particular that he raved about the most.
"The Run it Up series that they used to do at Peppermill (in Reno, Nevada), and I did that from 2015 until COVID, that was my favorite," he said. "It's a nice little casino and they have a really good poker room and amazing TV screens to watch sports."
When asked who his favorite big name player(s) he's dealt to over the years is, his answer wasn't too surprising given this player's reputation.
"Probably the nicest player I've dealt to out of all the monsters is probably is Erik Seidel," Gordon claims. "He's literally the nicest player I've dealt to. Daniel (Negreanu) is nice too. There's only a few players that are a**h***s."
Gordon, who grew up in Los Angeles, moved to Las Vegas in 2004 and has been married for over four years. Prior to entering the poker industry, he was a headhunter for an executive recruiting firm and his entrance into poker dealing was quite interesting.
"I had walked away from headhunting and I had moved to Vegas to get into real estate right when the real estate bubble broke," he explained. "So, it just wasn't viable, and I was actually playing poker for a living. I paid all my bills with poker from 2005 until 2012. I just kind of got tired of it, and then I became a dealer."
He hasn't played poker since last summer, and part of that reason is due to being busy with work and also being married to someone who isn't much into poker.
"She just sits behind me and orders the drinks," he said with a laugh.
Keeping a Positive Outlook
Come October 1, Gordon will have to quit his job at the Wynn, and dealing in general, to take care of his health. More specifically, he's battling cancer.
"It's a blood cancer that the only cure is stem cell transplant and bone marrow transplant," he explained. "So going through that procedure, I mean minimum four months of treatment."
While the situation is scary, he said his doctor gave him a positive prognosis and informed him that they are "looking for a 20-year cure." But he can't put it off much longer or the outlook likely won't be as great.
"My doctor said if I choose not to have the transplant, things will get much more challenging," he said.
At the beginning of October, Gordon and his wife will move from Las Vegas to Houston to begin the medical procedure. He said "nobody in Nevada" can perform the transplant he needs to survive.
He won't be working in Texas and is only going down there for medical reasons. The four months of treatment will partially be spent in the hospital, Gordon explains.
When he is physically able to return to work, he'll be welcomed with open arms by the supportive poker community.