WSOP Champs Cada and Gold Are Giving Away Signature Poker Tables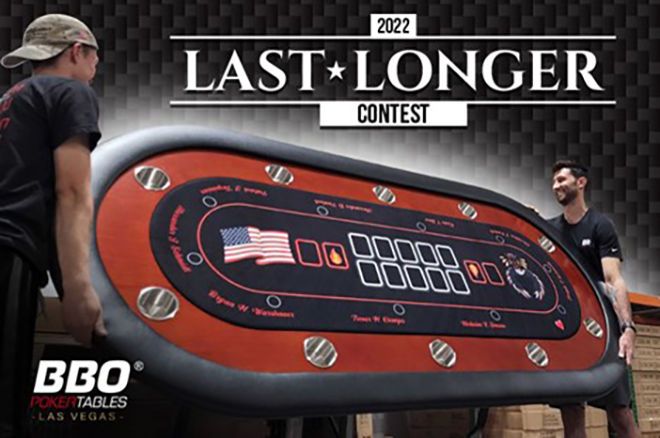 WSOP Main Event champions Joe Cada and Jamie Gold, along with Lon McEachern and Norman Chad are celebrating the new chapter of the 2022 WSOP at Bally's and Paris Las Vegas. Each are giving away one of their Signature Line poker tables in an epic 'Last Longer' contest for players in this year's Millionaire Maker, Colossus, and The Main Event.
Designed and created in conjunction with BBO Poker Tables of Las Vegas, each Signature Line Poker Table was designed to capture the excitement of Joe and Jamie's legendary Main Even bracelet runs as well as Lon and Normans decades-long impact on the sport of poker.
George Chao, CEO of BBO Poker tables commented, "We are extremely excited to witness the new stories and legends to come out of this year's WSOP; and because last year was so uncertain with restricted international travel, our champions and all agreed that they wanted to do something special for this year's event."
Winning your very own BBO Signature Line table signed by the champions is easy and completely free. Players playing in the Millionaire Maker, Colossus and The Main Event can enter for free on BBO Poker Table's website and the player that lasts the longest in the event automatically wins the table!
Joe Cada is sponsoring the Millionaire Maker event; Jamie Gold will be sponsoring the Colossus event, and Lon and Norman in The Main Event.
About BBO Poker Tables
Established in 2006, BBO Poker Tables the premier poker table company specializing in design, build then carefully shipping stunning tables to customers all around the US and globally. BBO has been the preferred poker table partner of world-class organizations such as the Golden State Warriors, WPT, and more. BBO designs exquisite custom tables that allow you to share unforgettable memories with friends and family.