Event #51: $400 Colossus
Day: 4
Event #51: $400 Colossus
Day 4 Completed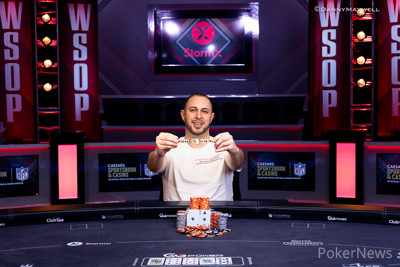 If the ace of spades is the prettiest card in the deck, a king is right up there for Paul Hizer. Twice at today's final table of Event #51: $400 Colossus the Englishman had his tournament life on the line. Twice a king peeled off to save him. It's the one card that made Hizer the newest World Series of Poker bracelet winner and $414,490 richer.
Hizer has been a professional poker player for around six years and played recreationally for several years before that. But he had never won a tournament before, despite $474,000 in career winnings before this event. He had made it to heads-up play four times but had come up short each time. That all changed today, as Hizer was the last man standing in a mammoth field of 13,565 players.
"It means a lot," Hizer said following his win. "Played many tournaments. Had lots of deep runs. But I've never actually won a tournament outright. I don't know if many people know that about me. I'm sure my close friends do. And maybe today was just written in the stars and I was meant to go all the way. I felt really confident, I felt like I had a really good game plan, and I'm just really thankful that it worked out."
Event #51: $400 Colossus Final Table Results
| | | | |
| --- | --- | --- | --- |
| Place | Player | Country | Earnings |
| 1 | Paul Hizer | United Kingdom | $414,490 |
| 2 | Sam Laskowitz | United States | $256,170 |
| 3 | Jordan Pelon | France | $193,240 |
| 4 | James Scott | United Kingdom | $146,680 |
| 5 | Luong Quach | United States | $112,060 |
| 6 | Jeff Loiacono | United States | $86,160 |
| 7 | Anthony Ruttler | United States | $66,670 |
| 8 | William Gian | United States | $51,930 |
| 9 | Sean Shah | United States | $40,710 |
Day 4 Action
Hizer entered the final table in second chip position out of the final seven players, but still solidly behind chip leader Sam Laskowitz. With the average stack being only 19 big blinds at the start of the final table, there was little room for error or maneuvering.
Anthony Ruttler would be the first to bust, finishing in seventh place after running into the pocket queens of Luong Quach. On the first hand back from a 15-minute break, Jeff Loiacono picked up aces and moved all in for 19,000,000, with Hizer calling with
in the big blind.
Hizer didn't improve and Loiacono doubled up, but he wouldn't last much longer after losing with
to Laskowitz's
to bust in sixth place.
Losing that pot began a long slide for Hizer. After Quach was eliminated in fifth place, Hizer was down to less than three big blinds during four-handed play before doubling up with
against the
of countryman James Scott. A few hands later, the two Englishmen would clash in another pot that would be pivotal to the fates of both players.
From the small blind, Scott moved all in for 59,500,000 and Hizer called, barely having Scott covered. If Hizer lost this pot, he would be on an extreme short stack, his bracelet dreams all but gone. Scott gave him further bad news when he showed
, having the
of Hizer crushed. The
flop was no help, but the
came on the turn as Hizer's exuberant rail erupted in celebration.
The
on the river cemented Scott's elimination in fourth place, and it wasn't long before Laskowitz took out Jordan Pelon in third place to take a 412,000,000 to 131,500,000 chip lead into heads-up play.
Hizer chipped up somewhat in the early going before moving all in for 169,500,000 on the button. Laskowitz snap-called with two threes and was racing against Hizer's
. The board read
and Laskowitz was one card away from the win. But the
appeared on the river, and once more the British rail had cause for celebration.
"To be honest, I went to bed last night and I tried to kind of manifest some run good," Hizer said. "Just having all my friends behind me screaming and shouting, and just for there to be some antics and some drama, I think that's what makes final tables exciting. I'm pleased I didn't go out on like a dry board or I didn't go out on a bit of a limp. Tournaments are high variance, and today it was written in the stars for me to win."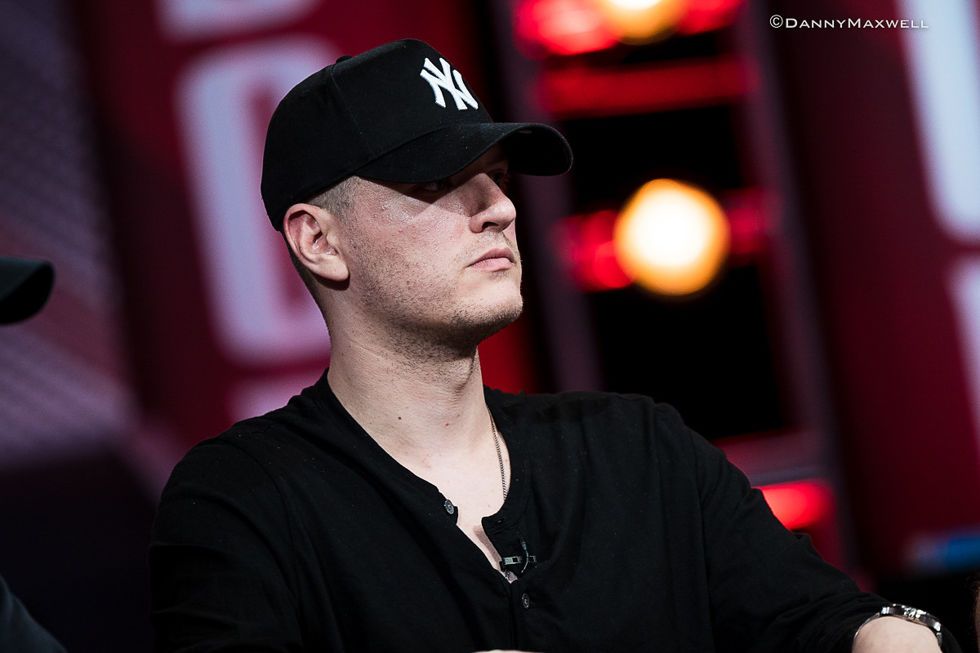 Hizer extended his chip lead when he picked off a bluff on a
board with
, then, with the blinds increasing to 8,000,000-16,000,000, put Laskowitz all in for his last 118,500,000. Laskowitz eventually called with
as Hizer turned over
. Neither player hit the
board and Hizer got the proverbial monkey off his back with ace-high. For Laskowitz, the 29-year-old New York native playing in his first live tournament, the $256,170 he earned would have to be a consolation prize.
The bracelet was the prize at the end of a long road for Hizer. Some of his friends on the rail said they had been playing with him since 2008. He didn't know a lot about poker then, but he's dedicated his life to the game over the last few years and that work paid off.
"I've applied a lot of my time to playing poker. I've made it my profession over the last six years. My parents initially weren't so pleased. It's not the career choice they wanted for me. Like always in life, I just trust my gut and I did my best," he said.
Hizer admits he doesn't know what he's going to do with the money just yet but says he plans on staying in Las Vegas for the next three weeks to play tournaments at the WSOP and other casinos.
He had a special person in his mind after the win. Hizer calls Steven Jackson like a second father figure. Jackson passed away a few years ago, and Hizer dedicated the win to him. "He's forever in my heart and I love him to pieces. Steven, this is for you," he said.
Jackson and the rest of his rail would be proud of him. Now it's time for them to go out and celebrate his new reign as Colossus champion.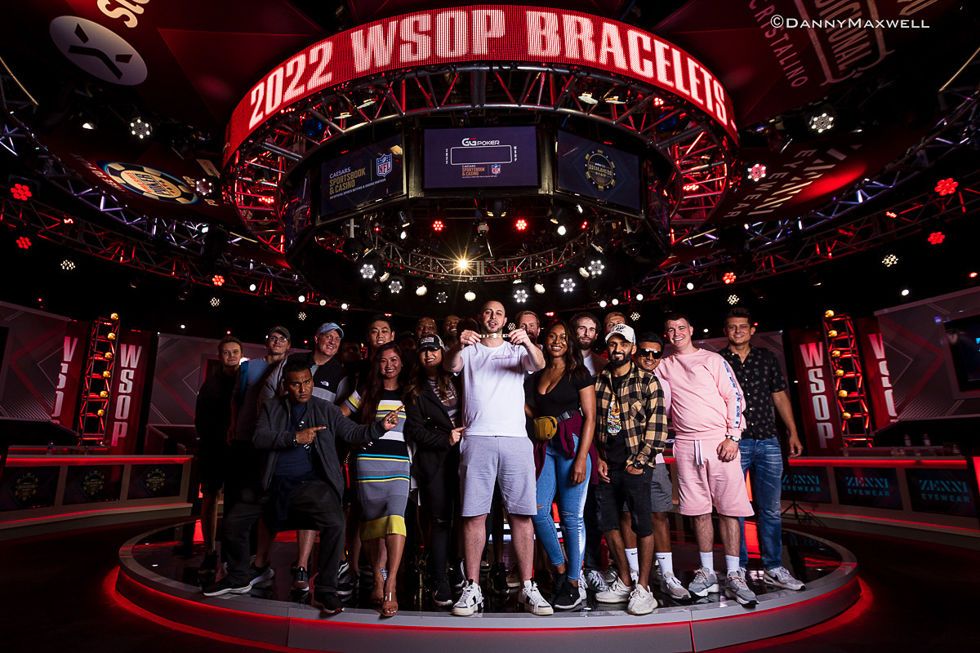 That concludes PokerNews' coverage of the Colossus. Stay tuned throughout the rest of the 2022 WSOP for all the tournament updates.

Level 49 : 8,000,000/16,000,000, 16,000,000 ante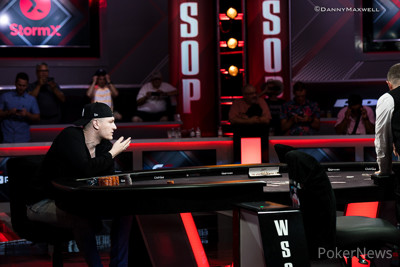 Paul Hizer announced all in on the button and Sam Laskowitz had a decision to make for his last six big blinds. Laskowitz counted his stack and decided to go with it as the cards went on their backs.
Sam Laskowitz:

Paul Hizer:
Laskowitz had two live cards but the flop of
was of no help. The turn brought the
and Laskowitz was down to just six outs. The
completed the board and Laskowitz was eliminated in second place for over $250,000.
Level: 49
Blinds: 8,000,000/16,000,000
Ante: 16,000,000

Level 48 : 6,000,000/12,000,000, 12,000,000 ante
Paul Hizer limped in on the button with
and Sam Laskowitz raised to 36,000,000 in the big blind with
. Hizer called and the dealer spread the flop of
.
Laskowitz led out with a bet of 21,000,000 and Hizer still called with king-high. The
paired the board on the turn and both players checked to the
on the river.
Laskowitz thought it was the perfect river card to push out a bet of 40,000,000 on the river. Hizer went deep into the tank for over three minutes and then flicked in a chip to call. Laskowitz showed his seven-high and Hizer fist-pumped to his rail as he collected a huge pot.

Level 48 : 6,000,000/12,000,000, 12,000,000 ante
Sam Laskowitz continued his aggressive style and raised to 25,000,000 on the button with
. Paul Hizer shoved all in from the big blind with
and Laskowitz had to quickly fold.
On the next hand, Hizer raised to 27,000,000 on the button with
and Laskowitz mucked his rags in the big blind. Hizer collected another pot and took over the chip lead once again.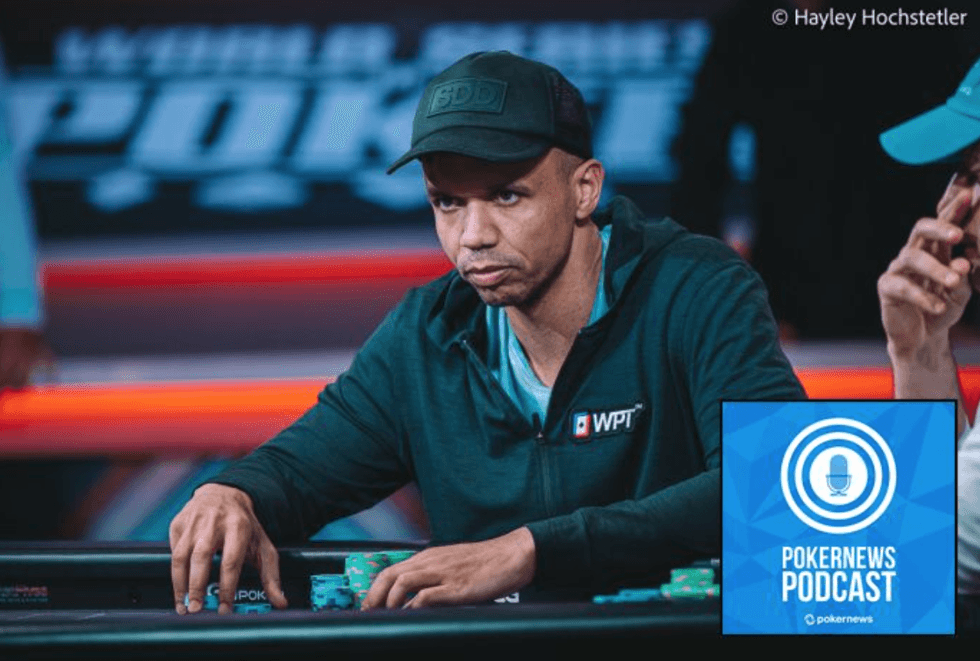 In the latest edition of the PokerNews Podcast, Chad Holloway and Jesse Fullen bring you all the latest from the 2022 World Series of Poker (WSOP) at Bally's and Paris Las Vegas. That includes highlighting all the recent bracelet winners and even interviews with the likes of Daniel Weinman, Ramsey Stovall, Ali Eslami, and Justin Pechie.
They also talk about Brian Hastings becoming just the 17th player in WSOP history to capture six or more bracelets, as well as Phil Ivey getting everyone excited by making a serious run at his 11th gold bracelet. Additionally, there are highlights from the Wynn $2,200 Mystery Bounty, Neymar Jr. notching his first-ever WSOP cash, and Dan Zack winning his second bracelet of the summer (as well as taking the lead in the 2022 WSOP Player of the Year race).
They also offer a preview of the PokerNews Cup at Golden Nugget June 24-28 and offer their picks after the final ten nominees were released for the Poker Hall of Fame Class of 2022.

Level 48 : 6,000,000/12,000,000, 12,000,000 ante
Sam Laskowitz limped in on the button with
and Paul Hizer checked his option holding
. The flop came
and Hizer checked to Laskowitz who bet 12,000,000 with a pair and a straight draw. Hizer called and the
paired the board on the turn.
Hizer checked again and Laskowitz tossed in another bet of 15,000,000. Hizer still called with king-high and the
completed the board. Two checks on the river and Laskowitz tabled the best hand to win some of the chips back.
Level: 48
Blinds: 6,000,000/12,000,000
Ante: 12,000,000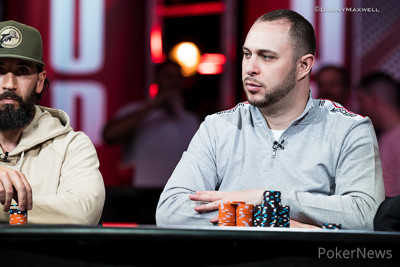 Paul Hizer shipped all in for 169,500,000 on the button and Sam Laskowitz looked down at his cards in the big blind and quickly called to put Hizer at risk.
Paul Hizer:

Sam Laskowitz:
It was a coin flip for all of the chips and the flop of
left Laskowitz in the lead with his pair of threes. The
on the turn gave Hizer many outs to hit and it was the
on the river. Hizer made a straight to double up and move into the chip lead.