Is This the Best Wynn Mystery Bounty Winner Reaction Ever?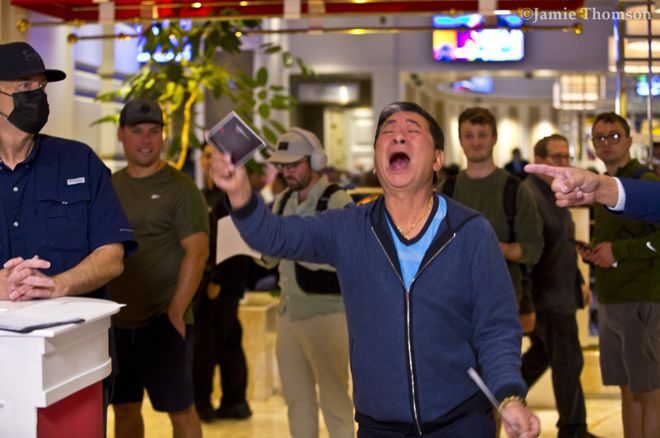 In the span of two years, Wynn Poker has made itself synonymous with the now incredibly popular Mystery Bounty format. Kicking off once in the money, the bounty prize pool of a Mystery Bounty tournament is divided into an array of prizes, adding an exciting component throughout the day as people are looking to reel in a big score by picking the right bounty envelope.
In last night's $2,200 Mystery Bounty, part of the Wynn Summer Classic, a total of 2,854 entries showed up divided over four starting flights. Just over 300 returned for Day 2, looking for their shot at some big money that included a top prize of nearly half a million dollars, as well as two $250,000 Mystery Bounties as the grand prize in the bounty portion of the event.
With fewer than 100 players remaining, both top bounties were still in play. Those that had scored a bounty, despite still playing in the event, mostly lined up at the payout queue to take a spin before the big money would be gone. The Wynn Poker staff was once again in top form, ensuring a smooth process throughout and working overtime to deliver a day full of exciting moments.
Within roughly thirty minutes, both $250,000 bounties got scooped up by first Milos Ivanovic, and then Paul Chauderson. The latter arguably had the best reaction of any bounty winner. Check out the moment below where Ivanovic and Chauderson opened their respective envelopes.
Chauderson was ecstatic when he pulled the six-figure amount out of the envelope, stating that he would give 5% to the Wynn staff. As expected, the reaction in the room was a mixture of cheers and boos as they saw their shot at a quarter-million bonus prize evaporate.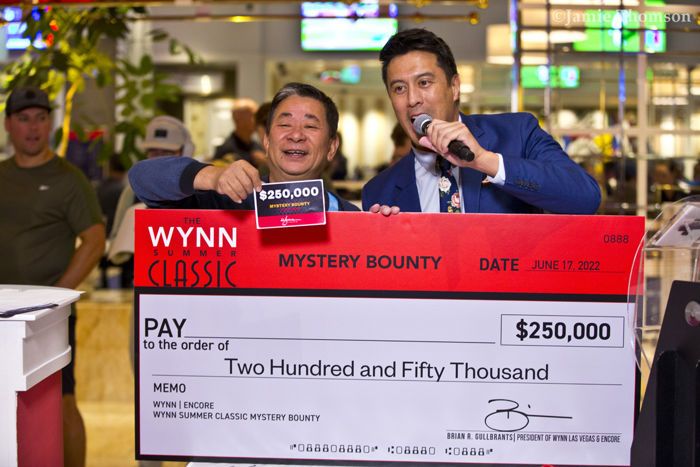 There were also three $100,000 bounties in the mix and they went to Jordan Westmorland and Aaron Thivyanathan. The last one was pulled in the wee hours of the night after Calvin Anderson was eliminated in third place.
Anderson had 14 bounties collected throughout the day and waited until his elimination to draw them all. Anderson picked up $176,243 for his third-place finish and also took home $111,000 in bounties.
---
Manuel Machado Wins $2,200 Wynn Mystery Bounty for $410,485 Plus Bounties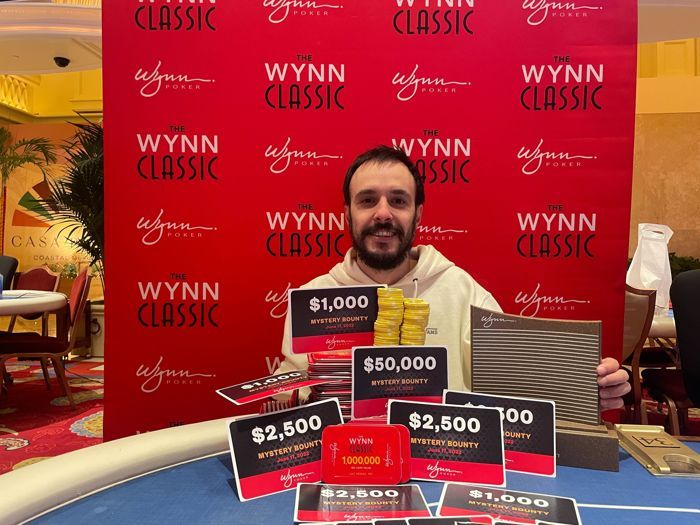 In what ultimately turned out to be an almost 17-hour day of poker, Manuel Machado finally came out on top in the $2,200 Wynn Mystery Bounty. Machado struck an ICM deal with heads-up opponent Elliott Kampen, with Machado walking away as the biggest winner. Machado earned a payday of $410,485 in the deal, along with a total of $66,000 in bounties.
This will undoubtedly go down as Machado's biggest live tournament score in his career, and he was quite emotional afterwards. Machado only has $129,000 in recorded tournament winnings and this win will more than quadruple that for him.
$2,200 Wynn Summer Classic Mystery Bounty Final Table Results
| Place | Player | Country | Prize |
| --- | --- | --- | --- |
| 1 | Manuel Machado | Portugal | $410,485** |
| 2 | Elliott Kampen | United States | $362,739** |
| 3 | Calvin Anderson | United States | $176,243 |
| 4 | Dennis Wilke | Germany | $125,105 |
| 5 | Anthony Ibrahim | United States | $92,628 |
| 6 | Cherish Andrews | United States | $72,105 |
| 7 | Andy Park | United States | $59,516 |
| 8 | Kevin White | United States | $50,503 |
| 9 | Kevin Calenzo | United States | $42,983 |
**denotes an ICM deal was reached
Machado, who came to Las Vegas for the World Series of Poker this summer, has found his breakout performance here at the Wynn. It was a rollercoaster of a day for the poker player from Portugal, who almost found himself out of the tournament in eighth place. However, when his pocket aces got out-flopped by the pocket kings of Dennis Wilke, Machado managed to find an ace on the river to double up and hold a commanding chip lead. He never looked back as he held that chip lead en route to eliminating four players at the final table.
As for Kampen, he will also be heading home with his largest career score of $362,739. Kampen also scooped $91,500 in bounties over the course of the day, including a $50,000 and a $25,000 bounty. Kampen took a different route on the final table, staying away from all of the action and watching players fall by the wayside all around him.
Both methods worked for the players, who were both happy with the final outcome.
---
Day 2 Action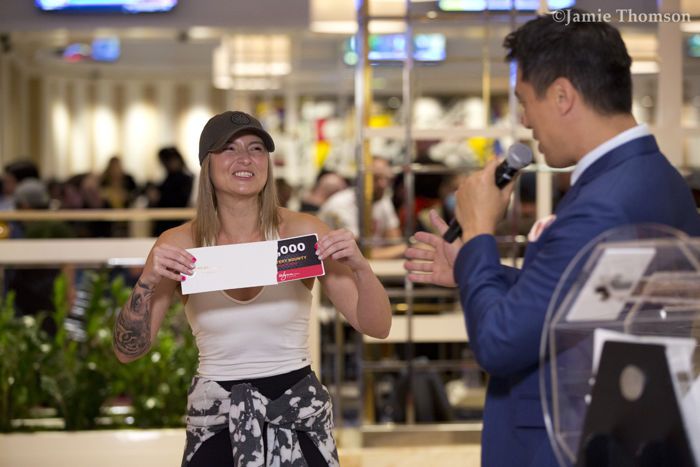 The field was littered with other notables who made deep runs including Kristen Foxen, Kitty Kuo, Jake Schwartz, Anton Wigg, Jesse Sylvia, and Joao Simao. Every player that made it through to Day 2 was guaranteed at least a min-cash of $3,325.
The field quickly dwindled to just 39 players at the dinner break over the course of nine levels. The final table was reached just moments after midnight and the tournament ended just after 4:30 a.m. local time. The final table had many twists and turns, the biggest one leading Machado to be the massive chipleader.
Machado also found himself on the right side of a cooler when both he and Cherish Andrews flopped a set in a three-way pot. Machado flopped top set while Andrews flopped bottom set. They got all their chips in the middle on the flop and Andrews was ousted in sixth place.
Despite taking a tough beat early at the final table, Wilke out-lasted all but three players as he was eventually eliminated in fourth place. Anderson was quick to hit the road next as his confrontation with Machado in the blinds ended poorly for him. Machado took a huge chip lead into the heads-up match, but an early double-up from Kampen seemed to turn the tide. Kampen also got paid off on the river after turning the nut straight, leading to the players discussing a deal.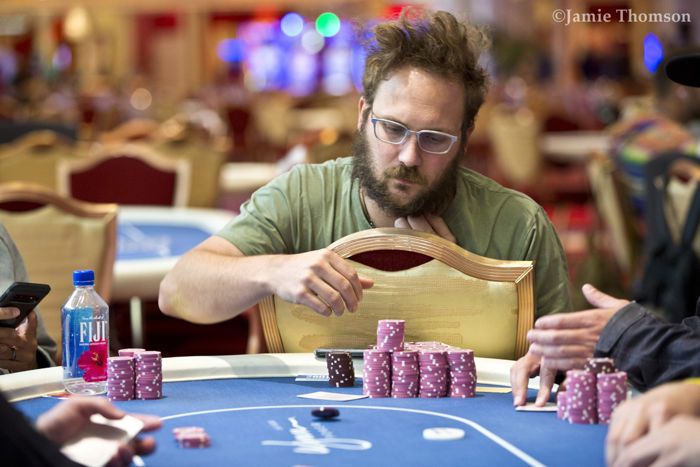 A former professional poker player with a background in sports marketing and journalism. Yori has been a part of PokerNews since 2016 and manages the content team.