Security Mistakenly Tries to Kick Out Neymar Jr. After He Cashes First WSOP Event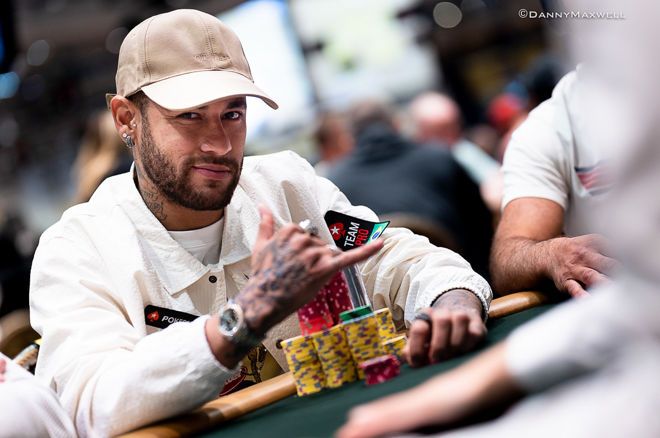 A week ago, PokerStars Cultural Ambassador Neymar Jr. made his playing debut at the World Series of Poker (WSOP) when the Paris Saint-Germain's renowned forward entered Event #26: $10,000 Limit Hold'em Championship.
He didn't cash that tournament, but now less than a week later the soccer legend has notched his first-ever WSOP cash by finishing in the money in Event #41: $1,000 Super Turbo Bounty No-Limit Hold'em. Neymar Jr. made a deep run ultimately finishing in 49th place out of 2,227 entries for $3,959 in prize money.
Click here to read Neymar Jr.'s Elimination Hand
Funny story, when the money bubble burst and tournament staff was trying to verify the size of the field, players were asked to remain in their seats and spectators to clear the area. No doubt excited by the prospect of earning his first WSOP cash, Neymar Jr. was standing on the rail chatting with a trio of friends which included PokerStars Team Pro Andre Akkari.
A security member, diligent in their duty and unaware that Neymar Jr. was in action, strolled up and said, "Sorry guys, I gotta kick you out, you can't stay here."
"I'm playing," Neymar Jr. deadpanned and headed back to his seat. While he's a pretty big deal, apparently not everyone knows who Neymar Jr. is!
Fortunately, he wasn't kicked out, and neither were Akkari and company who were able to celebrate with their man as soon after an announcement rang out over the P.A. system, "Congratulations players, you're in the money!"
Bubble Hand Takes Place at Neymar Jr.'s Table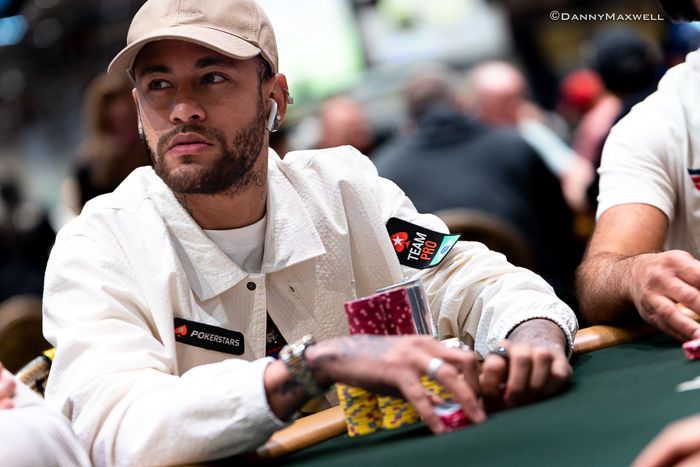 As fate would have it, the money bubble burst when there was an elimination at Neymar Jr.'s table. Unfortunately, he wasn't involved, but he did have a front-row seat to the action. It took place in Level 17 (4,000/8,000/8,000) when Albert Rogers moved all in under-the-gun for 29,000 and was looked up by Greg Gabriel out of the big blind.
Albert Rogers:

Greg Gabriel:
The board ran out
and the diamond on the river gave Gabriel a flush to crack aces and send Rogers out on the stone bubble in 336th place. The remaining 335 players were then all guaranteed a minimum payday of $1,061.
2022 World Series of Poker Hub
Bookmark this page! All you need to know about the 2022 WSOP is here.
An Orbit with Neymar Jr.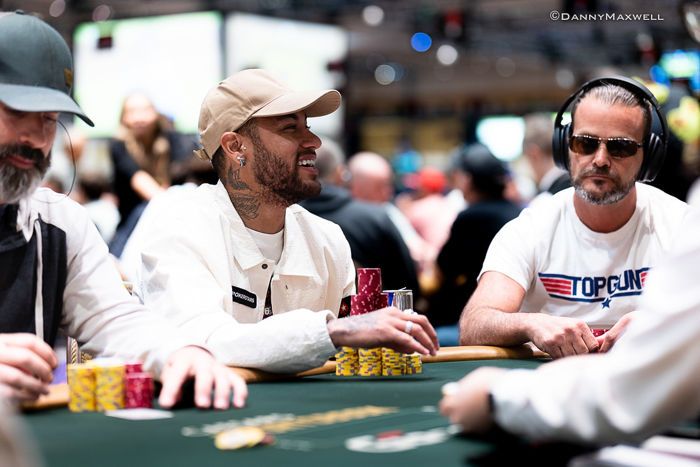 Shortly after the bubble burst PokerNews decided to spend an entire orbit with Neymar Jr. to capture some of his play.
Hand #1 (Middle Position): Action folded to Neymar Jr. in middle position who folded.
Hand #2 (Early Position): In early position, Neymar Jr. folded.
Hand #3 (Underr the Gun): First to act, Neymar Jr. folded his hand.
Hand #4 (Big Blind): A player in early position raised to 22,000 and action folded aroun to Neymar Jr. who folded.
Hand #5 (Small Blind): With 38,000 total in their stack, a player in late position raised to 35,000 and was looked up by both the player on the button and Neymar Jr. in the small blind.
The flop rolled off
and Neymar Jr. checked to the late-position player who moved his final 3,000 in the middle. The button raised to 40,000 and Neymar Jr. folded.
Late Position:

Button:
The board completed with the
turn and
river and the late-position player tripled up.
Hand #6 (Button): Neymar Jr. raised to 21,000 on the button and a player moved all in for 77,000 from the small blind. Greg Gabriel in the big blind called and Neymar Jr. got out of the way.
Small Blind:

Greg Gabriel:
The board ran out ace-high and Gabriel took down a bounty.
Hand #7 (Cutoff): Neymar Jr. folded in the cutoff.
Hand #8 (Hijack): Neymar Jr. folded in the hijack.
Hand #9 (late position): Neymar Jr. folded in late position.
It wasn't the most exciting orbit with the Brazilian superstar, but sometimes slow and steady wins the race.
While the 2022 WSOP marks the first time Neymar Jr. has competed in a gold bracelet event, it wasn't the first time he showed up at the WSOP. Back in 2015, he made an appearance at the Rio in the Amazon Room during Day 5 of the 2015 WSOP Main Event to show support for Brazilian players.
Neymar Jr. Makes a Straight Flush
It's seemingly been a good week for Neymar Jr. here in Vegas. Just last night, Johan 'YoH ViraL' Guilbert tweeted a video of Neymar Jr. making a straight flush in a private cash game over at ARIA.
Follow live updates from Event #41: $1,000 Super Turbo Bounty here!
Executive Editor US, PokerNews Podcast co-host & 2013 WSOP Bracelet Winner.