Navy Vet Reps Military Charity During WSOP Salute to Warriors Event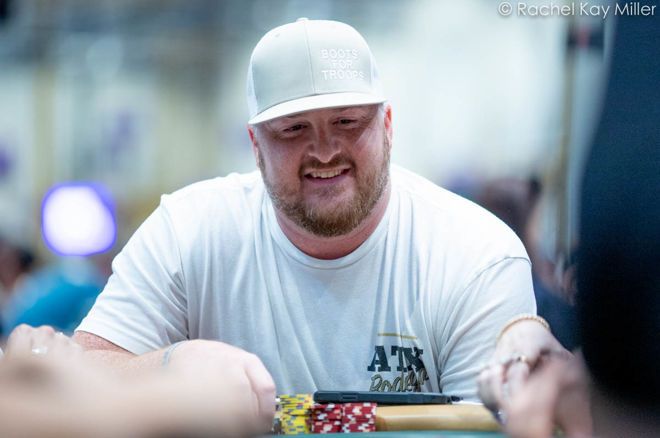 Table Of Contents
Texas native Jimmy Rogers is one of many military veterans competing in the charitable Salute to Warriors bracelet event at the 2022 World Series of Poker, and he's passionate about supporting the troops.
Poker pro Ray Henson, his friend, flew the US Navy vet out to Las Vegas to compete in the $500 buy-in no-limit hold'em tournament, which kicked off Sunday at Paris. PokerNews caught up with the amateur poker player on the Day 1 dinner break to discuss a charity he runs called Boots for Troops.
At the time we spoke with Rogers, he had already quadrupled his starting stack and was riding high on the dinner break. He was happy just to have the opportunity to play for a WSOP bracelet.
"It's bigger than I kind of expected," Rogers said of his first WSOP experience. "I've seen it on TV, and I've heard about it, but it's really cool, the production of it all."
Supporting the Troops
Out of the $500 buy in for the Salute to Warriors tournament, $40 is taken out and donated to the United Services Organization (USO) and other military-related charities. The USO is an American nonprofit-charitable corporation that provides live entertainment, such as comedians, actors and musicians, social facilities, and other programs to members of the United States Armed Forces and their families.
Poker pros such as Tom Dwan and Phil Hellmuth have traveled overseas to visit the troops via the USO in the past. Rogers, a recreational poker player in the Houston area, was honored to play in such an event.
"It means a lot because it just shows the American people still care about our service members," Rogers said of what it meant to him for the WSOP to host such an event. "Especially when they're away from home, they just want to know that people care about it."
Rogers and his wife Lindsey started the Boots for Troops charity in 2015 late in his Navy career. The nonprofit organization supports the military by sending care packages to deployed troops, honoring American heroes, and provide scholarship opportunities for military spouses.
Starting Boots for Troops, Rogers explained, was a way for him to give back to those who are still fighting to protect the country.
"It was an idea that kind of blossomed really fast and has grown over the years, so we're still doing it," he said.
Follow the Salute to Warriors Coverage
Defending the Country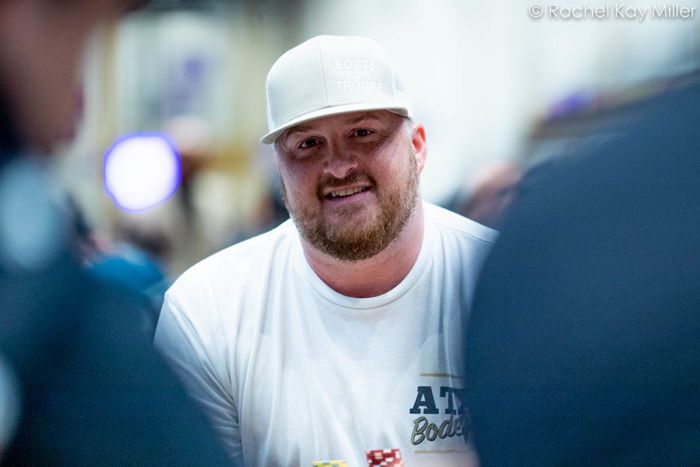 In 2011, as Rogers said, he "wasn't doing much in my life so I decided to join the military." He was stationed in Norfolk, Virginia, the largest naval base in America, for over three years. Four years into his military service, he was deployed overseas as part of Operation Enduring Freedom and Operation Iraqi Freedom.
"The reason I started Boots for Troops, the reason I'm so passionate about it is because I've been there, I've been overseas, I've been away from home, I know the loneliness that comes with it," Rogers explained. "I know that when you get something from home, it can really change your mindset, whether it's from family or a stranger. Again, back to what I said earlier, it's just a reminder that people back home still care. That's what's most important."
Rogers said he is appreciative of the military for "fighting for our values and our way of life" in the United States.
Boots for Troops started as a GoFundMe page in 2015, but has evolved into a well-known charity that has the support of some major brands.
At the time of publishing, Rogers was around 400,000 in chips with the blinds at 3,000/5,000 and nearly 1,000 of the original 3,079 players remaining late on Day 1.
2022 World Series of Poker Hub
Bookmark this page! All you need to know about the 2022 WSOP is here.