Baltimore Raven Calais Campbell at WSOP: "We Have Super Bowl Potential"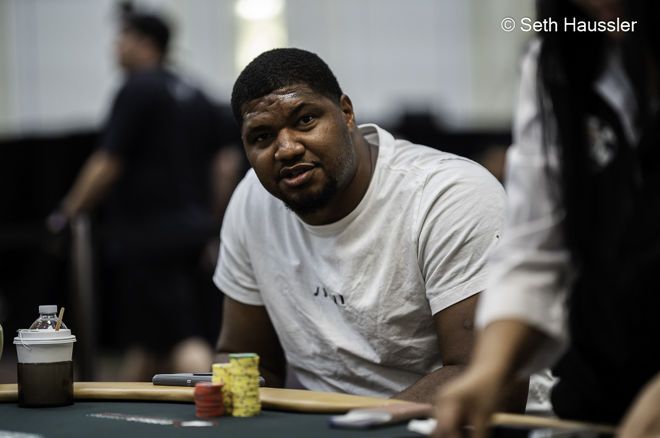 Baltimore Ravens defensive end Calais Campbell, two months after signing what will likely be his final NFL contract, competed in the 2022 World Series of Poker on Saturday where he spoke with PokerNews about his love of poker and the upcoming football season.
Campbell was one of over 5,500 players in Day 1c of Event #5: $500 The Housewarming No-Limit Hold'em. He earned his second career WSOP cash, but was eliminated before the session concluded.
Football Star Ready to Make a Super Bowl Run
On a break near the Day 1c money bubble, the 14-year NFL veteran who played his college ball at the University of Miami said he anticipates big things from his team this coming football season.
The Ravens started out 8-3 in 2021 and were among the Super Bowl contenders. But inconsistent play and injury issues with quarterback Lamar Jackson changed everything. Baltimore finished out the season with six consecutive losses and finished 8-9, missing the playoffs.
"Lamar Jackson getting injured, you can't win without your quarterback," Campbell told PokerNews of the Ravens' late-season struggles. "Our backup played great and good teams win regardless, but you know, Lamar Jackson is a special player."
Don't worry, Ravens fans, your Pro Bowl defensive end believes the 2021 issues won't trickle over to this coming season.
"Oh yeah, yeah, absolutely," the defensive lineman said when asked if he anticipates a better outcome from his team in 2022. "It's football, you know, if it was just Lamar that was hurt and we had everybody else in place, I think we an survive. But if we're at full strength with Lamar and all the other players that were hurt last year, I think we're a really tough team to beat."
Just how good can the Baltimore Ravens be in 2022, assuming the team avoids major injury problems?
"I think we have Super Bowl potential."
Campbell was initially rumored to be pondering retirement following the 2021 season. Instead, he signed a two-year contract extension with the Ravens for $12.5 million. He'll enter the season at age 36, old by NFL defensive lineman standards. Although he understands he's on the back end of his brilliant career, he's still confident he can produce at a high level against some of the best athletes in the world.
"Without a doubt," Campbell said upon being asked if he can still produce in the NFL. "I feel great, I've got a good regimen that works for me to get prepared, and I dedicate so much time to being really good at football. As long as my body continues to respond, I still love it, and I'll keep playing."
Campbell began his NFL career in 2008 with the Arizona Cardinals where he spent nine seasons before playing for the Jacksonville Jaguars from 2017-2019. He's been in Baltimore ever since where he'll likely finish his career. The former Miami Hurricane All-American has 93.5 quarterback sacks in the NFL in 213 games played (194 starts), and has been selected to the Pro Bowl six times in 14 seasons.
Calais Campbell the Poker Player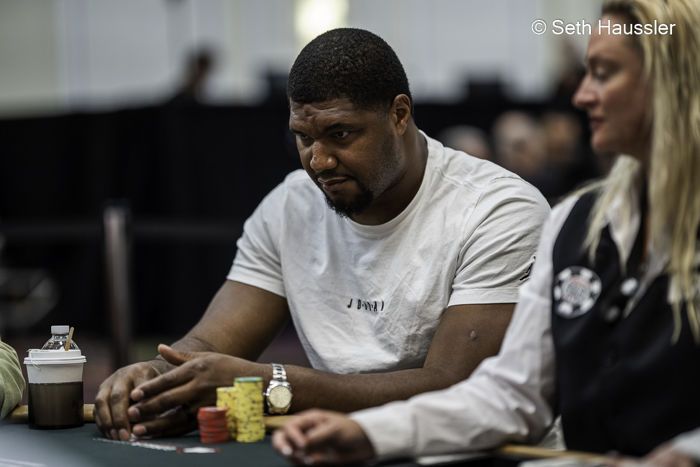 Campbell has spent his entire life working to become an elite athlete. But he's also become quite competitive at the poker table, a game he took up as a hobby back in college.
"In 2009, when I was in Arizona, I won the second tournament I ever played," Campbell said. "There were like 70 players."
The Housewarming event isn't the first World Series of Poker tournament he's played in, however. He's been chasing bracelets for quite some time.
"I usually play one tournament a year other than COVID," Campbell explained. "I had a good run seven years ago, my first action playing WSOP, I had a really good run in the Millionaire Maker. I got to the second day, and then late in the second day I had top 10-percent in chips, but one of the guys at the table he had one of those monster stacks. He had me covered and I lost set over set and it killed me."
Campbell has one prior cash in a WSOP event back in 2019, a 338th place finish for $1,292 in Event #37: $800 No-Limit Hold'em Deepstack.
What would Campbell rather accomplish: winning a World Series of Poker gold bracelet or NFL Defensive Player of the Year award?
"NFL Defensive player of the year," he said. "I've dreamt of that since I was six, although I do plan on winning a bracelet one day, maybe a few."
Giving Back to the Community
Due to his athletic talents, Campbell has made millions of dollars and become a wealthy man who is set for life financially. But he hasn't forgotten the financial struggles his family endured growing up.
Campbell, along with his family, started the Charles R. Campbell Foundation to honor his late father who passed away when the future NFL star was 17 (2003). The non-profit organization helps those who come from underprivileged backgrounds thrive through educational scholarships and a reading program.
"I think anyone that's blessed with the things that I've been blessed with, you should help, you should give back, you should try to help your neighbor," Campbell says. "We're tribal people by nature. We're meant to go through this life together, and I grew up fairly tough and we needed help at times. I'll never forget when help was there and how gratifying that was. My dad always raised us to help our neighbors, to help people in need. It feels good when you do it."
"The world we live in, you get what you put out. So if you put out love and support, you put out help, when your time of need comes, you'll have people do the same for you."
2022 World Series of Poker Hub
Bookmark this page! All you need to know about the 2022 WSOP is here.