How to Make Day 2 of the Million Dollar Bounty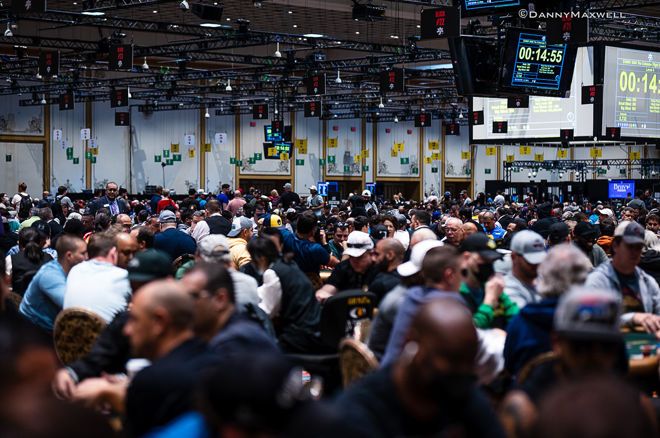 The 2022 World Series of Poker at Ballys and Paris, Las Vegas continues to be a roaring success, with record-breaking attendances and scintillating prize pools. And just around the corner is one of the most anticipated events of the series, Event #68: $1,000 Million Dollar Bounty.
As the name suggests, the top bounty prize is guaranteed at $1,000,000, meaning one player will walk away with a cool mil for simply knocking out an opponent.
However, some people may not be aware that the mystery bounties only come into play on Day 2. Making the second day of any poker tournament can be tough, but with a seven-figure bounty up for grabs, you should do everything in your power to jump over the first hurdle.
PokerNews has put together this guide, so you can find out what mystery bounty tournaments are, how they work and how you can make the all-important Day 2.
What are Mystery Bounty Tournaments?
For those not in the know, a mystery bounty tournament runs like a normal bounty tournament however there is a small twist.
As usual, a percentage of your buy-in goes into the bounty prize pool while the rest goes into the normal prize pool. In normal bounty events, if you knock someone out, you win their fixed bounty. That's not quite how it works in this format, as the bounties only come into play on Day 2. So, if you eliminate opponents on the first day, you don't win any bounty prize money.
If you bust players on Day 2, you win their bounty chip. When you go to redeem that bounty chip, instead of receiving a flat payout, you get to do a lucky dip in a tombola full of envelopes. Once you have your envelope, you open it up and there will be a slip inside that tells you how much that specific bounty was worth and you then pocket that cash. Simple as that.
For the Million Dollar Bounty, $300 of the $1,000 buy-in goes into the bounty prize pool, and those bounties will come into play on Day 2.
The event has four starting flights from July 2-4 with Day 2 taking place on Tuesday, July 5. Day 2 will play down to the final five players with a winner being crowned on Day 3 on Wednesday, July 6.
Million Dollar Bounty Schedule
| Date | Time (PDT) | Level Length | Event |
| --- | --- | --- | --- |
| Sat, July 2 | 1 p.m. | 30 mins | Event #68: $1,000 Million Dollar Bounty Day 1a |
| Sun, July 3 | 1 p.m. | 30 mins | Event #68: $1,000 Million Dollar Bounty Day 1b |
| Mon, July 4 | 1 p.m. | 30 mins | Event #68: $1,000 Million Dollar Bounty Day 1c |
| Mon, July 4 | 7 p.m. | 15 mins | Event #68: $1,000 Million Dollar Bounty Day 1d (Turbo Flight) |
| Tues, July 5 | 1 p.m. | 40 mins | Event #68: $1,000 Million Dollar Bounty Day 2 |
| Wed, July 6 | TBD | 40 mins | Event #68: $1,000 Million Dollar Bounty Day 3 |
Getting to Day 2
The Beginning
In the early stages of the tournament, you should treat mystery bounty events like you would any typical tournament. The money is a long way away and the chips have relatively little value. There's no need to go all guns blazing from the off, the number one goal should be survival to Day 2, as when that is when the bounties come into play. This 'Guide to Navigate Big Field Tournaments' is a useful point of reference for what to do in the early goings.
However, mystery bounty tournaments attract loose players and there is a very gamble-y feel about them, so be sure to keep that in mind.
Bubble Play
The best poker players in the world know that they increase their stack by large numbers when the bubble is approaching. There will be plenty of players who will try to fold their way into the money and the cream of the crop will use that to their advantage. In mystery bounty tournaments, building a big stack at this stage is way more important than in a standard MTT.
There is little incentive to pilot over a small stack into Day 2 as you won't be able to win bounties. It will be players putting you at risk, not the other way round.
With a big stack, you can pressure the players who are on fumes. When the bubble bursts, short stacks will be trying to get their chips in the middle with some marginal holdings and you will want to call these all-ins comfortably. A majority of the bounties are awarded at this stage, so for your best chance of winning the big one, this is what you want to be doing.
Is It Worth Playing Cash Games During the WSOP?
Pulling the Big One
Paul Chauderson may have had the best reaction to pulling a mystery bounty envelope. In the $2,200 Mystery Bounty from the Wynn Summer Classic, Chauderson got the best birthday gift of all time and pulled out the $250,000 mystery bounty envelope.
Back in October 2021, Donald Nimneh, a truck driver based in Omaha, Nebraska had his life changed when he also pulled the top bounty prize.
With the top bounty being $1,000,000, who knows what celebrations will take place at the first-ever WSOP mystery bounty event.
2022 World Series of Poker Hub
Bookmark this page! All you need to know about the 2022 WSOP is here.
Calum has been a part of the PokerNews team since September 2021 after working in the UK energy sector. He played his first hand of poker in 2017 and immediately fell in love with the game. Calum's proudest poker achievement is winning the only tournament he has ever played in Las Vegas, the prestigious $60 Flamingo evening event.