How To Protect Your Bankroll at the 2022 WSOP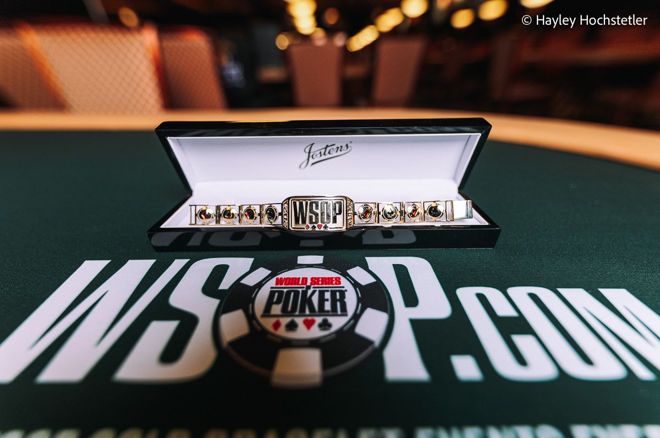 The 2022 World Series of Poker (WSOP) is upon us, and many people reading articles on PokerNews are making plans to jet off to Las Vegas to compete in poker's longest-running live festival. The mere thought of heading to Las Vegas is enough to make people all giddy with excitement. It is, after all, the biggest adult playground on the planet. What these people fail to realise is everything about Las Vegas is designed to relieve you of your cash. If you have spent months or even years building a WSOP bankroll, you want to protect it at all costs. Here is how you do exactly that.
Avoid Slots and Video Poker at the Airport
Las Vegas's airport is now called the Harry Reid International Airport but it will always be McCarran for most. You finally land in Sin City, progress through immigration, and collect your bags; you're finally here, in Vegas, baby! You will notice that slots and video poker machines are everywhere in Vegas; you can even find them in bathrooms! thinking of playing a few slots or games of video poker while waiting for a taxi? Don't!
The slots at the airport have the lowest Return To Player (RTP) of anywhere in Las Vegas. Those airport slots have an 85% RTP, which equates to a 15% house edge. You may as well set fire to your hard-earned bankroll.
It is a similar story with the airport's video poker terminals. If you must play slots and video poker, do it in an actual casino where the RTP is much more favorable.
How $1 Can Win You a 2022 WSOP Main Event Package on GGPoker
Only Use Official Cabs
There are shuttle buses available from the airport to Las Vegas but it is often just as cheap, if not cheaper, to take a cab, Uber, of Lyft. Only ever use official cabs for any rides you take.
Vegas cab drivers are notorious for "long hauling," which is the term used for taking the scenic route, so to speak. They drive the long way round, adding $5 to $10 to your journey unnecessarily. Avoid this longer route by instructing your driver to avoid the tunnel. It is also worth pretending this is not your first rodeo in Vegas to give the impression you know where you are heading, and that you are aware of this common scam.
Room Service is a Last Resort; As are the Mini-Fridges
You've now arrived at your hotel, paid the hidden resort fees cost, and have made it to your room. Are you hungry and thirsty after all that travelling? Do not order room service or touch anything from the in-room mini-fridges because they are a complete rip-off.
It is not uncommon for hotels to charge upwards of $50 for burger, fries, and a coke when you order room service. If Vegas has one thing it is an abundance of fast food outlets that are much less than $50 for a meal.
Likewise, the mini-fridges have massive price hikes attached to them. Go ahead and pay $15 for a bottle of water or $20 for a can of beer, it's your money. Don't think you can take an item out of the fridge and replace them with similar from a store because most in-room fridges have sensors in them that detect when you have removed a product. It is better to pretend room service and these fridges do not exist!
Live WSOP Satellites are a Potential Gold Mine
You may have planned your 2022 WSOP schedule meticulously and know exactly which and how many events your bankroll will stretch to, but believe us when we say the live WSOP satellites are a potential gold mine.
The fields are stacked with players who do not have the faintest clue about optimal satellite strategy, making them relatively simple affairs. Furthermore, most satellites do not award tickets to specific tournaments and instead award lammers. You will always find people willing to purchase lammers from you throughout the series, that is if you are not using them yourself to enter events for far cheaper than you initially planned.
---
Related: Unibet's Dara O'Kearney Explains How to Plug Your Biggest Satellite Leaks
---
Take Your Own Refreshments to the Tournament Area
Food and drink at the WSOP are notoriously expensive; think room service and mini-fridge prices. The occasional purchase of food and drink from the waitresses is fine but do not get into the habit of doing so regularly.
I vividly remember a stall at the Rio trying to sell me a single banana for $8. You can probably guess where I told the vendor where he could shove the said banana! Small bottles of water at $3-$5 a pop soon add up, too. Buy an empty bottle and fill it using the many water fountains dotted around the casino.
Win the ULTIMATE Las Vegas Package for Just One Cent on 888poker
Avoid The Pitfalls on Vegas' Streets
Remember how we said that everything in Vegas is designed to grab a slice of your bankroll? This is especially true away from the WSOP and onto the famous Las Vegas Strip.
Avoid street vendors like the plague; don't make eye contact and avoid all conversations. They will try to sell you tickets to shows, offer VIP passes for clubs and adult entertainment venues, even bottled water. I'm not going to say everything they sell is a scam but it mostly is and you are much better off using official channels to purchase such things. There is no such thing as a freebie in Vegas, and if an offer looks too good to be true it is because it is!
Don't buy bottled water from anyone on the street because most are not licenced. Most find old bottles and fill them with tap water before selling them to unsuspecting tourists for a couple of bucks each. It is as disgusting as it sounds!
Vegas has dozens of epic clubs that you can dance the night away until the sun comes up. This is all well and good, but try to avoid paying for bottle service. Sure, it seems like a cool thing to do while in Vegas, but do you really want to pay $300-$500 for a bottle of spirits and probably be forced to buy at least two or three? The price you pay for your little roped off area is far too steep; you could use the money to buy into another WSOP event!
Try Using Some Common Sense
We are not saying head to Vegas and live like a saint, but it is the type of place where a little common sense goes a long way. It is ridiculously easy to get caught up in the moment and throw caution to the wind when in Sin City; we have all done it. However, if you are heading to the 2022 WSOP to make money and attempt to win a coveted WSOP gold bracelet, you are best conserving your bankroll and making a second trip to Nevada at a later time to party the night away.
---
Related: How To Bring Your A-Game to the 2022 WSOP
---