2022 WSOP Hands of the Week: Yuvee Loses $50K to Pair of Deuces; Ivey Hits Ace from Space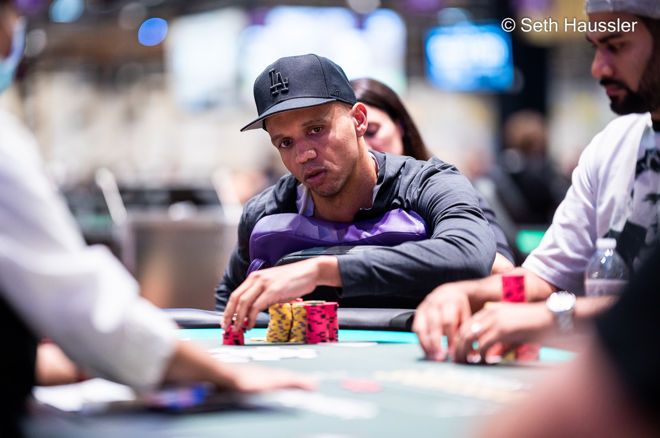 PokerNews is known throughout the world for our industry-leading live updates for both live and online events. In fact, right now we're offering various updates right here.
Over the years, we've captured memorable hands, many of which have become a part of poker history. In this column, we will bring you some of the biggest hands as reported in the PokerNews Live Updates from the last couple of weeks in the 2022 World Series of Poker (WSOP).
Remember, if you're playing an event PokerNews is covering, you can get in the updates via the MyStack App. You can download the app for iPhone or Android now to get started. Then, create a new PokerNews account or update your current one to start updating your status immediately. Your followers can see all the live action that you're involved in.
Click here to download the My Stack app for iPhone, or click here to download the My Stack app for Android.
2022 World Series of Poker Hub
Bookmark this page! All you need to know about the 2022 WSOP is here.
A Pair of Deuces Never Loses ... in PLO?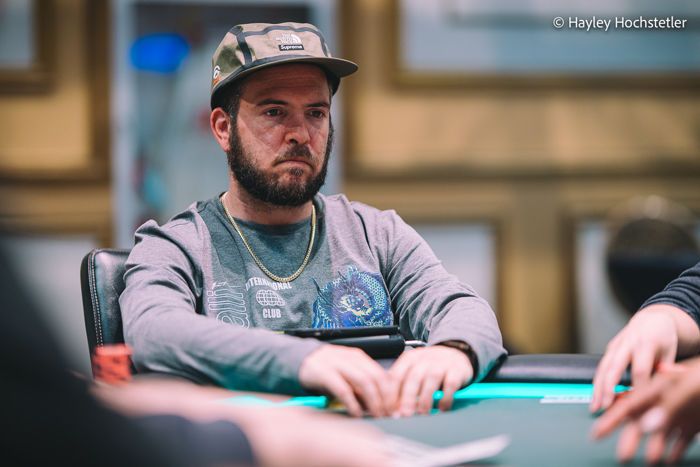 On Day 2 of the Event #56: $50,000 Poker Players Championship it was a game of pot-limit Omaha (PLO) in Level 9 (2,000/4,000/4,000) when Yuval Bronshtein raised to 9,000 in the cutoff and Luke Schwartz called on the button. Lyle Berman then announced raise out of the small blind without declaring an amount and first pushed nine yellow T-1,000 chips forward before he attempted to raise it to 30,000 in total.
The floor was called and since the ruling had been changed a few years ago, it was ruled as a forced min-raise to 14,000. That brought David Williams in the big blind along and the calls by Bronshtein and Schwartz followed with Bronshtein joking that this might develop into a huge pot.
On a flop of
, Berman bet 60,000 and Williams raised to 240,000 near instantly. "Oh wow, it might really happen," Bronshtein said and gave it some consideration before he then moved all in. That got rid of Schwartz and Berman before Williams asked for a count.
"It's around 450k," Bronshtein said almost immediately and Williams then asked for an exact count, which happened to be 436,000. The call of Williams followed and the cards were turned over.
Yuval Bronshtein:

David Williams:
"I am winning, no deuce please," Bronshtein said with a big smile on the face.
The turn was a blank
but the brutal
fell on the river, as Bronshtein's smile froze. Both stacks were quickly checked and Williams had indeed slightly more chips at his disposal to win the large pot with a mighty pair of deuces.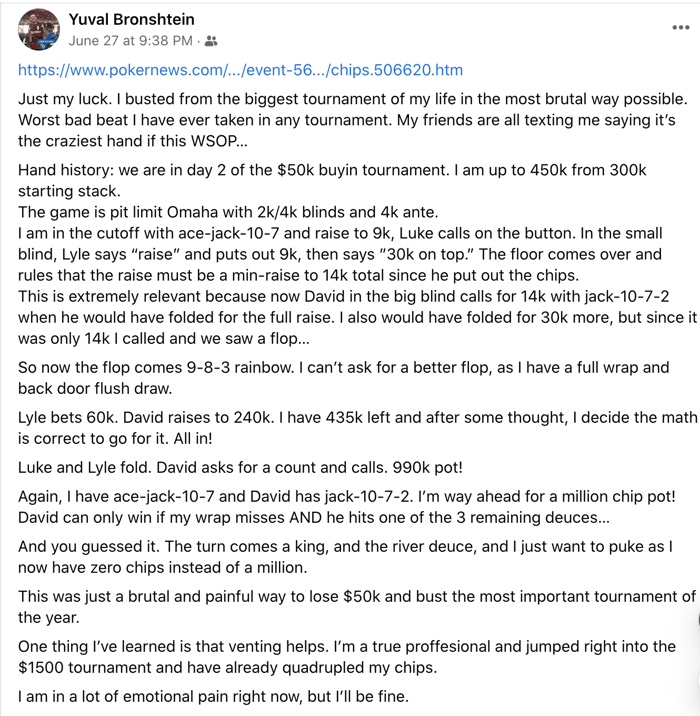 See who won the $50,000 Poker Players Championship here!
Ivey Hits an Ace from Space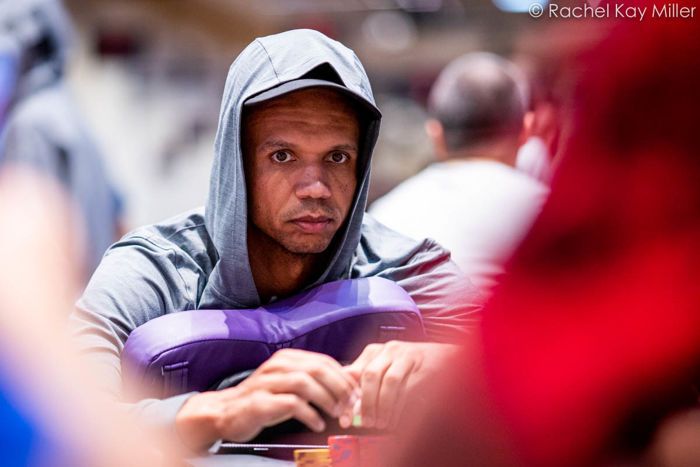 On Day 2 of Event #42: $100,000 High Roller No-Limit Hold'em it was Level 19 (75,000/150,000/150,000) and just five players remained when Ben Heath opened to 350,000 in the cutoff and Phil Ivey jammed all in for 4,300,000 in the small blind. Gregory Jensen woke up with a monster in the big blind and re-shoved all in, getting Heath to quickly fold.
Phil Ivey:

Gregory Jensen:
Jensen held a commanding lead with his pocket kings and the flop of
left it that way. However, the
on the turn soared Ivey to the lead and the rail let many gasps. The
completed the board and Ivey earned himself a double up in the last hand before the dinner break.
Click here to see how Ivey did in the tournament!
Jukich Hits Two-Outer All-In on the River to Take Commanding Chip Lead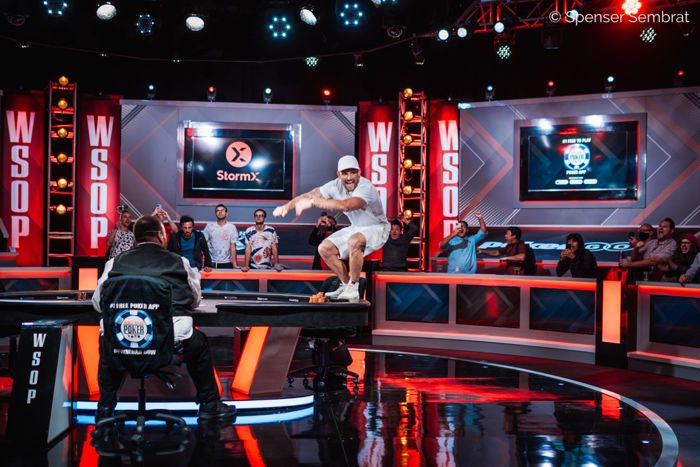 With just two players remaining in the 2022 WSOP Event #21: $1,500 Monster Stack No-Limit Hold'em Mateusz Moolhuizen was one card away from winning a gold bracelet.
In Level 42 (1,500,000/3,000,000/3,000,000), Mike Jukich opened to 8,000,000 with
and Mateusz Moolhuizen called from the big blind with
.
The
gave Moolhuizen two pair while Jukich flopped top pair, setting up the action. Jukich continued for 6,000,000 and Moolhuizen raised to 19,000,000. Jukich called.
With the pot at 58,000,000, the
turn gave Moolhuizen the full house, and he continued for 20,000,000 more. Jukich would go in the tank and eventually shove. Moolhuizen snap-called and needed to fade two outs for his first bracelet.
The river brought the
to stun the entire crowd and give Jukich a commanding chip lead. He went on to win the tournament for $966,577.
Colten Yamagishi Bubbles the $1,100 MSPT Main Event in Brutal Fashion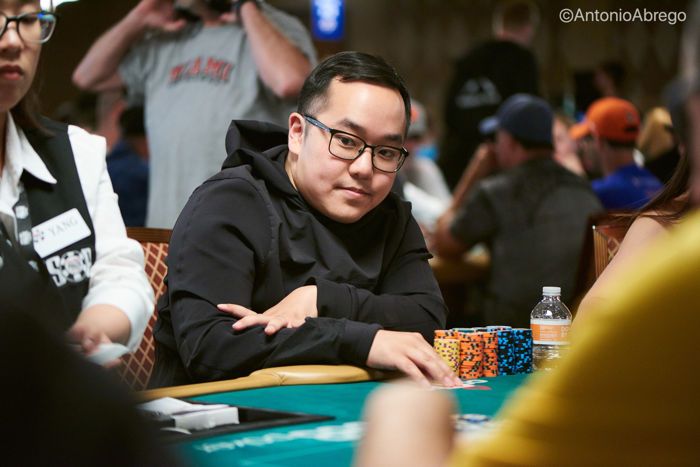 While this hand wasn't at the WSOP, it was so sick we just had to include it. The hand took place in Level 15 (3,000/5,000/5,000) of the 2022 MSPT Venetian $1,100 Main Event on the stone money bubble when Santiago Soriano raised to 11,000 in the hijack and Colten Yamagishi three-bet to 31,000 with all action folding behind. Soriano moved all in for 450,000 and Yamagishi called for his last 390,000.
Colten Yamagishi:

Santiago Soriano:
The flop came out
with no improvement being brought to Soriano's hand. The turn
gave the eight-two an open-ended straight draw and the river
straightened out the board for Soriano's hand and Yamagishi became the last player in the field to not receive a payout. The remaining 225 players were then all guaranteed a minimum of $2,079.
Click here to see who won the MSPT Venetian Main Event!
Noori Wins Set Over Set... Over Set... Over Set!
In Level 8 of Event #35: $2,500 Mixed Big Bet Event it was a round of No-Limit Five Card Draw High when Ryan Leng, Benny Glaser, Daniel Negreanu, and Michael Noori all committed chips to draw cards. Leng drew three and then went all in for 22,200. Glaser drew one and called, as did Negreanu. Noori drew three and took some time contemplating his next play before also making the call.
Noori turned over three aces, while Leng revealed three sevens. Glaser showed three fives, before Negreanu showed three nines. Noori's aces were best, and Leng immediately made his way to re-enter.
It was a wild hand that Negreanu also broke down in his wildly popular vlog:
Executive Editor US, PokerNews Podcast co-host & 2013 WSOP Bracelet Winner.