Former World Champ Tom McEvoy Shares his Poker Samadhi Wisdom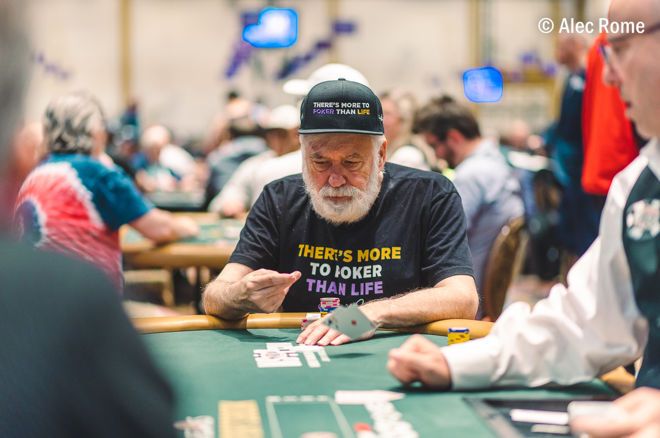 Table Of Contents
Tom McEvoy, the 1983 world champion, was in attendance during the WSOP Event #76: $1,979 Poker Hall of Fame Bounty where he spoke with PokerNews about the good old days, the Poker Hall of Fame, and a poker-related business he's affiliated with called Poker Samadhi.
In 2013, McEvoy was inducted into the Poker Hall of Fame along with another former WSOP Main Event winner, Scotty Nguyen. As such, he was a bounty in Sunday's event, and the player who busted him received $1,983 as a bounty, the year he won poker's world championship event.
Poker Samadhi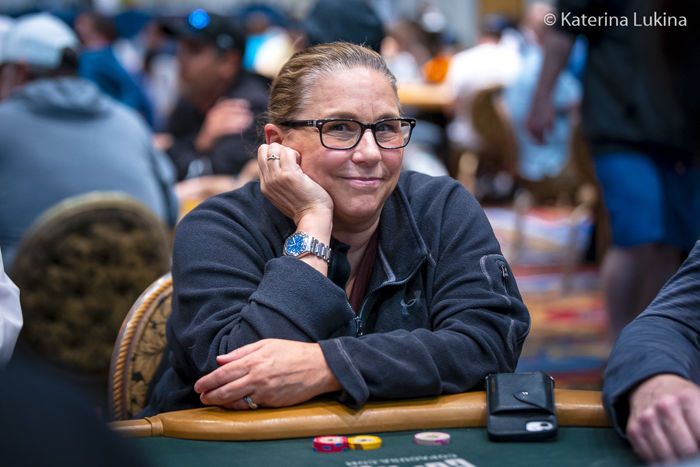 McEvoy, a poker coach and long-time pro, has quite the knowledge of the game and life in general. As such, he's one of the Poker Samadhi gurus who shares his wisdom with the poker community.
Danielle Striker, a poker enthusiast and former Broadway performer, started the website over two years ago, but while seeking a poker coach many years ago, she met McEvoy, who at the time was the first ever PokerStars ambassador.
"When we first started talking, the very first thing (McEvoy) said was you need to slow down," Striker told PokerNews. "So this is how it all sort of came together. Throughout my life, everybody had always told me to slow down, so it's funny that he should say that."
Shortly after she began playing poker, she explained, Striker had an out-of-body experience at the poker table "where it was like I could see everybody's cards." She had a similar out-of-body experience in the 1980s following a motorcycle accident that put her into a wheelchair. The author of the book Poker Samadhi: A Divine Collection of Poker Wisdom said she recalls seeing her own body from above.
Striker said "the only place I've ever slowed down is at the poker table." Upon reading hundreds of books on poker over the years, she began to pick up on some wisdom from within the game.
"So I put together the best of poker wisdom, the best of life wisdom, and one of the things that (McEvoy) says is, 'There's more to poker than life," Striker said. "So I said you know what, I'm going to write a book, I wrote the book on Poker Samadhi about my experience, and Tom has a bunch of these sayings, so we put this website together and I have all these quotes from famous players and all this merchandise."
Poker Samadhi's website has a plethora of merchandise available featuring wisdom shared by poker legends such as T.J. Cloutier and McEvoy, both Hall of Famers.
Catching Up with Tom McEvoy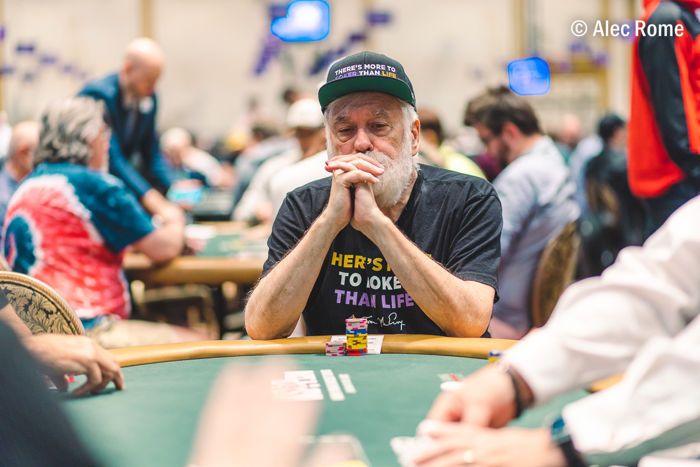 Cloutier couldn't make it to the Hall of Fame Bounty event at the WSOP this past weekend, but McEvoy was in the field along with a number of other Hall of Famers such as Daniel Negreanu, Johnny Chan, and Barbara Enright.
The poker legend was kind enough to talk a little poker with us on break during the World Series of Poker. He first discussed the feeling he experienced upon winning the Main Event in 1983, which paid $540,000.
"I've never done drugs in my life and I was on a euphoric high for the next five or six days," McEvoy said of how he felt after that career-defining win. "You'd think I had a drug-induced high, but it was better than that. It was a once-in-a-lifetime thing. I couldn't sleep, I was floating on cloud-nine because I'd come from basically nowhere to win the two biggest tournaments back-to-back."
In 1983, McEvoy, as he explained, wasn't an established pro entering the WSOP, but he earned the respect of his peers when he won a $1,000 limit hold'em event and then the Main Event in the same year. He'd go on to win two additional bracelets — one in 1986 and his most recent in 1993.
"I walked across the street to the Golden Nugget where I was a regular after winning the Main Event, and I didn't say a word. I just went up to the rail, and all of a sudden people just noticed that I was there. The room was full, you couldn't hear a pin drop. Everything stopped. I stood up and I got a standing ovation from everybody, including the floormen, the dealers. It was very touching."
During the Hall of Fame Bounty event, the newest member of the Poker Hall of Fame, the late Layne Flack, was announced in front of the crowd inside Paris Las Vegas. As a living member of the HOF, McEvoy had a say in the matter and he said he used his votes last year on Flack and Michael Mizrachi. This year, he chose someone different.
"(T.J. Cloutier) and I always vote the same way, we always discuss it," McEvoy said of his Poker Hall of Fame vote. "This year, all 10 votes went to Kathy Liebert who I felt totally deserves to be in the Hall of Fame. We don't have enough women in there. I have no objection to Layne Flack but they should put more than one person in. They used to put in two a year."
McEvoy, who has been playing poker for over 40 years, gave PokerNews his list of the best players he's ever faced.
"For tournaments, it's got to be Phil Hellmuth," McEvoy answered. "Phil Ivey, right now, is possibly the best all-around player. For 20 years, T.J. Cloutier was the best tournament player on the planet. I have tremendous respect, even now for his game."
McEvoy said that Doyle Brunson, often referred to as the best all-time, was among the greatest, but not quite at the top. He also mentioned Erik Seidel and David "Chip" Reese on his list of the greatest players in history.
On top of being one of the best in the game for many years, McEvoy is also credited with helping to make a push to have smoking banned in poker rooms about 20 years ago.
"It was precisely after the 2002 World Series of Poker, it was the worst 53 days of my life," he said, referring to playing in a room filled with cigarette smoke at Binion's.
That was the last year smoking was permitted at the WSOP, and inside most poker rooms in the United States, thanks in large part to the anti-smoking push by McEvoy.
McEvoy is one of the most knowledgeable poker players in history and he's full of wisdom. Hence, why he's a perfect match for Poker Samadhi.