Doyle Brunson Skipping 2022 WSOP Due to COVID-19 Concerns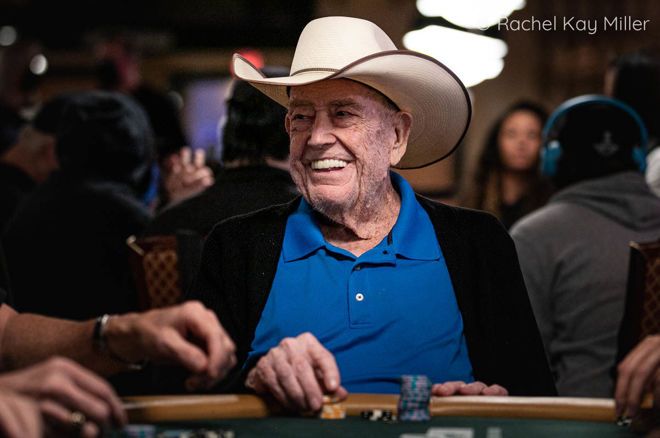 Doyle Brunson's many fans won't get to watch him compete at the 2022 World Series of Poker due to COVID-19 concerns, at least for now.
The poker legend shared some disappointing, but understandable, news on Twitter Sunday.
looks like covid is everywhere at the WSOP. I'm gonna have to miss some tournaments I wanted to play but there are… https://t.co/J1RzC79qrd

— Doyle Brunson (@TexDolly)
Wife's Health More Important than Poker
For anyone who has been following poker Twitter in recent days, it's no secret that the virus has been spreading around Bally's and Paris. That shouldn't come as a surprise given the current coronavirus strain, according to experts, is more contagious than previous strains. With poker players hovering around each other in close proximity for hours on end, a breakout was to be expected at some point.
That said, the COVID-19 spread hasn't forced the cancellation of any events, nor have we seen players removed from tournaments due to health concerns. Still, "Texas Dolly" has a wife at home whom he cares dearly about. Thus, he's going to skip the WSOP so that he doesn't risk infecting the woman he's been married to for the past 60 years.
He didn't, however, rule out changing his mind later in the series if the virus is under control at the WSOP. For now, he's taking a wait and see approach.
Louise Brunson, Doyle's spouse and mother of Poker Hall of Famer Todd Brunson, has battled some health issues in recent years. Her pre-existing conditions leave her vulnerable to the coronavirus.
Doyle Returned to Action at the 2021 WSOP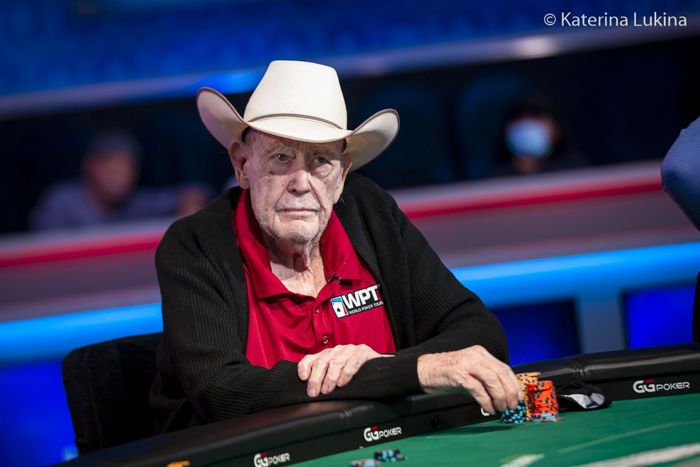 At the 2021 WSOP, Brunson surprised the crowd when he showed up at the Rio to compete on Halloween. He made a quick exit in the $1,000 Super Seniors No-Limit Hold'em, but he received plenty of fanfare just for coming to play.
The 1976 and 1977 world champion again surprised the poker world when he not only entered the 2021 WSOP Main Event, but also reached Day 3 where he bowed out just short of the money. He hasn't cashed at the summer poker extravaganza since a memorable sixth place finish in the 2018 $10,000 No-Limit 2-7 Lowball Draw Championship.
At the time, it was presumed the 2018 final table appearance would be the last time we'd ever see the poker icon compete at the World Series of Poker. But he had a change of heart since and has competed in a few events to the delight of his adoring fans.
Brunson has been stuck on 10 bracelets since 2005, and it would be perhaps the most improbable outcome in poker history for the 88-year-old poker pro to become just the second player ever to reach 11 bracelets (Phil Hellmuth has 16).
Virus Spreading at the WSOP
Doyle's concerns aren't unreasonable, to say the least. A number of players on social media have reported testing positive for COVID-19. That includes Hellmuth, who has been out for a few days and was still testing positive on Saturday, which he showed in a video clip.
It's been a rough start to the series for the Poker Hall of Famer. First, it was a bout with "traveler's diarrhea" sidelining him from the first couple of days. Now, it's COVID-19. He said in the video he's hoping to be back in action by Monday so that he can attempt to defend his title in the $1,500 No-Limit 2-7 Lowball Draw.
Other players on the shelf with COVID-19 include David "ODB" Baker, 2021 Ladies Event winner Lara Eisenberg, among others. Despite the negativity surrounding the virus outbreak, it appears most of the cases involving the WSOP have been mild or moderate.
2022 World Series of Poker Hub
Bookmark this page! All you need to know about the 2022 WSOP is here.