Barstool Sports' Cracking Aces Podcast Hosts Crush it on Main Event Day 1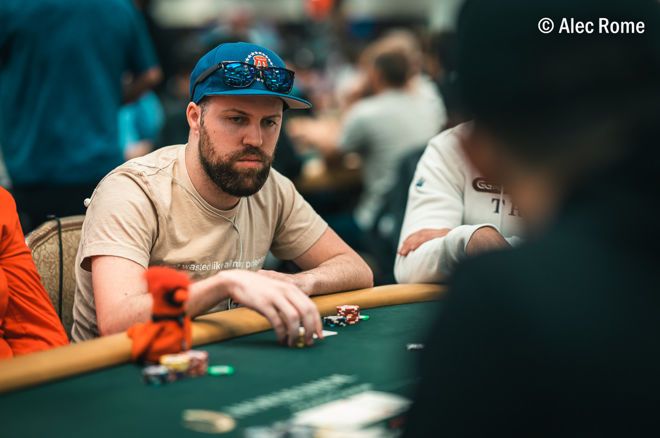 The Barstool Sports powered Cracking Aces poker podcast represented in a big way on Tuesday's Day 1c session of the 2022 World Series of Poker (WSOP) Main Event.
Not one, but two of the show's entertaining hosts will head into Thursday's Day 2abc session with greater than three times the 60,000-chip starting stack.
Eric "Barstool Nate" Nathan finished the 12-hour session with 201,300 chips, while his co-host and long-time Barstool content creator Adam "Smitty" Smith went back to his hotel enthusiastic about bagging 184,600 chips, well above the average stack.
BIG BAGS AHOY: We're going to Day 2 with 184K. Beyond gravy. For perspective, the highest stack I had in my previou… https://t.co/6cWjw7EAcW

— GENERAL SPANK (@SmittyBarstool)
Barstool Sports Dominating Early WSOP Main Event Session
For "Barstool Nate," this isn't the first time he's been in such a position. In 2017, he bagged 228,000 on Day 1 and was riding high, but fell short of the money. Last year, he infamously bluffed it all off on Day 1 with the suited four-three. But not this year. On Tuesday, everything seemed to go right for the University of Maryland alum.
"Man, it was good from the jump," Nathan told PokerNews. "I won hands early, flopped well, rivered a couple of straights at the early levels and just steadily chipped up."
At dinner break, he had around 126,000 before being moved to a different table. The table switch wasn't initially a positive for the long-time Barstool Sports blogger. He quickly dropped more than 25% of his stack, "and then it all turned back around by playing good and flopping better," he said.
"Just solid play and solid run of cards," Nathan said of his overall performance on Day 1c.
Smith, aka "General Spank," had a similar run on the first day of poker's world championship event. The Philadelphia Eagles fanatic and Cracking Aces co-host will march on to Day 2 with over 200 big blinds.
Day 1d of the Main Event, the final opening session, kicks off at 11 a.m. Wednesday in what is expected to be the largest starting flight in the tournament's 53-year history. In order to accommodate for such high demand, the WSOP made the call earlier this week to move the Day 1c survivors from Day 2cd (Friday) to the Day 2ab (Thursday) session. Ten-handed play is almost a certainty on Day 1d.
Follow PokerNews Main Event Live Coverage