Espen Jorstad Holds Commanding Lead in Pursuit of WSOP Main Event Title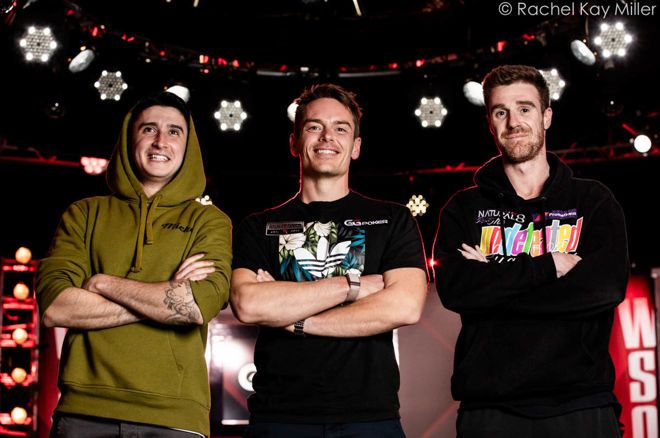 The 2022 World Series of Poker in its new home at Bally's and Paris Las Vegas is one step closer to crowning a new World Champion.
Norway's Espen Jorstad started Day 8 of the 2022 WSOP Main Event with the most chips and will return as the commanding chip leader when the Main Event concludes on Saturday, July 16, 2022.
Jorstad has twice as many chips as Adrian Attenborough while Michael Duek from Argentina completes an international line-up for the final trio.
Out of a field of 8,663 entries in the second largest WSOP Main Event in history, the three finalists have locked up $4,000,000 of the $80,782,475 prize pool. Significant pay jumps await thereafter as the runner-up will collect $6 million and the new world champion walks away with the top prize of $10 million.
Seat Assignments for the Final Day
| Seat | Player | Country | Chip Count | Big Blinds |
| --- | --- | --- | --- | --- |
| 1 | Adrian Attenborough | Australia | 149,800,000 | 50 |
| 2 | Michael Duek | Argentina | 72,100,000 | 24 |
| 3 | Espen Jorstad | Norway | 298,000,000 | 99 |
There will be 25:20 minutes left in level 42 at blinds of 1,500,000 / 3,000,000 and a big blind ante of 3,000,000. The button will be on Duek while chip leader Jorstad is in the big blind.
Jorstad: "I Made No Big Mistakes"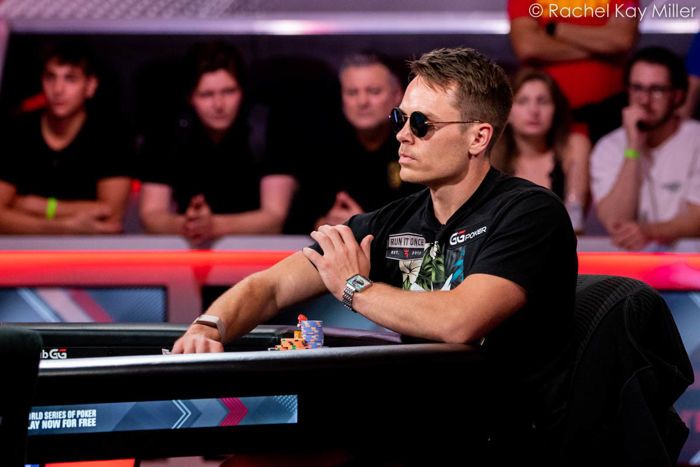 "I think I played pretty much as good as I could"
Jorstad carefully picked his spots for most of the day once the action resumed with ten contenders still in the mix and ended the night with 298,000,000. That's almost spot on two times as many chips as Attenborough (149,800,000) while Duek as the shortest stack (72,100,000) still has 24 big blinds at his disposal.
"I feel I played pretty good," chip leader Jorstad said with a chuckle. "I had a couple of spots where I could have played differently but that's how it is every day. I made no big mistakes.
"I mean I didn't play flawlessly but no one ever does," the Norwegian clarified and added "I think I played pretty much as good as I could."
Attenborough: "It's My Time"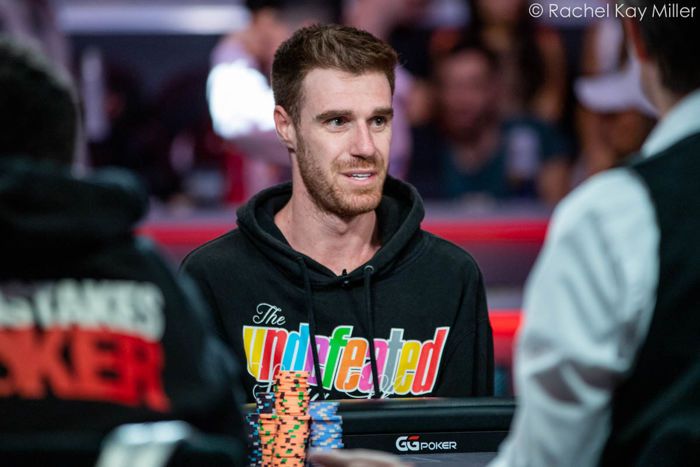 For Attenborough, it was certainly a roller-coaster day. The Australian was on the brink of elimination as the short stack just 60 hand into the day, only to soar to the top of the leaderboard some 50 hands later.
"I was feeling really out of it at the start of the final table," he told PokerNews. "I just thought I was going to get ninth after things didn't go my way. I just thought to myself 'Oh it's not my time' but then I spun it up and suddenly I was like 'Oh, it's my time! I made a few mistakes along the way, but I ran really good."
"I'm just lucky to have made it this far."
Attenborough is looking to become the second Australian since Joe Hachem to win the WSOP Main Event and he says it's a surreal experience to even be at the final table.
"I definitely don't deserve to be here but I'm just lucky to have made it this far."
At one point Attenborough went on break with just six blinds, but he said a level head kept him composed and ready to grind.
"I can only play the cards I got dealt in front of me. I was already coming into today happy if I got tenth. I ran so good to even be here, so I'm here to play. You don't really have a chance to play for $10,000,000, so I'll be as strict as possible. I'm going to be ready to play. I'm going to be here to win."
Duek: "It's Been Great"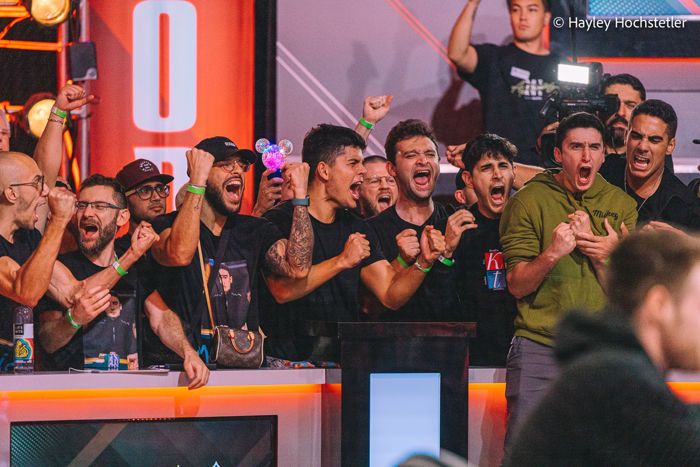 While Duek may be last in chips when the action resumes, his rail may very well be the loudest as he was supported by boisterous chants throughout the contest in the Thunderdome. Born in Argentina and residing in Florida, more friends and family flew in for this special moment and the evidence could be heard throughout the entire Bally's Event Center.
"I am here with friends, immediate family, friends I haven't seen in forever, friends I met playing poker and random poker cheering me on. It's been great."
Having fought back from a short stack on numerous occasions in the late stages, Duek is looking to improve on his third-place finish in Event #69: $10,000 Pot-Limit Omaha 8-Handed Championship less than two weeks ago.
"I am going to try and get some rest, spend time with friends and family, and come out here and do what I do. I am going to try and play as good as I can against these two guys. They're both very good players to keep an eye out for."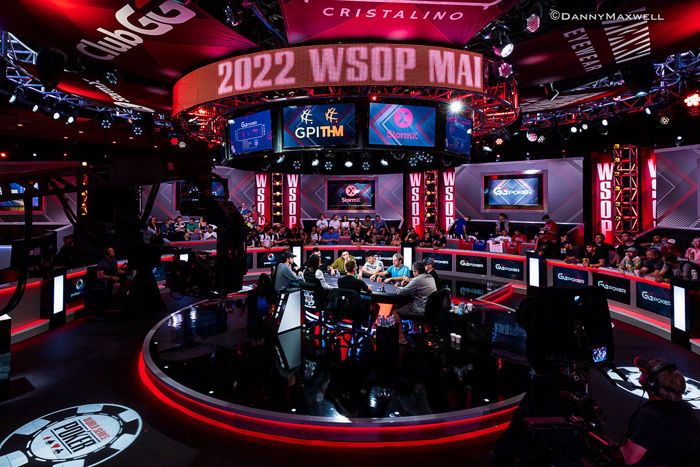 Action of the Penultimate Day
It wasn't long before final ten became a final table of nine after recent birthday boy Asher Conniff open-jammed his last 15 big blinds with pocket tens and was looked up by Duek with ace-king. What started as a rather ordinary coin flip saw the rails explode after Duek flopped quads in one of the most remarkable runouts in WSOP Main Event history.
Nearly 100 hands followed with numerous all-in showdowns but the field remained nine-handed nonetheless.
That changed when the joint chip leader at the start of the day, Matthew Su, saw his dominated pair of eights crushed by the pocket kings of fellow shorter stack Philippe Souki.
Souki was then unlucky to have his pocket aces cracked by Matija Dobric.
Half an hour later, John Eames slow-played aces and got it in against the ace-king suited of Aaron Duczak, who bricked his nut flush draw to be left with fumes. The last few blinds vanished one hand later when Duek notched up his second elimination of the day.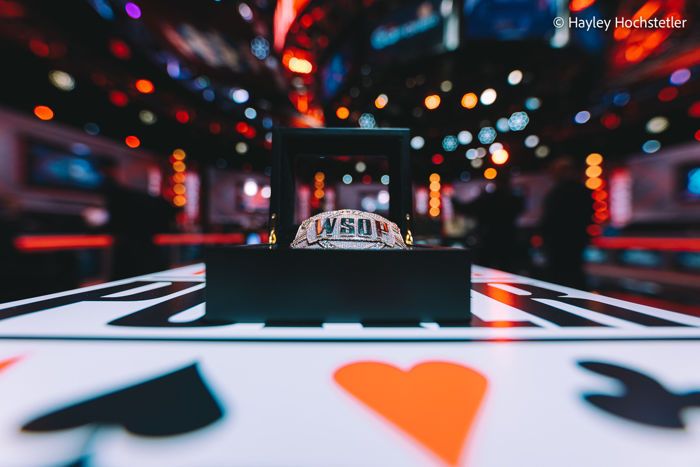 Day 6 chip leader Jeffrey Farnes was next to go after slipping to the bottom of the leaderboard. He shoved with pocket deuces on a six-high flop only to be called by Eames. By the turn, Eames had 22 outs and ended up counterfeiting his opponent on the river; winning the hand with nine-high and eliminated Farnes.
By this stage, Jorstad occupied top spot and cemented his lead in a big flip against Dobric that sent the former chip leader to the rail.
There was still time for Jorstad to lose and regain his comfortable lead at the top in the lead up to the final elimination of the night.
As one of the two short stacks at the table, Eames three-bet jammed ace-jack and was snap-called by Jorstad with pocket kings. Eames had to settle for a consolation prize of $3 million, concluding Day 8 in the process.
The final three players will return at 2 pm local time on July 16th when a new world champion is crowned. Once again, the action will be broadcasted on the PokerGO platform and all PokerNews updates will be based on the delay of the live stream until a winner has been crowned.
Results on Day 8 and Remaining Payouts
| Place | Winner | Country | Prize (in USD) |
| --- | --- | --- | --- |
| 1 | | | $10,000,000 |
| 2 | | | $6,000,000 |
| 3 | | | $4,000,000 |
| 4 | John Eames | United Kingdom | $3,000,000 |
| 5 | Matija Dobric | Croatia | $2,250,000 |
| 6 | Jeffrey Farnes | United States | $1,750,000 |
| 7 | Aaron Duczak | Canada | $1,350,000 |
| 8 | Philippe Souki | United Kingdom | $1,075,000 |
| 9 | Matthew Su | United States | $850,675 |
| 10 | Asher Conniff | United States | $675,000 |