Event #69: $10,000 Pot-Limit Omaha 8-Handed Championship
Day: 4
Event #69: $10,000 Pot-Limit Omaha 8-Handed Championship
Day 4 Completed

Level 32 : Blinds 150,000/300,000, 300,000 ante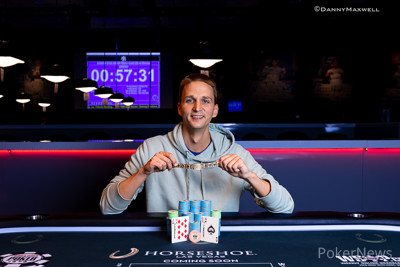 Sean Troha of North Olmstead, Ohio has completed an incredible final table comeback to defeat Shiva Dudani and claim his first WSOP gold bracelet and the $1,246,770 first prize in Event #69: $10,000 Pot-Limit Omaha Championship. It was the very first WSOP gold bracelet for Troha and certainly made it count with a seven-figure payday.
The biggest $10,000 Pot-Limit Omaha Championship in the history of the World Series of Poker attracted a record attendance of 683 unique entries and the biggest slice of the $6,368,975 prize pool was awarded on the final day, which brought back five contestants. Troha was the second-shortest stack upon return and still had 42 big blinds at his disposal, yet the action was fast-paced from the get-go.
At two points on the final table today, Troha needed to hit a two-outer to survive, and did so both times against eventual runner-up Dudani en route to his inconceivable victory.
With prior career WSOP earnings of $270,226, this is far and away Troha's biggest career tournament score.
When asked if he can put into words what the victory feels like, he was somewhat lost for words initially. "Probably not, I am usually not a man of many words at the table. I have been coming out here for a lot of years and haven't won any [bracelet], hopefully this makes up for all of that," Troha said shortly after his victory.
Also featured among the final five were Norway's Joachim Haraldstad, Tom Hu and Michael Duek. All of them were eliminated by the red-hot running Dudani, who started the final day as the chip leader but was ultimately unable to close it out after a one-sided heads-up duel with Troha. He had to settle for a consolation prize of $770,556, which was still the far biggest cash in his live poker career.
Final Table Results Event #69: $10,000 Pot-Limit Omaha Championship
| Place | Name | Country | Prize (in USD) |
| --- | --- | --- | --- |
| 1 | Sean Troha | United States | $1,246,770 |
| 2 | Shiva Dudani | United States | $770,556 |
| 3 | Michael Duek | Argentina | $548,015 |
| 4 | Tom Hu | United States | $395,465 |
| 5 | Joachim Haraldstad | Norway | $289,630 |
| 6 | Thair Kallabat | United States | $215,326 |
| 7 | Nitesh Rawtani | United States | $162,542 |
| 8 | Toby Lewis | United Kingdom | $124,611 |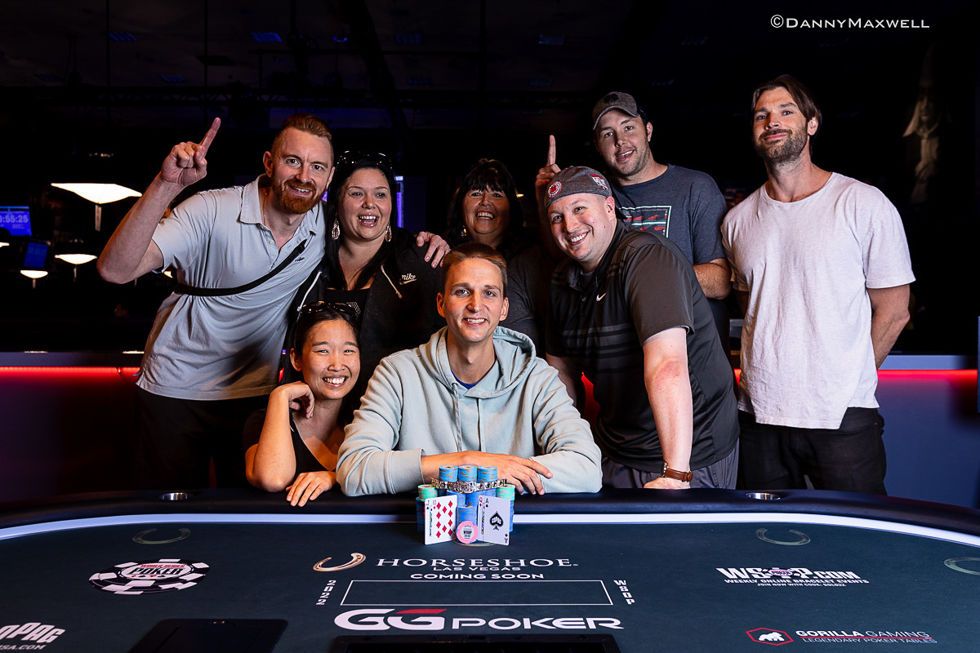 Troha participated in the $10,000 Pot-Limit Omaha Championship for the third time and also entered the $10,000 Pot-Limit Omaha Hi-Lo Championship but only had one cash during the 2022 WSOP in its new home at Bally's and Paris Las Vegas in Event #58: $1,500 Pot-Limit Omaha Hi-Lo 8 or Better to his name.
"You have no control over this kind of thing, I am just super lucky and super blessed to be here. I have been working very hard on my game and this is the pay-off," Troha added in the winner interview.
He came into the day as the second-shortest stack with plenty of big blinds to his name and didn't seem too fazed about the relentless aggression of Dudani, who was seemingly running over the table.
"I thought a lot of the things could have happened and I wasn't sure what I was gonna do but I just kinda felt the moment and won a lot of hands early on, that freed me up a bit and made things easier. I also had a great run of cards," Troha added.
The domination by Dudani helped Troha "a little bit" and he described his heads-up opponent as very aggressive for a while". As the lead of Dudani grew, the eliminations came very quickly and the final table was soon down to the final three players with Dudani holding three quarters of the chips in play.
He was responsible for the knockout of Joachim Haraldstad and Tom Hu within fewer than 20 minutes. Dudani first came from behind with inferior two pair to eliminate the Norwegian and then caught Hu with a move when he turned a full house.
However, the tides changed soon after that with one massive chip leader and two short stacks trying to fight their way back in. While Michael Duek remained passive, it was Troha who tried to pounce on the chip leader and he scored a first double up with double-suited ace-king against the double-suited kings of Dudani thanks to a two-outer on the river.
"A lot of the hands played itself, we were down to three very soon," Troha remarked when asked upon the two crucial double-ups. The second lucky punch against Dudani in which he gained the lead saw more than half of his stack in before the flop in a spot where the "all-in on the flop was almost always going to happen".
This time, he was in trouble with just the top pair against the middle set of Dudani but he turned a set of kings to prevail once more. After that, the momentum during three-handed play certainly changed and it was now Troha who dominated the action with his lead.
Dudani earned some chips back by knocking out Duek in third place and entered the heads-up duel with a minor chip disadvantage. But from there on, Troha had the best of it on multiple occasions and it took just one hour to determine a champion from there on out.
The latest gold bracelet winner will certainly give the 2022 WSOP $10,000 Main Event a shot, perhaps even as soon as Day 1d, despite not having played a lot of Hold'em hands in his poker career. Pot-Limit Omaha has been the main game of Troha for the past seven years and he will now celebrate the victory with his fiends before returning to the 2022 WSOP at Bally's and Paris Las Vegas for a new and different challenge in the days to come.
While this concludes the PokerNews coverage for this event, the several other tournaments are still to come with nearly two dozen WSOP gold bracelets still up for grabs. All of the exclusive updates and results can be found in the 2022 WSOP live reporting hub.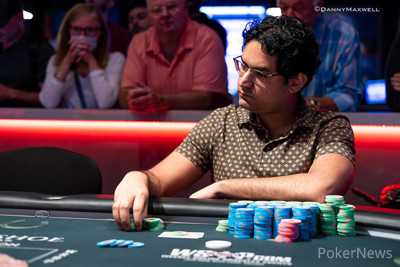 The new level brought small pots with it and both essentially traded the chips back and forth with Sean Troha retaining his lead over Shiva Dudani.
What followed was a button limp by Dudani and Troha raised the pot to 900,000 for Dudani to call.
On a flop of
, Troha checked and Dudani asked for the size of the pot before he bet 1,200,000 into 2,100,000. Troha raised the pot and then called the shove by Dudani for around seven million.
Shiva Dudani:

Sean Troha:
The
on the turn improved Dudani to jacks and nines but the
on the river gave Troha queens and jacks to earn the victory. Dudani has to settle for a runner-up finish worth $770,556 and Troha wins his first WSOP gold bracelet, which comes with a top prize worth $1,246,770.
A full recap and the winner reaction are to follow.

Level 32 : Blinds 150,000/300,000, 300,000 ante
After another string of small pots headed back and forth between the players, in one pot where Sean Troha won at showdown after action was checked through each street, Troha looked over his shoulder at his rail and prompted them to applaud, which they happily did.
Though there may be a small lull in the action over the last few hands, more fireworks are sure to be coming soon.
Level: 32
Blinds: 150,000/300,000
Ante: 300,000
Shiva Dudani limped in and then called a raise to 750,000 by Sean Troha to see a flop of
on which Troha bet 500,000 and Dudani called. The
followed on the turn and Troha now checked, Dudani bet 400,000 and took it down.
Troha raised to 625,000 on the next button for Dudani to defend. The
flop brought a check-call worth 400,000 by Dudani with it and he also checked the
turn. Once Dudani checked the
river, Troha bet 1,650,000 and claimed the pot uncontested.

Level 31 : Blinds 125,000/250,000, 250,000 ante
Sean Troha raised to 625,000 from the small blind / button and was called by Shiva Dudani in the big blind.
On the
flop, Dudani check-called a 500,000 chip bet from Troha to see the
come on the turn.
Dudani checked again, and Troha sized up to 1,500,000. Dudani chose to fold as his stack dropped below ten million.
The following two hands saw Dudani call a preflop raise to 750,000 from Troha, then fold to a 700,000 chip bet on a
flop. He then folded preflop to a 625,000 chip raise from Troha, whose chip lead is growing to a critical level.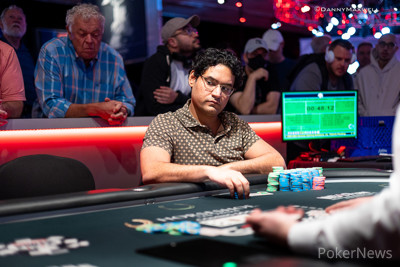 Sean Troha raised to 625,000 on the button and was called by Shiva Dudani in the big blind. On a flop of
, Dudani check-called for 450,000 and then did so again on the
turn when Troha bet 1,000,000. Both opted to check the
river and Dudani tabled the
for a full house to win the pot.
Dudani then raised the button and Troha called. This time, it was Dudani who fired three barrels for 400,000 on the
flop, 900,000 on the
turn and 1,400,000 on the
river.
Once Troha called the final bet, Dudani said "good call" without showing his cards just yet. Troha rolled over the
for a flush and Dudani nodded, then added "makes sense" in table chat.

Level 31 : Blinds 125,000/250,000, 250,000 ante
After Sean Troha called a min raise preflop from Shiva Dudani, they checked the
flop to see the
on the turn.
Dudani then called an 800,000 chip bet from Troha, but on the
river, Dudani folded to a 2,300,000 chip bet from Troha.
On the next hand, after Troha limped, he called a raise to 750,000 from Dudani. After Dudani checked the
flop, Troha bet 800,000, eliciting a fold from Dudani.
Sean Troha has won the first two hands in heads-up play to further increase his lead against Shiva Dudani and the second hand included three barrels.
Troha made it 625,000 to go on the button for Dudani to call and the flop brought
on which Dudani check-called a continuation bet worth 700,000. After the
turn, Dudani checked once more and Troha bet 1,400,000 in order to pick up a call.
Last but not least, the
fell on the river and Dudani checked again. Troha now bet the pot for 5,900,000 and Dudani folded after more than two minutes of consideration.