Las Vegas Active Shooter Rumors Spark Panic; WSOP Impacted, Negreanu Injured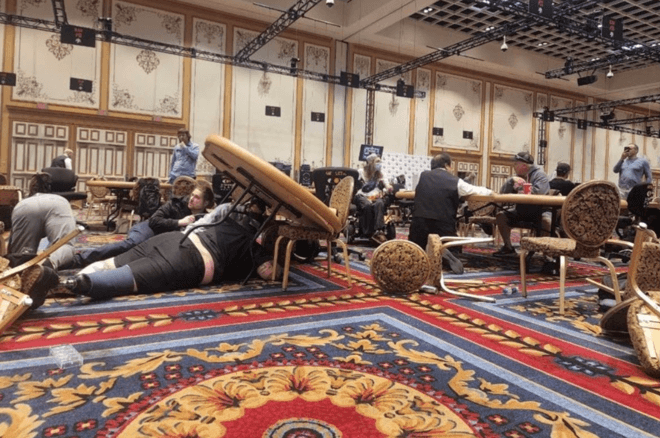 Table Of Contents
On Saturday night, Las Vegas was rocked by rumors of an active shooter situation at MGM Grand. Fortunately, it proved to be a false alarm, though the ramifications – including panic fueled by misinformation – reverberated throughout the Strip and even impacted the 2022 World Series of Poker (WSOP) at Bally's and Paris, which just hours before had crowned its Main Event champion.
What appeared to happen was an incident near the MGM was misinterpreted as gunshots, which understandably inspired patrons to flee en masse across the casino floor, including the MGM's tournament poker area, in route to the nearest exit. There were also rumors, thus far unfounded, that firecrackers may have been set off.
At the same time, the Strip swelled with police and emergency personnel, and before long, false reports of an active shooter spread on social media and a chain reaction of panic saw patrons flee at venues such as ARIA, Caesars Palace, Bellagio, Bally's and Paris.
About 30 minutes after things started to snowball, the LVMDP took to Twitter to clarify the situation:
Reports of a shooting near the MGM tonight are unfounded. Initial reports are a glass door shattered causing a loud… https://t.co/ddk10j2m28

— LVMPD (@LVMPD)
"It caused a loud bang, there was a subsequent panic, thinking it was possible gunfire given the nature of what's been happening across the nation," Metro Police Capt. Branden Clarkson said Sunday.
According to reports, the person responsible for breaking the glass was arrested and faces a charge of destruction of property.
What Happened at the WSOP?
The Las Vegas-wide incident, unfortunately, spread to the WSOP. When and how isn't exactly known, but what is known is that several poker players took to social media sharing both concerns and warnings of an active shooter situation.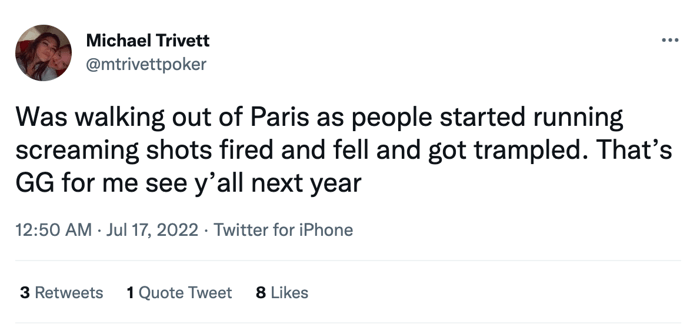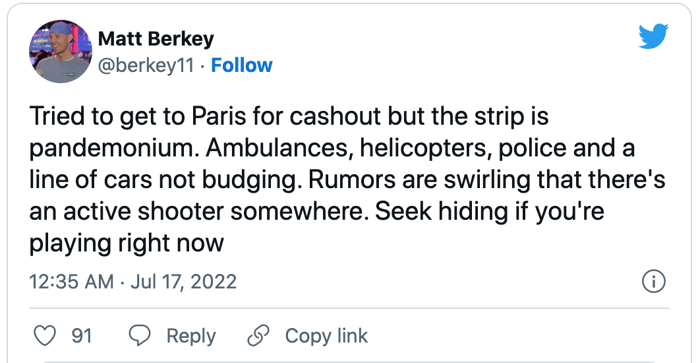 2009 WSOP champ Joe Cada weighed in on social media: "Most craziness night I ever experienced. Everyone running in panic, no one knowing what is going on, people getting trampled. I've never seen so many people running in fear, only caring about themselves, myself included. Everyone thought there was an active shooter. You really learn a lot about yourself and others in a panic situation."
After players fled, the WSOP staff was left to take control of the situation. Security was on high alert as tournament officials had to decide what to do given there were overturned tables, jumbled chip stacks, and players no longer on the premises. Ultimately, play ended early in the three bracelet events – $5,000 No-Limit 8-handed, the $1,500 Closer, and $10K 6-Handed No-Limit Hold'em Championship – that had been playing out in the Paris Ballroom. Stacks were bagged with play resuming on Sunday.
Meanwhile, the $3,000 H.O.R.S.E. continued play four-handed while the daily deepstack tournaments also resumed.
"We are proud of the staff in their response in restoring calm and aiding players caught up in a wave of panic and misinformation. We at the WSOP remain committed to high levels of security around the event," WSOP Executive Director Ty Stewart told PokerNews.
Credit where its due, was very impressed by the response by security, paramedics, and the WSOP staff tonight

— Darren (@DarrenRabbi)
The WSOP wasn't the only event impacted by the incident as many restaurants across the Strip saw patrons flee mid-meal, while a Cirque Du Soleil show was also canceled.
Negreanu and Others Injured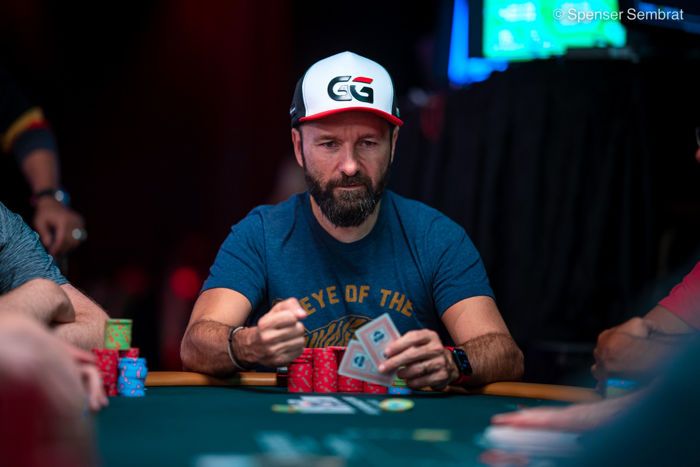 When rumors of an active shooter reached the WSOP many players either began to flee the tournament area or took cover wherever they could. During the ensuing stampede, several players sustained minor injuries including six-time bracelet winner Daniel Negreanu, who suffered a torn up right hand after falling to the ground. He even tweeted a graphic image of the injury before receiving medical treatment at the WSOP.
Negreanu further discussed his injury and the situation in his daily WSOP blog:
Yuval Bronshtein, who last fall won his second gold bracelet, suffered injuries to his face after being pushed up against a wall, while both Michael Trivett and Vanessa Kade hurt their knees after being knocked to the ground by a fleeing crowd. Additionally, Mike "The Mouth" Matusow injured his back, and Liv Boeree suffered a knee injury.
Several other poker players tweeted about minor injuries, broken glasses and cell phones, and perhaps the most damaging thing of all, having gone through a traumatic perceived life-threatening experience,
While it was fortunate not to be an active shooter situation, the misinformation and rumors inspired by the MGM rock-throwing incident will surely have a long-lasting impact on those who went through the experience.
@lipamiletti @sportstalkmatt @LasVegasLocally @VitalVegas @MGMGrand So I just left the @MGMGrand through the front… https://t.co/TrP5kuRXBS

— D. Stamos/Helodriver (@SpacecoastPix)
Gun violence in the United States is an ongoing issue, and understandably many people are on edge. This may be especially true in Las Vegas, where the deadliest mass shooting in U.S. history took place back in October 2017, not far from where Saturday's incident occurred. Sixty people were killed and hundreds more injured when a gunman reigned gunfire down on the Route 91 Harvest Festival country music festival on Las Vegas Boulevard.
Since then, most venues and large gatherings, such as the World Series of Poker, have increased their security measures, including but not limited to more armed police personnel.
As of Sunday, it was back to business as usual on the Las Vegas Strip, including at the WSOP which is finishing its final day of regular play before the series-ending Tournament of Champions.
*Lead image courtesy of Joey Ingram.