2022 WSOP Featured Females: Lara Eisenberg Talks Poker's Impact on Dementia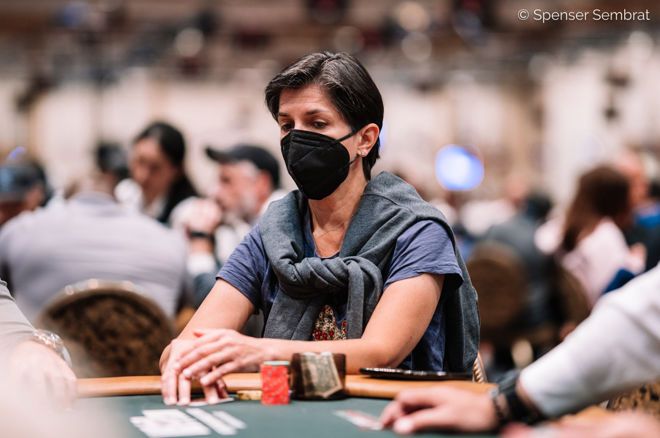 Table Of Contents
For our newest edition of 2022 WSOP Featured Females, we interviewed bracelet winner Lara Eisenberg, a radiologist who shared some insight into poker's effect on the brain long-term and if Daniel Negreanu was correct when he insinuated that women aren't wired to be interested in poker.
Eisenberg is currently quarantining after testing positive for COVID-19 during the World Series of Poker. The Maryland native will head back out east as soon as she's cleared to return to civilization. Her case, thankfully, was mild.
PokerNews spoke with the medical professional by phone to discuss her poker career, and also pick her brain on what poker actually does to our brains.
Winning a WSOP Bracelet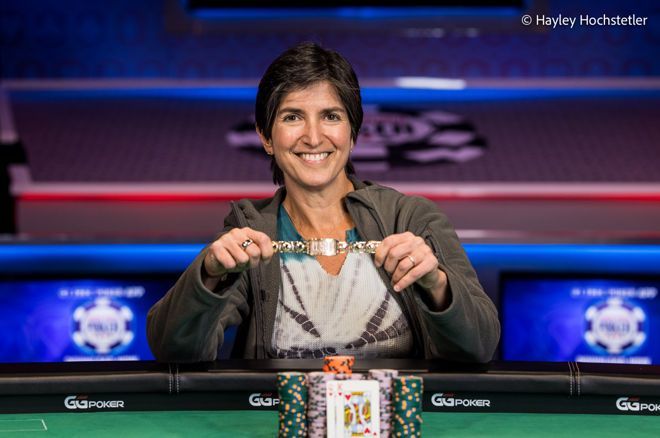 In 2021, Eisenberg won her first WSOP bracelet in the $1,000 Ladies No-Limit Hold'em Championship for $115,694, beating out 644 players. She defeated Debora Brooke heads-up to finish off the tournament.
The champ's life didn't drastically change financially — she already has a high-paying gig — but, as she explained, it opened some doors that may have otherwise not been available.
"It's great to have the recognition to have won an event," Eisenberg told PokerNews.
She's currently writing a chapter for an upcoming book from Poker League of Nations founder Lena Evans, "Poker for Life." Her contribution to the book will be content on the brain's impact on poker.
Evans told PokerNews that Eisenberg is a "great ambassador for women in poker." She began playing poker in the early 2000s and got into the game like so many others.
"I was watching the early nightly news and a commercial for PokerStars came on," she said about how she discovered poker.
Is Poker Good for the Brain?
Eisenberg, whose poker week in Las Vegas was cut short due to COVID-19, doesn't play poker for a living. That is partially due to having a successful career as a radiologist back home in Silver Spring, Maryland.
Perhaps, you're familiar with that city. It's the hometown of legendary comedian Dave Chappelle, and also long-time WSOP announcer Norman Chad. That's probably the first and only time Chad has been mentioned in the same breath as Chappelle.
Eisenberg works seven days straight and then is off for seven days, so she has a dream schedule. During her time off, one activity she spends time on is research. More specifically, studying how poker and other games of skill impact the brain. She said there's more use for poker than just a means for making money and having a good time.
"Evidence is showing that the more complexly your brain is wired, it makes it more likely that if you do develop dementia, it will develop more slowly," Eisenberg says.
Dementia is a chronic or persistent disorder of the mental processes caused by brain disease or injury and marked by memory disorders, personality changes, and impaired reasoning. Those who suffer from dementia, mostly elderly folks, often have sudden losses of memory.
"Chess, poker, bridge, any game that has high-level strategy is going to be good (for brain health)," Eisenberg continued.
The 2021 bracelet winner believes that the more time people spend doing tasks that make them think and learn, the better off they'll be mentally. Sitting around watching TV all day, she says, isn't productive for brain health.
"Poker, to me, is almost a perfect game to help you self-actualize. Everything you do in poker helps you in life," Eisenberg said.
She also encourages people to focus on other aspects such as meditation, eating a healthy diet, and getting plenty of exercise.
Do Women Love Poker?
It's no secret to anyone who has spent more than five minutes in a poker room that men dominate the game in terms of participation. In tournaments such as the WSOP Main Event, females represent only about 5% of the field each year.
Negreanu suggested that perhaps women just aren't wired to love poker the same way as men. We asked Eisenberg her thoughts on that argument, and she didn't completely disagree.
"It would be wrong to say it's impossible (for more women to play poker), however, I think that the way women are socialized is a large part of it," the poker champ argues.
She said that women carrying and then taking care of their babies makes it difficult for them to get into poker. Additionally, the wage gap in the US — men make more than women, on average — leaves less disposable income for women to play poker.
But she isn't convinced that it's impossible to attract more women to the game.
"Poker didn't come up in my world, poker comes up in guy's world," Eisenberg explains of her upbringing. "A small number of women grow up in households where poker is a regular past time. And, in general, young women don't tend to play poker when they get together as often as young men do. So, the exposure element is a factor."
Eisenberg believes that if more states would legalize online poker, it would give more females an opportunity to play since they wouldn't have to leave the house to get in a game, a convenience for stay-at-home moms.
"The thing that would make the biggest impact would be impossible for an outside organization to do and that's to introduce poker to girls at a young age," she said.
The Maryland native began playing poker in the early 2000s in Atlantic City. She's exclusively a no-limit hold'em player, mostly tournaments. Eisenberg credits organizations such as the Poker League of Nations, the world's largest women's poker group, for putting effort into giving women an opportunity to play poker and said it does help.
Eisenberg is done playing poker on her current trip due to a positive COVID-19 test. But she plans to come back to Las Vegas later this month to defend her Ladies Event title.
2022 World Series of Poker Hub
Bookmark this page! All you need to know about the 2022 WSOP is here.