The Muck: Why Don't More Women Play Poker?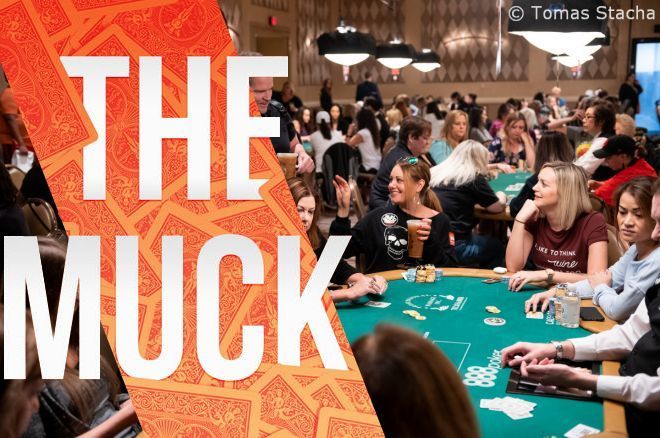 Table Of Contents
Daniel Negreanu gave his two cents on why women are underrepresented in poker, and in doing so he was heavily criticized by some for implying that one gender is more predisposed to enjoy the game. However, many others agreed with the GGPoker ambassador, creating an interesting and much needed debate on an important topic.
In this edition of The Muck, we discuss the Poker Hall of Famer's comments and address the many reasons why poker is so heavily male dominated.
The World Series of Poker is one benchmark for determining poker's popularity. Each year, between 6,000 and 8,000 players register for the $10,000 Main Event, considered poker's world championship event. On average, women represent only about 4% of the field, just a few hundred players.
Outside of the annual Ladies Event, women make up anywhere from 4%-8% in most bracelet events, and that's fairly close to what you'll find in a majority of poker tournaments just about anywhere in the world. As for cash games, there appears to be a slightly higher female turnout, but not that much.
Negreanu says that he's noticed a similar female representation since he began playing poker in the 1990s.
26 consecutive years as a pro poker player hearing the same "getting women into poker is an untapped market" discus… https://t.co/3Kwy4cJ8Io

— Daniel Negreanu (@RealKidPoker)
Poker Twitter Explains Lack of Women in Poker
The six-time WSOP bracelet winner then followed that up with a second tweet summing up the responses he received to his initial post on the issue.
The 5 most common reasons why more women don't play poker that I've gathered via reading countless tweets:

— Daniel Negreanu (@RealKidPoker)
"How much marketing efforts since '96 have been focused on attracting more women Daniel? You've represented companies that have spent a combined hundreds and millions, if not billions on male user acquisition, what % of those dollars went towards attracting women?" Xuan Liu, who recently appeared on High Stakes Poker, responded.
"Aren't table games and dice games in the pit overwhelmingly dominated by men as well? Is it unwoke or something to be honest and just admit women aren't nearly as interested in these types of activities as men?" Matt Glantz questioned.
Negreanu hit on the main reasons that some poker players argued for as to why poker can't attract more women. On top of that list is "Gender Pay Gap."
For most, the money used to play poker is disposable income. According to a Pew Research Center analysis, women in the US earned about 84% of what their male counterparts were paid for a similar occupation. This figure has held steady for about 15 years, but it's still much improved compared to the 1980s (and earlier).
More than Financial Reasons
Many poker players have argued that because the average man has a higher income, they have more money to play poker. But the disparity in poker demographics can't solely be explained by a wage or wealth gap between males and females, not when males represent 90% or more of the entire poker community. There has to be more to it, and a couple of talented female poker players gave us their theories.
"Walking into a poker room for the first time can be intimidating to anyone," Ruth Hall told PokerNews. Poker is predominantly a male's game. New females to the game are looking for someone to walk them through the process."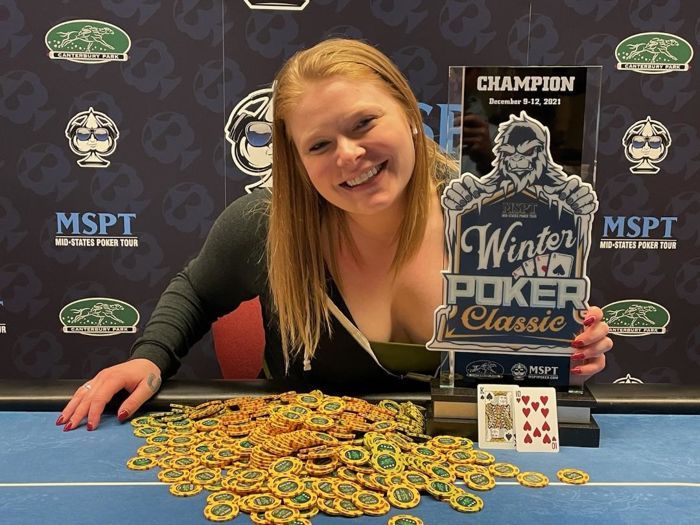 Kyna England, who proudly promotes poker to women and won a 2021 Mid-States Poker Tour title, says that when she makes a mistake at the poker table, her play is judged more harshly than a male who donks off a stack.
Except for Phil Hellmuth. We all know his mistakes are heavily criticized.
"I actually think that a lot more is happening now in poker for women," England said. "Lots of educational groups and media (both written and social) sharing success stories for women. I don't think what Daniel said was necessary and I was disappointed to see it."
The MSPT champion said she enjoys watching other women play poker and believes that if more women are featured in televised and live streamed poker events — she mentioned Xuan Liu and Jennifer Tilly as examples — that will help attract more ladies to the game.
PokerGO's 2022 WSOP live streaming schedule was released last week, and only 21 of the 88 bracelet events will be covered, one of which is not the $1,000 Ladies No-Limit Hold'em tournament, and England, as were many others on social media, is disappointed.
"I really wish they would stream it. I'll be there someday," she said of the Ladies event final table.
Hall is also passionate about attracting more women to the game. The Austin, Texas resident who travels around the country to play tournaments made a suggestion for closing the gender gap.
"If men want to help grow poker, then teach your girlfriend, wife, sister, or Mom how to play. Invite them to join your games," she suggests.
Lena Evans, founder of the Poker League of Nations, the world's largest women's poker organization, said one of the main reasons for a lack of female representation in the game is due to limited bankrolls, and that's based off an exhaustive study she conducted. Her groups strives to help bring more women into the game by staking them and creating non-intimidating PLON leagues at members' homes.
Evans also brings in top pros such as Negreanu, Chris Moneymaker, and more to train women from her group on how to play poker.
Ruth Hall Wins Nevada State Ladies Poker Championship by LIPS for Second Time
Poker Twitter Debates the Issue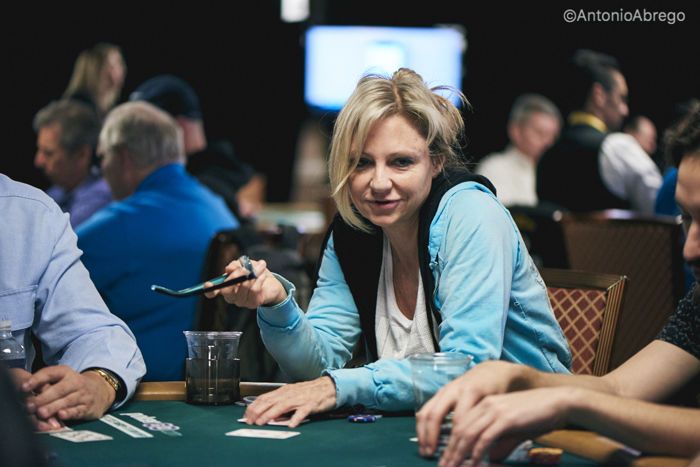 There was far from a general consensus on social media as to why women are so underrepresented. Arguments ranged from poker simply not being a game that women enjoy to men creating an intimidating environment.
"There is zero chance I would seek out and teach my girlfriends to play poker and bring them into that environment. It's insane to me that this is a "thing". Most poker players lose!! Why would you want that on your conscious. Poker has ruined so many lives," Jean Gluck (@jean_gluck) tweeted.
"Dudes love the "women just must not like it" take when it comes to male dominated fields- I've heard this about trivia, STEM, political leadership, sports, chess, c-suites, and now poker- because it preserves their sense of inculpability," Jenn Jacob, wife of former poker pro and Jeopardy champion Alex Jacob, wrote.
@LadyArcadia That should never happen at a poker table or in society in general.

— Daniel Negreanu (@RealKidPoker)
@RealKidPoker @NadyaKGB has it right with 75/25. Aside from the above, I personally think seeing a new narrative in… https://t.co/7RuD1dS2KJ

— Melanie Weisner (@melanieweisner)
"I've said this many times. The women that take poker seriously are very successful. I wish more women would dive in. I love poker and always will," Jennifer Harman, a Poker Hall of Famer, tweeted.
"I think being interested in poker, and interested in poker enough to take it seriously and play professionally is where I see a big gap. I've known many women who are interested initially, & then get bored with 'the grind', learning and studying the game," Kristen Bicknell writes.
"I'm saying this as a woman who did both physics and poker and has looked into this dilemma extensively. Doing those things professionally requires extreme interest/obsession, and so innate gender preferences will be amplified at those extremes," former poker pro Liv Boeree argues.