Phil Hellmuth Can't Seem to Get Away from the Old Queen-Four Hand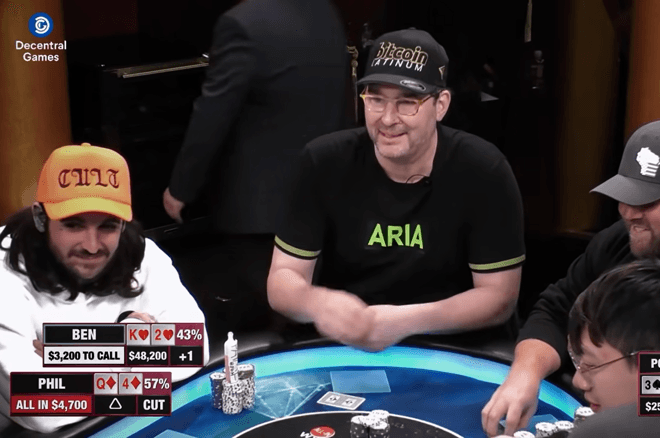 Table Of Contents
Alex Foxen isn't the only player Phil Hellmuth enjoys jamming all in against with the old queen-four. During a recent Hustler Casino Live stream at the same Los Angeles casino, the "Poker Brat" again went crazy with the now infamous hand, and then he ran into the same hand (twice) during a meet-up game the following day.
Last month, during the $25,000 no-limit hold'em final table at the 2022 US Poker Open, the 16-time WSOP bracelet winner made a questionable play with
.
After Foxen opened to 125,000 with
, Hellmuth three-bet to 350,000 and then called off his entire stack of 950,000 following a four-bet from his opponent. The former world champion would end up hitting trip queens to ship the pot and then go on to finish second behind Erik Seidel.
The play sent poker Twitter into a tizzy, with just about everyone bashing the play of the Poker Hall of Famer. But that wasn't the last time in the past week he'd choose to get crazy with such a monster starting hand.
---
Free to Play Slots in the US
At Least it Was Suited
During last Monday's livestream on Hustler Casino Live, a $25/$50 no-limit hold'em cash game, on the very first hand of the six-hour stream, Hellmuth picked up
and, of course, called a $300 raise in the cutoff from Ben. who was holding
. Another player, Sunny, also came along with
.
The flop came out
, enticing only to the "Poker Brat" as he picked up a flush draw, and the preflop raiser continued with a $1,500 over-bet. Sunny quickly moved out of the way, but Hellmuth wasn't going anywhere on that flop. He went all in for $3,200 more and his opponent, who started the game with $50,000, had to fold king-high.
"What the f**k do you think I have?" Hellmuth asked the table before mucking his cards.
One player jokingly guessed queen-four, others predicted top pair. Hellmuth then flipped over his cards on the table and shouted, "queen-four, b*****s!"
Before you criticize Hellmuth for calling a preflop raise with such a weak hand, remember that at least it was suited. This time. It's also seemingly becoming his trademark hand, and if that's the case it would have been unthinkable for him to fold.
He'd go on to crush the game thanks in part to the aforementioned hand, but more so a $21,000 pot he won against Barry Wallace with just a pair of sixes.
Bluffed by His Own Hand
The elusive queen-four continued to find its way into Hellmuth's pots during a Tuesday meetup game at Hustler Casino in Los Angeles. On the first hand, as the poker legend shared on Twitter, he was bluffed off a pot with
by Matt Bandini. Eight hands later, he again ran into
against the same player and attempted to get some revenge.
Q-4!! What did I start?!? First hand of meet up game @HUSTLERCASINOLA, I was bluffed by Matt Bandini w Qh-4h, then,… https://t.co/ryfGgzSznI

— phil_hellmuth (@phil_hellmuth)
In the second hand with Q4 involved at the meetup game, Hellmuth fired out an all-in river bluff with
on a board of
. Bandini, holding
, called with just a small pair likely out of principle and won the pot. Bet sizes weren't available but from the video it appears the pot was around $500.
Perhaps the solvers and GTO crushers are undervaluing
and should add the hand to the top of their ranges.
Disclaimer: PokerNews is not responsible for money lost calling off stacks with queen-four.