HUSTLER® Casino Details
Hustler Casino opened its doors in Gardena, California more than two decades ago on June 22, 2000, by the legendary Hustler Magazine founder Larry Flynt, an avid poker enthusiast, through his holding company El Dorado Enterprises Inc. and has quickly grown into one of the most popular places to play poker in California with the casino conveniently located just 15 miles outside of downtown Los Angeles.
Flynt purchased the site of the El Dorado club in 1998 before demolishing the facilities in order to fulfill his wishes of building an upscale casino designed to attract high-stakes players. The everyday player should also feel more than at home at the Hustler Club with many low buy-in games running around the clock. The casino undertook a major expansion in 2007 with the multiuse Crystal Room, which is used for hosting conferences and poker tournaments or for extra floor space on busy days.
In 2021, the SoCal card room launched the livestream cash game show, Hustler Casino Live, which blew up into a popular production within months.
In May 2022, HCL had grown so much that it attracted some of the biggest YouTube and Twitch celebrities such as MrBeast and Ninja for a game of high-stakes poker in what turned out to be one of the most epic and memorable poker livestreams in history.
Read: The Muck: Did "Poker Brat" Phil Hellmuth Angle-Shoot vs. Slime on Hustler Casino Live?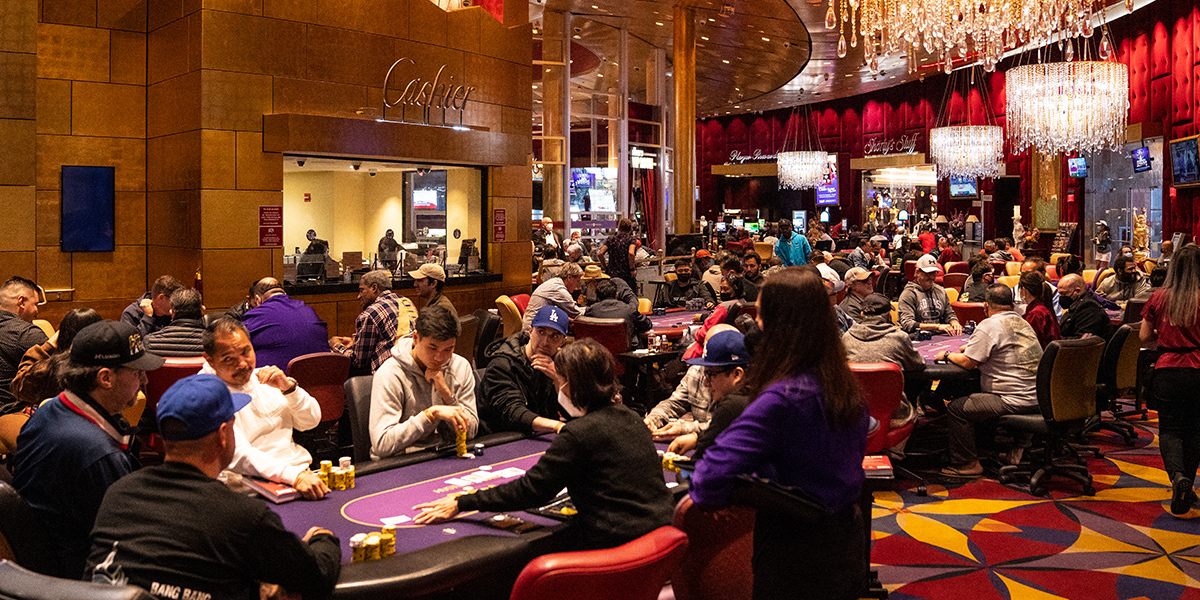 Hustler Casino Poker Room General Information
The poker room has notoriously run some of the highest stakes games in the United States including a legendary $2,000/$4,000 with a $1,000 ante Stud game featuring a $200,000 minimum buy-in. Many legends have invested significant time at the casino including Phil Ivey, Ted Forrest, Barry Greenstein, and the late Chip Reese.
This doesn't mean one needs to be a baller in order to enjoy the luxury of the Hustler Casino as players with less deep pockets can enjoy low-stakes poker including $1/$3 no-limit hold'em around the clock with the poker room open 24 hours a day, seven days a week. In addition, the daily tournaments are designed for lower-stakes players with buy-ins as low as $80 and the most one can spend is $140 including the optional add-on six days a week.
The poker room boasts 50 tables with more possible during special events or busy periods. This is on top of the 30 tables dedicated for table games for those that want a break from poker.
Husttler Poker Room Contact Information
Hustler Casino Poker Room Cash Games
| Game | Min Buy-in |
| --- | --- |
| $1/$3 NLHE | $40 |
| $2/$5 NLHE | $100 |
| $5/$5 NLHE | $300 |
| $5/$10 NLHE | $500 |
| $5/$5 PLO | $500 |
| $4/$8 Limit (Variety) | $40 |
| $8/$16 Limit Hold'em | $80 |
| $25/$50 Limit Hold'em | $250 |
| £5/£10 NLHE & PLO | £500 |
Cash games run nonstop at the Hustler Casino, especially at stakes of $5/$5 and lower. Games can be played at limits higher than those listed in the table above. Rake is typically capped at $6 for most games, except for the $1/$3 NLHE which is capped at $5. In addition, the casino charges a $1 rake if no flop was seen.
Huster Casino Cash Game Promotions
Hustler Casino boasts a lucrative promotional scheme where cash game players earn up to $2 an hour in cashback. This is in the form of a virtual currency dubbed Hustler Bucks, which can be used for the following.
Ca$h Back - Two Hustler Bucks = $1
Table side dining service in the casino
Shorty's Stuff gift shop inside Hustler Casino
Hustler Hollywood Store in Hollywood
The Players Rewards card also allows players to enter promotions and the casino also boasts high hand and other lucrative jackpots.
"Yo Mama" Insult Leads to Fight, Player Being Tased at Hustler Casino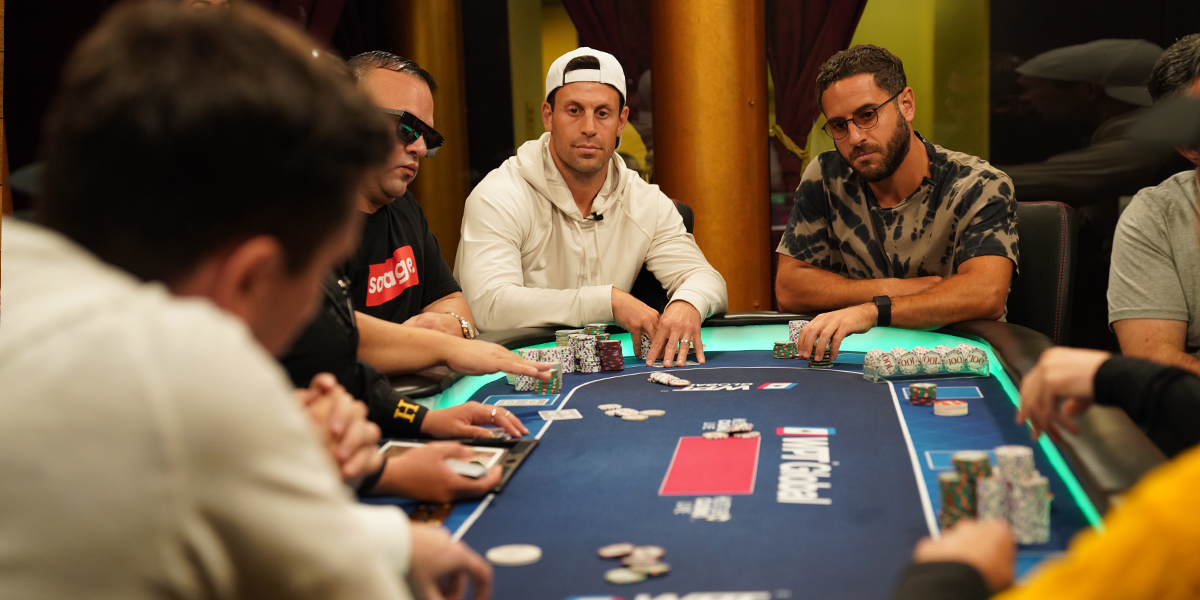 Hustler Casino Poker Room Tournaments
Following COVID, Hustler eliminated its daily tournaments for quite some time. But they brought back three weekly tournaments as of May 2022. These low-stakes no-limit hold'em games attract a number of recreational players along with some pros.
The tournaments take place on Thursday ($80 + $40 add-on with $2,000 guaranteed) at 7 p.m., and the same structure at 3 p.m. on Saturday. At 3 p.m. on Sunday, a $100 + $40 NLH tournament with $3,000 guaranteed takes place.
| Day | Time | Tournament | Buy-in | Chips | Guarantee |
| --- | --- | --- | --- | --- | --- |
| Thursday | 7 p.m. | No Limit Hold'em Bounty $25 | $80 + $40 for optional add-on | 20,000 | $2,000 |
| Saturday | 3 p.m. | No Limit Hold'em | $80 + $40 for optional add-on | 20,000 | $2,000 |
| Sunday | 3 p.m. | No Limit Hold'em | $100 + $40 for optional add-on | 20,000 | $3,000 |
Hustler Casino FAQs
What cash games are at Hustler Casino?

Hustler Casino boasts a wide range of cash games including no-limit hold'em, limit hold'em, pot-limit Omaha, and a wide variety of limit cash games. Stakes start at $1/$3 with $5/$5 and higher games regularly running. Higher-stakes action as big as the notorious $2,000/$4,000 Stud game, also takes place on a frequent basis.
What is the Hustler tournament schedule?

Hustler Casino hosts weekly tournaments on Thursday at 7 p.m. and Saturday and Sunday at 3 p.m.
Where is the Hustler Casino?

Hustler Casino is convenient located in Gardena, California, just 15 miles outside of downtown Los Angeles.
When does Hustler Casino Live air?

Monday-Friday in the evenings
How can I watch Hustler Casino Live?

You catch watch the HCL stream on YouTube.
Does Hustler Casino have an attached hotel?

No
What other casino games can you play at Hustler Casino?

Beyond poker, Hustler Casino also offers Pai Gow Poker, Ultimate Texas Hold'em, Blackjack, Three Card Poker, Mississippi Stud Poker, and Big O Poker table games.
Where can you eat at Hustler Casino?

Hustler Casino has its own restaurant called Larry Flynt's Bar & Grill, which offers a wide-range of dishes, including burgers, wings, pasta, appetizers, and more. You can order food to be picked up and eaten at your poker table or sit upstairs and the elegant restaurant.