Alexandra Botez, MrBeast Smash HCL Game; Alan Keating Drops $1.1 Million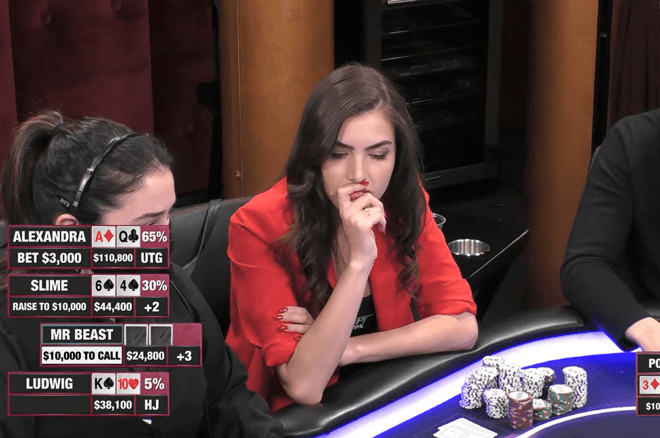 Table Of Contents
If you didn't catch the eight-hour Sunday night Hustler Casino Live show, you missed what might have been the most epic poker live stream in history, and that isn't hyperbole.
More than 100,000 concurrent viewers watched poker pros Tom Dwan and Phil Hellmuth take on a table full of Twitch streamers, YouTube personalities, and however you want to classify Alan Keating, who may have set the world record for biggest single-session loss in a $100/$200 no-limit hold'em cash game.
Keating, who has become a regular on Hustler Casino Live, torched off $1.1 million against a mostly amateur table. On the opposite end of the spectrum was chess star Alexandra Botez, who completely obliterated her opponents to the tune of a $458,000 profit. MrBeast, one of the most popular YouTube celebrities ever, also crushed it, winning more than $430,000 after being down big early. Ditto for Ludwig, another YouTube sensation, who was the third player to crack the $400k profit mark.
As for the pros, it wasn't a great night for them. Hellmuth, who was accused of angle-shooting in a hand against Twitch streamer Slime, dropped $96,400, and he was heavily criticized for his play by numerous poker pros on social media. Dwan simply couldn't get much going against a loose table and was card dead much of the night, but he did walk away with a $26,000 profit.
Full final results were as follows:
| Player | Profit/Loss |
| --- | --- |
| Alexandra Botez | $456,900 |
| MrBeast | $438,900 |
| Ludwig | $404,700 |
| Ninja | $144,300 |
| Tom Dwan | $26,500 |
| Phil Hellmuth | -$96,400 |
| xQc | -$99,500 |
| Slime | -$142,700 |
| Alan Keating | -$1,132,700 |
Read about Hellmuth's antics here!
So Many Hands to Choose From
It's difficult to select the best hands to feature because, quite frankly, seemingly every hand was incredible. Each player initially bought in for $50,000, but the game played much bigger as they all added on chips throughout the night. Keating dusted off three buy-ins within an hour, losing a series of all-in pots on questionable plays.
---
Free to Play Slots in the US
The hype for this event was real, and the action at the table didn't let the viewers down. Poker Twitter couldn't stop talking about one of the best cash game streams we've ever seen.
In one of the most memorable hands, Ninja hit a runner-runner straight with
to chop against Hellmuth's
. With all the money in the pot preflop — $99,000 — on a board of
, the Twitch video game streaming legend shouted, "I'll suck a d**k for a 10!"
And then the dealer flipped over a
to chop the pot. Ninja said he was going to leave the game if he lost the hand, but the lucky runner-runner to stay alive was the start of what turned out to be a profitable session ($142,000).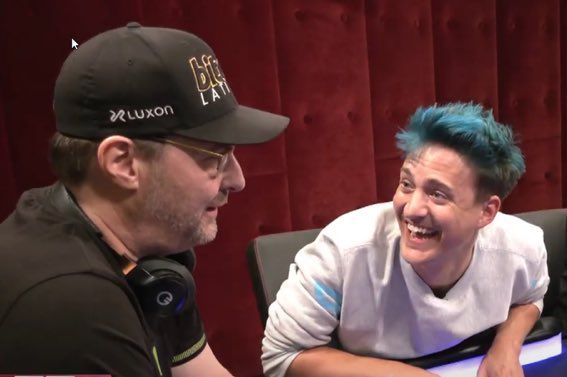 Three-Way Action
Within an hour into the game, the stacks had increased significantly. Ludwig, who played solid poker throughout most of the night, won a massive early hand with
in a three-way pot against the
of Ninja and Keating's
when the board ran out
.
Keating played over 85% of the hands dealt, but he also ran into a bit of bad luck. For instance, he called an $84,800 all in bet from Slime, who had
, with
, and then took a bad beat as the first board came out
, and then
on the second board, giving Slime a flush to scoop the entire pot.
But he also made some, let's just say interesting, decisions. Take for example, a three-bet preflop jam to $154,600 with
. MrBeast made the call, also a questionable play, with
and then shipped the $300,000 pot when neither played paired up.
Botez, whose chess Twitch channel has over 1.1 million followers, then began her rise to dominance.
She called off a $65,000 all in bet from Slime, who had
, with
on a board of
. Keating was also in it to the river with
, and the two remaining players checked the
, giving Botez the $279,000 pot.
MrBeast ran into a rough patch early, going through multiple buy ins. In one hand, a $213,000 pot, he was all in and well ahead with
against Ludwig's
. But the board of
was quite favorable to Ludwig, who won the hand on one of the many bad beats of the session.
Flipping for Stacks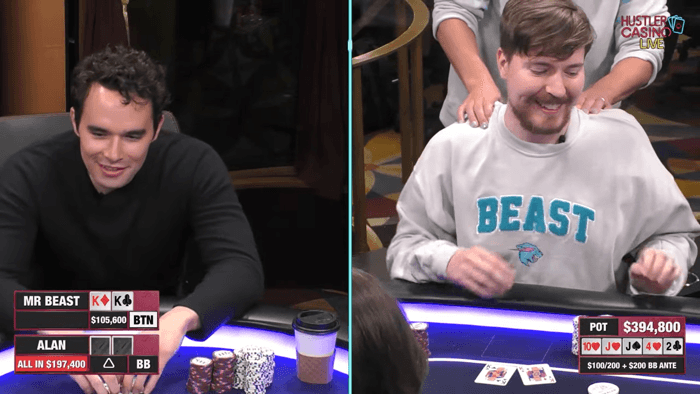 On the final hand of the night, Keating and MrBeast agreed to flip for the pot, wagering their entire stacks on an all in bet in the dark. The pot had just under $400,000 in it, and the flop came out
when the graphic showed MrBeast had
.
"Are you kidding me?" commentator David Tuchman asked.
The turn was the
followed by the
on the river. Keating then flipped over
. MrBeast took down the pot and then tipped the dealer $10,000.
Keating had an opportunity to get a chunk of his losses back, but the flip put him down over $1.1 million for the night. To his credit, he kept a smile on his face throughout the night despite very little going his way for eight hours.