"Yo Mama" Insult Leads to Fight, Player Being Tased at Hustler Casino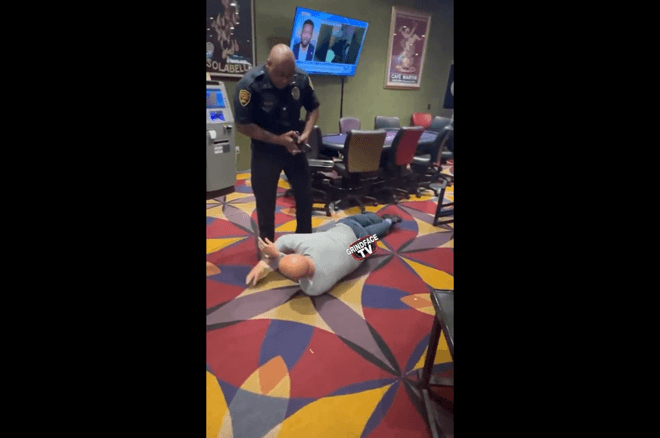 Keeping it real went wrong at Hustler Casino in Los Angeles Tuesday night during what turned out to be a violent $2/$5 no-limit hold'em game.
Three players involved in the game, as we are told by Hustler Casino GM Shaun Yaple, who was off work that day, began firing insults at each other. Things quickly escalated at that point when one individual shouted, "yo mama" to one of the players he was arguing with.
From there, a WWE-style melee ensued, as you can see in the video below. One player attempted to crack his opponent upside the head with a table a la Stone Cold Steve Austin in the ring against The Rock, and then was subsequently tased by the security officer who reacted quickly to the fight.
The video originally surfaced on Reddit and then spread across all social media outlets.
All three participants in the fight are now banned from the casino permanently. Yaple said they each declined to press charges. Nick Vertucci, co-owner of Hustler Casino Live, praised the staff member who prevented what could have turned out to be a horrific scene.
"No violence tolerated (at Hustler Casino)," Vertucci said. "Hustler's security was spot on. Don't talk about no one's mamma."
If the security guard hadn't reacted in such a timely manner, there's no telling what could have transpired. Yaple said he can't release the names of the brawlers.
Hustler Casino, founded and previously owned by the late high-stakes recreational player Larry Flynt, has certainly been the site of some wild action lately, including a livestreamed game involving Phil Hellmuth, Tom Dwan, and the biggest Twitch and YouTube stars such as MrBeast in what turned about to be one of the most epic publicly watched poker games ever.