Tom Dwan Crushes, Disinterested Ivey Bolts Early on Hustler Casino Live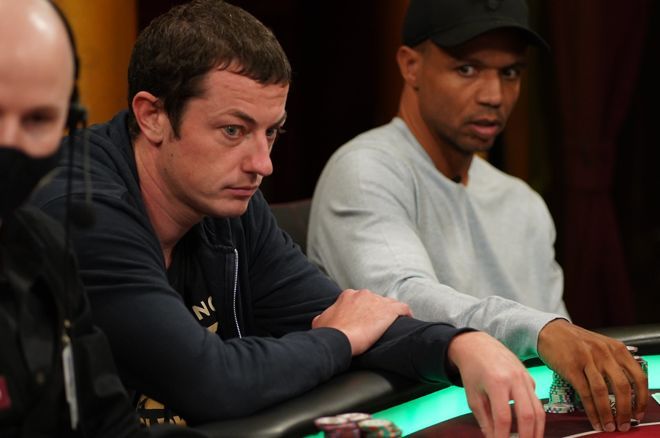 Tom Dwan, not Phil Ivey nor Garrett Adelstein, was the star of the show Saturday night on Hustler Casino Live's $100,000 minimum buy-in seven-hour cash game. The former online grinder ran all over his opponents to the tune of more than $250,000 in profits.
Ivey, on the other hand, seemed disinterested in the game, similar to his demeanor in the same game Friday evening. He committed to play both nights, but left well before the stream concluded each day.
Phil Ivey Unable to Get Anything Going, Then Leaves
On Friday, the poker legend lost nearly $150,000, and then came back less than 24 hours later looking to turn it around. He didn't lose any additional money, but also didn't make anything. The 10-time WSOP bracelet winner bolted out of the Hustler Casino in Los Angeles a few hours into the stream right about at his $300,000 starting stack.
Early in the session, Ivey lost out on an opportunity to win a bigger pot than he scooped with trips against Solve for Why founder Matt Berkey. The Poker Hall of Famer, holding
, bet $20,000 on the turn into a pot of $19,000 with the board reading
. Berkey, with
in the hole, figured something was up, so he correctly folded.
Berkey, who spoke with PokerNews following Friday's session in which he won $260,000, said he noticed Ivey seemed "bored" when asked to describe his first experience competing against the Poker Hall of Famer.
The entire stream is available for free on the Hustler Casino Live YouTube channel.
Tom Dwan Up to His Usual Tricks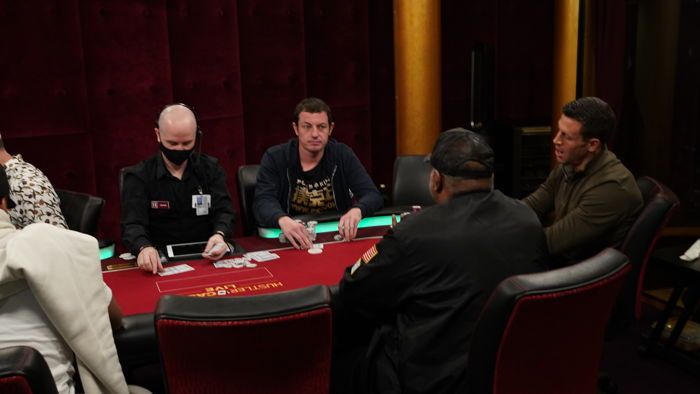 Tom Dwan has a lengthy history of tearing it up on televised and streamed poker shows, most notably on High Stakes Poker, where he never lost during the Game Show Network era. On Saturday, the popular poker pro continued his good fortune with the cameras rolling.
Dwan showed up about an hour after the stream began. He bought in for $100,000 and put his money to good use. Within an hour, he found a double against Dylan Gang, who made national headlines Friday when he left the HCL stream to sit courtside at the Los Angeles Lakers game, where he was ejected from the arena for getting into a hand-slapping altercation with Lakers guard Rajon Rondo.
Dwan raised the $400 big blind to $1,200 with
and Krish, a wealthy businessman and investor, called with
. "Lucky," who told PokerNews he's ready to take on some heads-up challengers, felt a bit frisky and three-bet to $6,000 with
. Gang, who looked down at
, made the call.
With action back on "durrrr," the high-stakes pro decided to pop it to $23,000. Everyone except Gang moved out of the way, and the Lakers fan went for a surprising re-raise all-in with his small pair. He had Dwan covered but couldn't get his opponent to fold, and off they went for a $230,000 flip.
The board ran out
, counterfeiting Gang's pocket pair. And just like that "durrrr" was up more than $100,000 for the session an hour in. He'd continue to build his stack slowly throughout the night, finishing with $274,000 in profits. Gang had a rough outing and left the stream down $314,000, the biggest loser of the day.
Just after the $200/$400 NLH cash game @HCLPokerShow our own @jonpokerwriter caught up w/ @TomDwan, who was a big w… https://t.co/5J6BxHcRtR

— PokerNews (@PokerNews)
Other Big Winners and Losers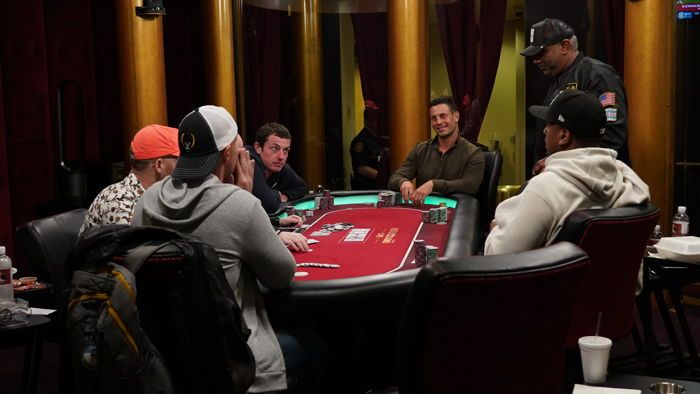 Adelstein, who booked a $30,000 win Friday, had one of his toughest sessions on live-stream in a while. The Los Angeles high-stakes crusher finished the day with a $197,000 loss. Prior to the session, he spoke with PokerNews to discuss his first opportunity to play with Phil Ivey. In that four-minute conversation, he referred to his opponent as the best poker player ever.
There were some big winners and losers during the two-day stream, but none bigger than Berkey, who won $260,000 on Friday and then another $139,000 on Saturday, for a net profit of nearly $400,000.
Tonight in @HCLPokerShow, @berkey11 of @SolveForWhyTV made his debut against a strong lineup that included… https://t.co/hFOLeBK6lG

— PokerNews (@PokerNews)
WTF Hand of the Day
Krish, a regular in the Hustler Casino Live high-stakes games, played a wild hand against Reza, another regular who had just arrived moments prior.
In the hand, Reza opened it up to $1,300 with
and then Krish three-bet to $4,200 with
. Both players saw a flop of
, and Krish bet $7,000 with top pair. His opponent called and then made the second nut flush when the
hit on the turn. Despite the scare card, Krish continued his aggression with top pair, betting out $13,000 this time.
Reza, of course, wasn't going anywhere and made the call. The
landed on the river. Krish still felt somehow he could get value out of top pair with a mediocre kicker, so he fired out $20,000, only to watch his opponent move all-in for $64,400.
Despite Reza calling the bets on the flop and turn, and then shoving river, Krish couldn't fold to the all-in wager and lost a $178,000 pot.