Hustler Casino Live: Ivey 'Bored,' Berkey Shines, and Player Kicked Out of Lakers Game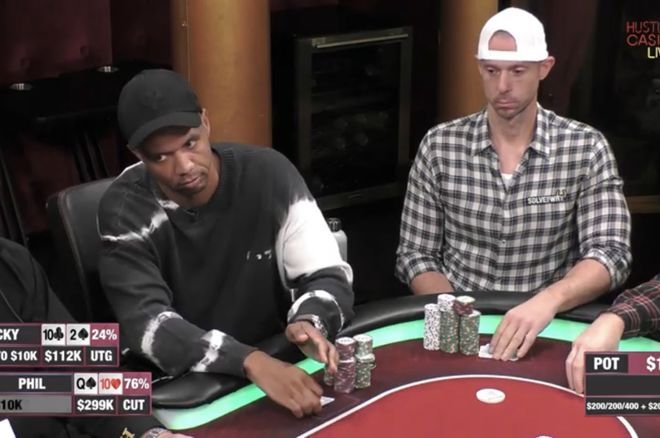 Phil Ivey appeared on Friday night's historic Hustler Casino Live stream, but strangely enough wasn't the biggest story in the game. That's because another player in the $100,000 minimum buy-in no-limit hold'em cash game made headlines for getting into an altercation at a nearby NBA game.
The poker contest, which took place at the Hustler Casino in Los Angeles, brought in thousands of YouTube viewers thanks to the presence of Ivey, local G.O.A.T. Garrett Adelstein, and Solve for Why founder Matt Berkey, along with a host of colorful regulars.
Poker Player Misbehaves at Lakers Game
One of those individuals, Dylan Gang, left in the middle of the game because he had courtside seats at the Los Angeles Lakers home game against the Phoenix Suns. Gang's Lakers would lose 115-103, dropping to 0-2 on the young season, but the loss wasn't the major storyline in this game, as the following video shows.
This was Dylan, who played the show today. He'll be back on the show tomorrow. https://t.co/adpt4n2Sd8

— Hustler Casino Live (@HCLPokerShow)
In the bottom left-hand corner of the video posted to Twitter, a fan who turned out to be Gang gets into a short altercation with Lakers guard Rajon Rondo. It isn't clear what sparked the altercation, but presumably words were said between the two prior to what appears to be a slap of the hand.
The video made its way through social media and the mainstream sports media. Yahoo! Sports even covered the story. Dylan only played for a couple hours on Hustler Casino Live Friday night before heading to the Staples Center where he made his second abrupt exit of the evening. He'll be back Saturday night to compete on the live-stream.
Ivey Brings in Viewers
When Ryan Feldman and Nick Vertucci, founders of the Hustler Casino Live show, brought Phil Ivey into their game Friday night, they anticipated the Poker Hall of Famer would attract a record-setting live-stream audience, and they were correct. More than 15,000 watched at one point during the six-hour stream, and over 187,000 have viewed the game at some point less than 12 hours after it ended.
Poker fans can watch the entire stream for free on HCL's YouTube channel.
Ivey wasn't as aggressive as we've seen from him in the past. When PokerNews caught up with Matt Berkey, who sat directly to Phil's left, he said it seemed like Ivey was "bored." The 10-time bracelet winner often left the table to follow some sporting events, mostly college football, as he apparently had action on those games. Players aren't permitted to bring electronic devices, including cell phones, to a Hustler Casino Live stream. Hence, why Ivey had to step away from the table to place his sports bets.
Berkey and Big Hands
Gal Yifrach, one day removed from his third place finish in World Series of Poker Event #38: $50,000 High Roller, had a rough go early during Friday's stream.
Mikki, an avid gambler and Instagram icon who chatted with PokerNews during a break, called the $800 straddle with 6♦6♣ and an aggressive player named Lucky bumped it up to $3,400 with 4♥3♥.
With the action back on Yifrach and A♥K♠ in the hole, the near bracelet winner four-bet to $11,000, and both players called. The flop came out 6♠A♠Q♠, and Lucky decided to get a bit adventurous, leading out for $14,000 with air. Yifrach raised with top pair and the nut flush draw to $36,000. Action back on Mikki with bottom set, and he decided to just call. Lucky, of course, got out of the way.
The turn was a meaningless 2♦, and Yifrach jammed for Mikki's $93,000 effective stack. He didn't instantly call but inevitably couldn't lay down a set even on such a wet board. With around $300,000 in the pot, the players opted to run it twice. Both runouts — K♣ and 7♣ — were of no help to Yifrach, and Mikki shipped the massive early pot.
Matt Berkey also won a number of large pots during the six-hour Friday evening stream. In the end, he booked a $260,000 profit, the biggest winner of the day. Krish, a local entrepreneur and regular on Hustler Casino Live, finished up $83,600. Garrett Adelstein, one of the top high stakes players in Southern California, turned a $30,300 profit.
Despite his huge early hand, Mikki only went home up a modest $7,900. Dylan left for the Lakers game down $31,600. Yifrach rebounded after the rough early hand to Mikki and ended up winning some money from Berkey after the stream ended. He even finished the day in the black, an impressive end considering how his day started. Lucky lost $120,000 and then headed home early. And Ivey was the biggest loser, heading out with a $147,000 defeat.
Ivey will return to action for Saturday's live-stream, along with Tom Dwan, who was supposed to be in the game Friday.