2022 WSOP Featured Females: Meet Wendeen Eolis, 1st Woman to Ever Cash Main Event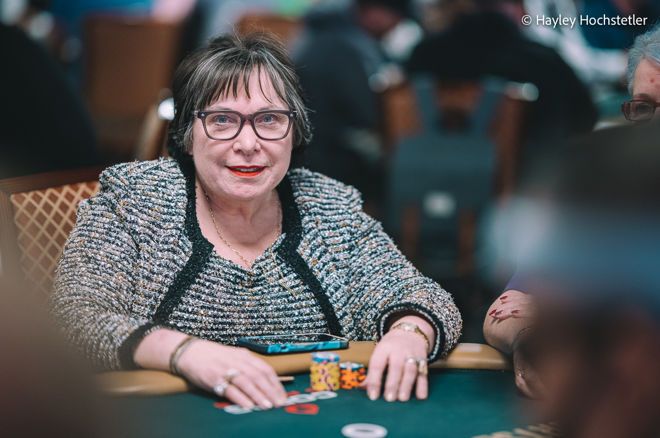 In the mid 1980's, women were considered no factor in the World Series of Poker (WSOP) Main Event, and other than the famous rounder and professional gambler Thomas "Amarillo Slim" Preston, poker players rarely made headlines in the mainstream press. That all changed when Wendeen Eolis became the first woman to cash at poker's "Big Dance."
In the 1986 WSOP Main Event, Eolis battled some of the best players in the world, including Amarillo Slim, in a field of 141 runners. She was on her way to a 25th-place finish for a $10,000, return on her buy-in, and permanent bragging rights as the first woman in history to cash in the WSOP Main Event.
Eolis attributes her 1986 WSOP performance to a year of poker tutoring from one of the best, a "relatively" conservative game plan, and cooperative cards. She told PokerNews, "Even today, women can win more by bluffing less than men."
Finding Her Way to Poker
In 1985, Eolis opted to take up a new hobby. She explained, "I was on an airplane seated next to Oswald Jacoby, a great bridge and backgammon player, He talked with me about backgammon and suggested that I go to a place called the Mayfair Club."
Eolis took him up on his suggestion, eventually.
"Twenty minutes was all it took for me to figure out backgammon was not my game. I was curious about poker. The Mayfair members were talking about starting poker games."
She made her way to the Concord Hotel in the Catskills where they had a seven-card stud game. It was there she learned the dynamics of the game, including the basic rules and how to shuffle a deck of cards.
Returning to the Mayfair Club, Eolis joined the new small-stakes poker games but was more enamored of the possibility of bigger stakes, like the ones she played as one of the premier card counters, back in the day.
Early on, no one at the Mayfair knew very much about the Chanel-suited woman, and Eolis had no idea of the quality of the competition that she would soon face, in her first "big no limit" poker game. Club regulars — expert bridge and backgammon players and seasoned poker players — quickly pegged her as the dream addition for the Club's new no-limit game about to get underway.
Jay Heimowitz, a WSOP player who had taken third place in the WSOP Main Event, was there, and so, too, were experienced WSOP players like Steve Zolotow, Dan Harrington, Jason Lester, and Howard Lederer. Erik Seidel jumped into the fray a bit later, and Eolis prevailed in her first big hand with a pair of threes.
As she pulled in the pot with trips on the river, the man next to her said softly, "Sweetheart, you do not belong in this game." He then offered to take her away from the game for a cup of coffee. So, began the Mayfair's Monday night "big game" where Eolis began her education as a poker player, with a mentor that added a substantive dimension to her busy life.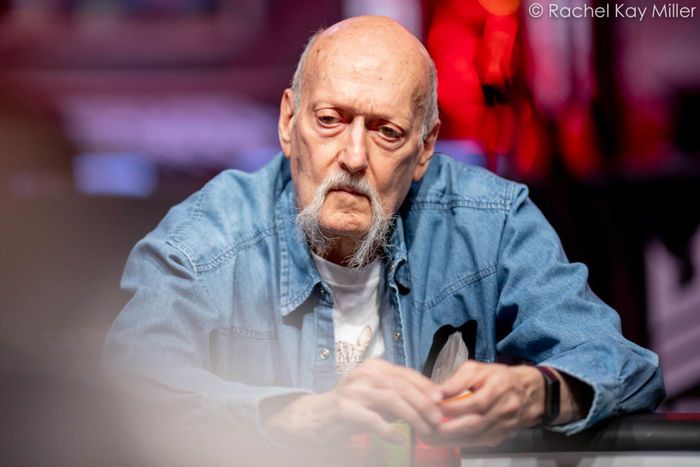 Betty Carey and the Bookie
Eolis described the scene as she filed into the WSOP arena back in 1986, "The field was 141 runners. Most of them were pros. The fearless Betty Carey was in the mix of a few good women and the one to watch. Betty regularly challenged revered road gamblers like Amarillo Slim and Doyle Brunson—to play heads-up duels. She held her own with them."
Eolis continued: "Betty wasted no time in befriending me. Friendly banter was part of Betty Carey's plan to go in for the kill."
Carey inquired politely about Eolis's motivation to play in the WSOP Big One, asking if there was a poker player in her life. That was a secret Eolis was not ready to reveal.
"Betty soon moved on, waving to Terry Rogers, a well-known bookie from Ireland. He took all sorts of proposition bets on WSOP players, but he showed no interest in me, nor in my oddball desire to bet on myself in an event that never saw a woman cash out."
Eolis's 25th-place finish produced shock and awe for Rogers, who offered bets on her actually cashing. Eolis recalled the situation that led to the bookmaker's unexpected proposition bet on her cashing in the event: "As the players were filing into the poker arena for the festivities, Rogers offered up last-minute betting action."
John "Austin Squatty" Jenkins, one of the colorful no-limit specialists, tipped his hat toward Rogers, announcing he wanted to make a big bet "on the little lady from New York."
Eolis recognized Squatty as a "big player" from her blackjack playing days. He liked to hang around with Eolis's blackjack partner, Ken Uston, a well- known card counter at the 21 tables. She offered, "I figured Squatty's bet was mostly a stunt to get attention for himself. Still, I loved the idea of his betting on me. Other than my poker mentor, who had kindly offered to exchange 10% of the winnings if either of us finished in the money of any event, I didn't expect anyone else to take a chance on me. Predictably my mentor scored a lot better than I did. He encouraged me to play in the final championship using my portion of his winnings. I bought in on my own, accepting instead a 'no promises' diamond."
She added: "I was taken aback by Terry Rogers' decision to book the bet since he had blown off my exact same request. So, when Squatty whispered that I could buy a nice piece of his action, I took it."
At the end of the day, her bet yielded a bigger payday than her tournament prize money, but she demurred on providing a more specific number.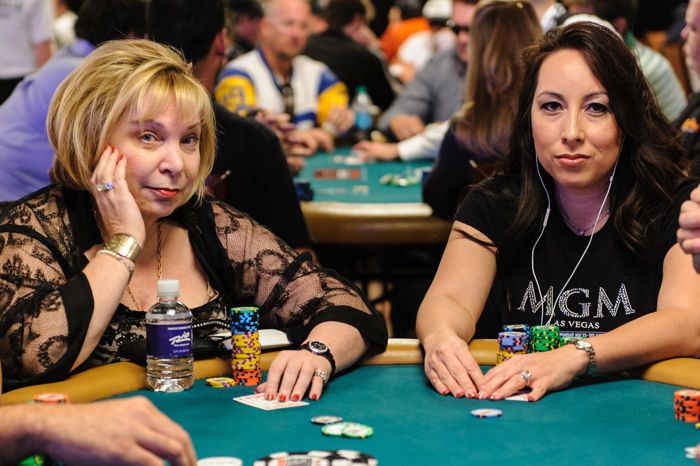 A Few Record-Setting Moments
While her 1986 performance put Eolis on the celebrity poker player grid, with the media tracking her every move, the 1987 WSOP Main Event sent her to the rails on Day 1 and earned her the headline of "Fallen Poker Star" in New York's Newsday newspaper.
In 1988, at the Hall of Fame Tournament, the second-largest tournament of the year, the New York Daily News snubbed Eolis until she became the last New Yorker standing and the first woman, ever, to make the final table of a big buy-in tournament. She went out sixth, one place higher than Phil Hellmuth. Poker Hall of Famer Barbara Enright, the only woman to make the final table at the WSOP Main Event and remains the highest female finisher in the Main Event, even sent Eolis flowers.
"Annette Obrestad crushed the competition in the 2007 final event of the World Series of Poker Europe winning a much bigger, tougher, and far more prestigious tournament."
Eolis hit pay dirt again in 1990, in Europe's biggest tournament—the European Poker Open —on the Isle of Man. She beat out Poker Hall of Famer Eric Drache, the famous cardroom manager, for first place and scored another record as the only woman to win a big buy-in tournament in Europe. Eolis pointed out, "Annette Obrestad crushed the competition in the 2007 final event of the World Series of Poker Europe winning a much bigger, tougher, and far more prestigious tournament."
In 1993, Eolis improved on her own previous WSOP record to become the first woman to cash in the Main Event, twice. This time she won her way into the event via a "satellite", and she finished in 20th place. She went out seconds before another poker friend, Marsha Waggoner, scored an in-the-money finish and the honors of last woman standing.
Eolis looks back at her 1993 performance as her most meaningful tournament ever. It was also literally breathtaking, as her survival into the money came while paramedics monitored her play in an oxygen mask after she lost consciousness in the smoke-filled room.
Eolis hit one more "first" before she was taken to the hospital. She became the first woman to participate in a WSOP broadcast as Dick Van Patten invited her to co-host a segment of the tournament for ESPN.
Eolis' Milestones
Along with female poker pros Enright, Waggoner, Susie Isaacs, and Barbara Gold Samuelson, in 1996 Eolis was one of five recipients of a poker chip named in her honor for "women's milestones in poker."
Eolis moved into print and broadcast journalism but retained her enthusiasm for poker going on to finish in the money in a total of seven WSOP events. She was also the last woman standing in the 2002 World Poker Tour (WPT) $25,000 Main Event, and she was both a sponsored and elected member of the WPT's Professional Poker Tour.
Eolis's commentator résumé included the role of moderator for the first live internet reporting of a poker tournament at the US Poker Championships, but her premiere broadcast was the pilot produced by Steve Lipscomb and Tina and Mark Napolitano in 2001 for the Tournament of Champions. She and the late Mike Sexton anchored the commentary for the show that led directly to the WPT. Eolis's most nostalgic gig as a TV poker show participant was at the last WSOP at Binion's Horseshoe.
For more than 15 years, Eolis was a columnist for poker media (she wrote for legal newspapers, too). Her feature stories regularly appeared in Poker Digest and Poker Player Newspaper and she has contributed stories to BLUFF Magazine, All In, Card Player, Casino Player, and many other poker publications.
2022 World Series of Poker Hub
Bookmark this page! All you need to know about the 2022 WSOP is here.
Helping Change the Industry
During the "Poker Boom," Eolis says she tried to do her part for the industry. She served on the WSOP Players Advisory Council (PAC).and was appointed chair of the WSOP International Players Advisory Council by then WSOP Commissioner Jeffrey Pollack. Eolis commented, "I thought that the PAC was a good thing for the poker community, and participating in it was part of my transition away from playing poker to doing more for the industry."
One of the things that came into effect briefly during her time on the PAC was a controversial rule that she supported, strongly; strict time-out penalties for cursing and obscene comments. It was referenced as Rule 37 ("The Eolis Rule" when it was first published on the WSOP's website). Eolis pushed hard for stricter rules on cursing and vulgarity at the poker tables, so as to provide a friendlier atmosphere for both new players and women. WSOP brass soon softened the rule and Wendeen says, she too, has a somewhat more relaxed view today.
Eolis was also a founding member of the World Poker Association (WPA), and was elected Vice-Chair and then Chair of the organization, which at its peak drew 1,400+ members. Her proudest accomplishment was the collaboration with the WSOP to sponsor an opening event for the WPA membership.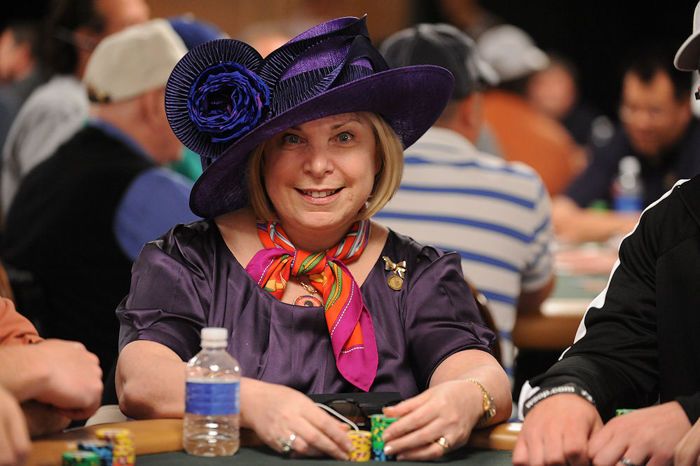 A Life Outside of Poker
While Eolis' poker résumé is impressive, it pales in comparison to what she's accomplished in other parts of her life. She is an experienced CEO, entrepreneur, legal consultant, public official, journalist, and motivational and keynote speaker, among many other things.
Eolis graduated from New York University with honors. She is a certified arbitrator and a qualified expert witness in state and federal courts. She has served as a director and/or advisor to public company boards and not-for-profit organizations; Caesars World was her first board advisory position, dating back to 1971.
She has been featured in numerous media—print, broadcast, and digital media, including The New York Times, The Wall Street Journal, GQ Magazine, BBC, Court TV, and A&E Biography.
She also served as a key advisor to Mayor Rudolph W. Giuliani and then as first assistant and senior advisor to Governor George E. Pataki (NY) before her current position as Commander of HCTF, a post 9/11 initiative founded during the George W. Bush administration to provide governments with special counsel recommendations in the aftermath of violent incidents and natural disasters.
Eolis serves as CEO of Eolis International Group, her flagship legal consultancy. The American Lawyer Magazine acknowledges her as the inventor of the legal recruiting and search industry and as the founder of the National Association of Legal Search Consultants. At 77, Eolis still enjoys her legal consulting work. She currently specializes in public company boardroom advisory services; attorney and law firm vetting services and searches for lawyers to serve as corporate directors.
In recent years Eolis has tamped down her poker pursuits in favor of expanded government affairs assignments and visits with family including great-grandchildren.
Eolis rarely plays poker these days, except for charity, but she competed in the 2021 WSOP Main Event. She failed to cash, but she hasn't given up on her expectation that she will cash in the WSOP Main Event again. In the meantime, Eolis has a strong legacy as the first woman ever to cash at the Main Event! She is intensely competitive but says she has never aspired to win the WSOP Main Event.
Eolis has been proud to be part of the poker community as well as the business and political world. She cherishes, light-heartedly, the title bestowed upon her on the occasion of the 20th anniversary of her first WSOP money finish. In writing about her, Pollack called her "a uniquely accomplished change agent in the poker world," and the Grand Dame of Poker for her wide-ranging contributions to the poker industry.
Executive Editor US, PokerNews Podcast co-host & 2013 WSOP Bracelet Winner.