Barstool Nate Talks Frustrating Elimination from WSOP Reunion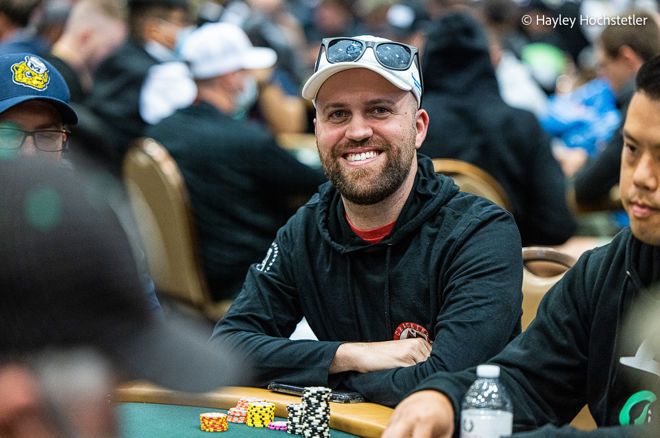 Eric "Barstool Nate" Nathan entered Day 1b of WSOP Event #4: $500 The Reunion No-Limit Hold'em with high hopes after failing to advance on Day 1a. At one point in the evening, he built up one of the biggest stacks in the field, but quickly ran into some bad fortune.
PokerNews caught up with the Barstool Sports personality and host of the Cracking Aces podcast shortly after his elimination.
Nate was seemingly upset with how the session ended given he had a 100-big-blind stack not long before.
"It all just snowballed," he said. "It's a turbo so all the chips just disappeared so quickly."
Frustrating End to the Day
The D.C. area sports fanatic explained that the downfall began with an
shove against a small stack who woke up with
preflop and was unable to suck out. Before he knew it, as he said, he was down to around 200,000 chips and the blinds, which increase every 30 minutes in the $5 million guaranteed tournament, were all the way up to 3,000/6,000/6,000. Before he could blink, he'd gone from 100 big blinds to less than 30.
"The original plan was to play tomorrow, but I'm so over it," Nathan said when asked if he'll enter Day 1c on Sunday.
Barstool Nate's co-host of the the Cracking Aces poker podcast, which airs weekly, Ben Mintz, is also traveling from the east coast to Las Vegas on Sunday and plans to enter the Day 1c session.
Mintz is an accomplished poker player with over $600,000 in live tournament cashes. The Cracking Aces team, which also includes long-time grinder Jake Toole, is a talented group both on the felt and from behind the mic.
"Cracking Aces was a project we started and I enjoy doing it, it's fun," Nathan said of his podcast, which now has over 100 episodes available. "I love talking poker."
Despite running into some bad fortune on Saturday evening, the Barstool Sports blogger will be back. He plans to reenter The Reunion on Sunday and then return to Las Vegas for the Main Event next month.
PokerNews will aim to keep atop his progress on Day 1c, as well as Mintz, who is slated to chat with us on Sunday.
Check out our 2021 WSOP Hub here!