Henri 'buttonclickr' Puustinen, Now 21, Takes on the 2021 WSOP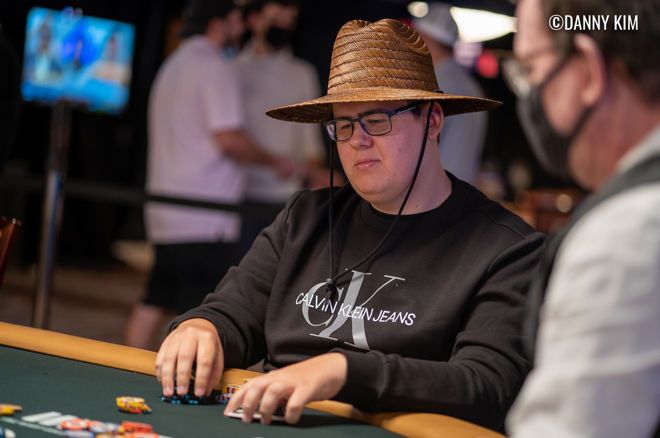 Henri Puustinen turned 21 just two months ago and he's already deep in a high-stakes World Series of Poker event. For those who follow the online streets, you probably know him as "buttonclickr," one of the brilliant minds in heads-up no-limit hold'em. The young Finnish poker pro chatted with PokerNews briefly before competing in the semi-finals of WSOP Event #11: $25,000 Heads-Up No-Limit Hold'em.
"I think I'm going to be around the tournament circuit quite a bit now, especially now that travel's loosening up a bit and it's possible to go a bunch of places," Puustinen said when asked if he'd consider playing live tournaments now that he's 21.
"Buttonclickr" is currently on his first trip to Las Vegas, a town that he refers to as "polarizing." It didn't take him long to run deep in a WSOP event, and it shouldn't come as a surprise given his already lengthy history of dominating HUNLH.
A total of 57 players entered the $25k heads-up bracelet event, including Puustinen, who defeated Rok Gostisa, Ali Imsirovic, Cary Katz, and Benjamin Reason to advance to the semi-finals where he'll face Jason Koon on Thursday. If he defeats the newest GGPoker ambassador, he'll then play the winner of the Dan Zack vs. Gabor Szabo match for the bracelet and the $243,981 championship prize.
One of the Best in the World
Just how skilled is "buttonclickr" at heads-up no-limit hold'em? By his account, he isn't the best in the world. But he believes he's among the top three players. Linus ''LLinusLLove" Loeliger, a Swiss online pro, is the top player in the world at heads-up, according to Puustinen.
Last year, "buttonclickr" lent some assistance to another heads-up poker legend. He helped Doug Polk, who some consider the best heads-up NLH player ever, defeat Daniel Negreanu in a highly publicized online poker challenge.
"I wasn't the main coach (in the Negreanu-Polk challenge), really," Puustinen said. "I was just more reviewing hands and stuff like that."
Back in March, "buttonclickr" called out online poker pro Wiktor "Limitless" Malinowski, seeking a $500/$1,000 online heads-up challenge. Malinowski, however, backed down and suggested they play live.
"He got beat up pretty bad by some other guys as well," the Finnish pro said of Malinowski. "So, I'm not sure if he's looking to play heads-up. But I'm definitely down to play any livestreamed events if he wants to play."
Puustinen is known to the online poker community mostly for his heads-up prowess. But there's more to his game. He also plays pot-limit Omaha and six-max games, although he admits his abilities in those poker variants are inferior to his heads-up skills.
"Not much studying, not much theory," he said of his PLO and six-max games. "Winning player for sure, but like not so good as well."
Check out our 2021 WSOP Hub here!