WSOP Newbie Ashley Colpaart Learned Poker During COVID Lockdown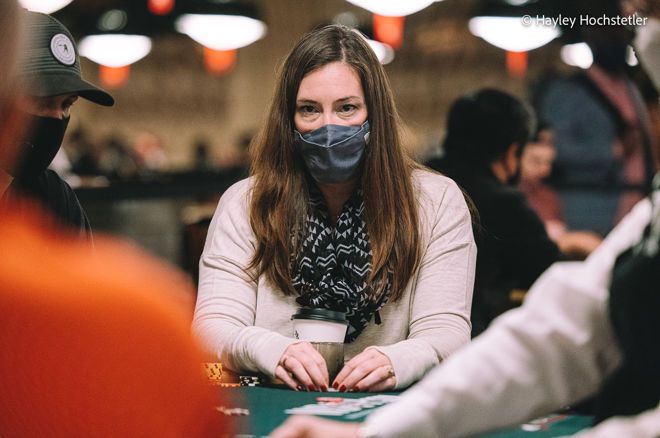 Table Of Contents
Colorado businesswoman Ashley Colpaart, like many others, discovered and fell in love with the game of poker during the COVID-19 lockdown period. Less than two years later, she crossed off a bucket list item — playing in the World Series of Poker.
With boredom setting in for millions of people around the world in early 2020, many found new hobbies. In certain cases, it was poker. Private online home games began popping up replacing live poker, which was on a hiatus due to the pandemic. For Colpaart, she was invited to a private poker community during a time in which there wasn't much else to do.
Business Owner First
Colpaart, who sat down for an interview with PokerNews during her first visit to the Rio, is a successful businesswoman who owns The Food Corridor, a unique concept for shared kitchen managers.
"I come from food, my whole background is pretty much in food and food systems," Colpaart said. "I'm really interested in local food and local food economies. I was working on my PhD at Colorado State University in food systems. For my project, I was looking at underutilized assets in the food space and how they could be leveraged to support local food economies and I kind of landed on this sharing of the economy in the food space."
The Food Corridor, her pride and joy, manages shared kitchen spaces with ease. Her business streamlines the process for shared kitchen owners, assisting them in numerous ways, including tracking down payments and other time consuming business tasks.
Discovering a New Passion
On Saturday, Colpaart took a seat in Event #4: $500 The Reunion No-Limit Hold'em, her first World Series of Poker event. In doing so, she crossed off a bucket list item. But she never would have guessed she'd be playing in a poker tournament a couple years ago.
"I like games just in general, we have board game nights and things like that," Colpaart said of her interest in poker prior to the pandemic. "So, I played poker in the past, but never for cash or real stakes."
After Colpaart finished up her PhD, her advisor gifted a trip to Las Vegas for her and her husband, where she'd give live poker a shot for the first time, a cash game at Bellagio.
During the 2020 coronavirus lockdown, she was introduced to a poker community dubbed the "Fish Fry," which is full of members who love the game of poker. The private group offered regular tournaments and cash games online, of which she regularly plays. It was during this period when the entrepreneur became fascinated with the game.
During the COVID lockdowns, I picked up the game of poker. A friend from Twitter and my career world (… https://t.co/jZ1TQztgQr

— Ashley Colpaart (@ashleyrdtx)
Difficult Game to Master
As she explained in a recent lengthy Twitter thread, she started watching more poker on the PokerGO app and signed up for Jonathan Little's Poker Coaching courses. As she began playing more regularly, she learned that the game is a tough one to master, but gave us an honest assessment of her abilities.
"I think I have a tendency to play Possum and not be aggressive when I have the nuts or fold when I should have continued," she said. "Because the game is so complex, there are a lot of moving parts that you have to be thinking about all at once. I think that's the biggest challenge."
Colpaart praised Little's poker courses and his ability to teach the game in a simple yet effective manner.
"I'm still very green," Colpaart said of her poker game heading into her first WSOP event. "I'm going to go in with eyes wide open. I have a lot of work to do. The game's an onion, you can get the fundamentals, but once you start diving into the theory and the math, that's when it starts getting really challenging. I'm just going to stick to the basics as much as possible."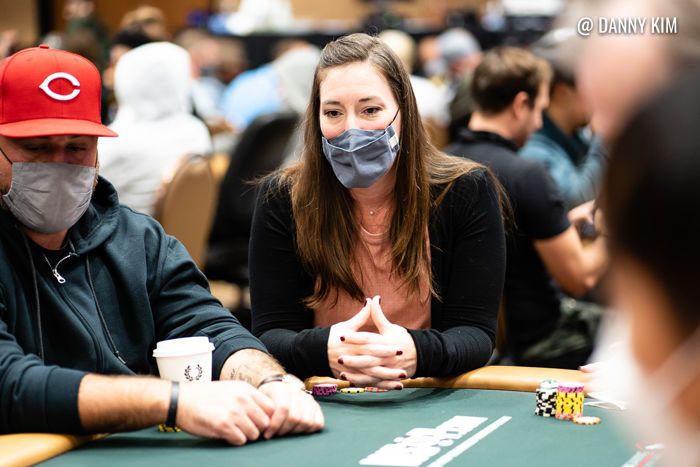 In preparation for the WSOP, she entered a cash game two days prior and said she felt good about how she played.
"I just need to follow my intuition and have fun," she said.
While Colpaart has a strong passion for poker, she isn't about to quit her day job, even if she were to win The Reunion, a tournament that will pay its winner life-changing money.
"I do dedicate a lot more time to poker as a hobby right now, and I kid with my husband about going professional."
"My business is my baby," Colpaart informed us. "It's a mission-based company and it will live on past me. But I do dedicate a lot more time to poker as a hobby right now, and I kid with my husband about going professional."
Colpaart's husband, who also enjoys the game, doesn't have to worry about his wife shutting down The Food Corridor to play poker for a living. She's committed far too much blood, sweat, and tears into that businesses and the food industry to just move on to a new career.
Although she has no intentions of turning pro, she will continue to be active in the Fish Fry group. In fact, a handful of her fellow group members, whom she hadn't previously met in person, are in Las Vegas competing in the same WSOP event.
Unfortunately, Colpaart ran into some bad luck on Day 1b of The Reunion a few hours into play. She had
on a board of
and lost her entire stack to
. Afterwards, she was disappointed in her play and said she made a "mistake" that could have prevented her from losing her entire stack.
"With all the build up, preparation and excitement, it hit me hard," she sent via text shortly after busting. "I honestly handle my losses really well but this time the emotion overcame me."
Colpaart said she felt good about how she had played up until that point and was disappointed she let an otherwise strong performance get away from her. On a positive note, she'll have another opportunity to re-enter on Sunday when Day 1c kicks off. Perhaps, this time around she'll have the
and her opponent will get coolered with
.
Check out our 2021 WSOP Hub here!