Minnesota Male Poker Player Competes in 2021 WSOP Ladies Event for Charity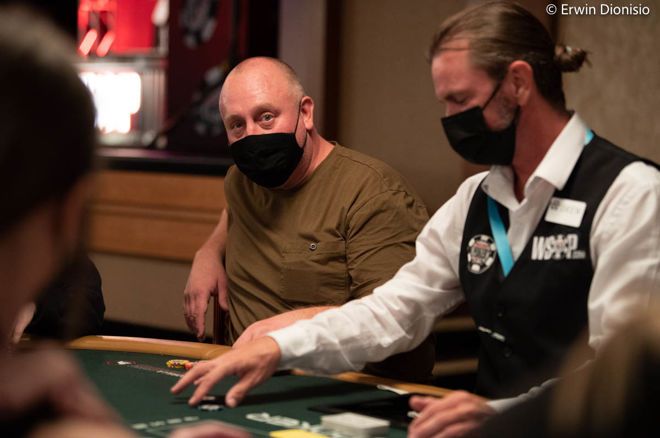 Table Of Contents
World Series of Poker Event #22: $1,000 Ladies No-Limit Hold'em Championship kicked off Monday with 644 players. One of them was Tom Hammers, a male, who entered the tournament to help raise money for what he believed to be important causes.
Doing It for Charity
Since tournament officials can't legally bar males from entering the event, they can charge them full price while offering women a 90% off discount. In this case, Hammers had to pay the full $10,000 buy-in while the ladies, including his wife and stepdaughter, only had to pay $1,000. Hammers was happy to pay it because he was in the field to make money for something other than his own bankroll as the Minnesota resident told PokerNews before he entered the ladies event.
"We haven't really decided a specific charity yet, but we wanted to split it between two things if there are proceeds at all," Hammers explained. "One for a battered women's shelter, and maybe a homeless women's type thing, and help women in general."
Prior to registering, Hammers vouched to donate all of his winnings in the tournament to charity. Less than two hours into play, however, he busted and was eliminated long before the money bubble.
His friend, Tony Hartmann, gave him the idea to play in the tournament.
"My best friend and I were at dinner, I said I might go play the ladies event for charity, and he said that's a hell of an idea," Hammers said.
Hartmann told Hammers he'd take half of him in the bracelet event. Hammers said he had good reason to enter a tournament that is intended for women.
"Women who are abused need help, women who are homeless need help, so why not choose the platform of a ladies event?" Hammers explained.
Different Vibes
Men playing in ladies events is usually frowned upon, but this seemed to be a bit different because Hammers entered the event to raise money for important women's causes. Still, when he busted, he was greeted with the usual cheers from the women remaining in the tournament. Everyone stood up and celebrated his demise, a tradition in the WSOP ladies event every time a male is eliminated.
No male has ever won the WSOP tournament. But in 2009, Abraham Korotki won a $300 buy-in ladies event in Atlantic City at the Borgata Poker Open. Upon winning, he wasn't exactly met with high fives and hugs from his fellow competitors.
In fact, his mere presence in the tournament caused a stir among the other players in the field. Many within the poker community at the time were irate over his victory. Few men enter ladies poker tournaments, and they're all treated to the same tradition — a swan song upon exit. It's one of poker's greatest traditions.
Although Hammers was only playing for charity, not everyone was thrilled he entered a ladies event. Some on social media were critical of his decision to play.
@KatieStonePoker @ChadAHolloway @MariaHo Wouldn't it be better if he donated $10k to a women's charity and didn't p… https://t.co/bfWdQPxxQM

— Kat X. Martin (@TheGameKat)
@ChadAHolloway @Therealflugi @WSOP @melissa2141_pkr Here's the problem. He may have good intentions. But I teach br… https://t.co/zqJqB37smX

— AJ Rudolph (@ajrudolph23)
Despite the Twitter debate, Hammers was within his rights to play the ladies event. But what do you think?