Poker All-Pros: A Look at Some of the Card Sharks of the NFL

Sean Chaffin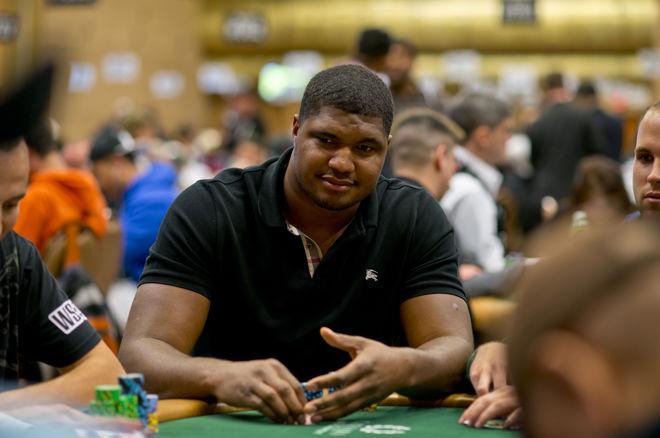 Cue the Hank Williams Jr., call over some buddies, grab some nachos, and kick back in the easy chair. The football season is well underway and no doubt many in the poker world are ready – either merely as fans, fantasy players, or possibly with a few bucks dependent on the results.
There is no doubt many poker players are glued to their TVs during the fall – thriving on the action and "the" action. In recent years, a few players have also made their way to the poker table as well – from events on the Mid-States Poker Tour to celebrity events and even to the Main Event at the World Series of Poker.
The number of big-name football players ponying up for poker events is smaller than athletes from other sports (the NFL frowns on gambling), but here's a look at the PokerNews pigskin roster of players who have chased some chips in recent years.
QUARTERBACK
The poker-playing metaphors are endless for NFL and college passers, but finding players who actually play poker with cards and chips is rare. Maybe some play at home or with friends and fellow players, but multiple searches yielded very little when it came to gunslingers in major tournament poker events. Former Steeler Charlie Batch hosts an occasional charity event and 1985 Chicago Bears Super Bowl champion Jim McMahon is known to play an occasional charity event.
While the quarterback position may involve one of the most analytical minds in sports, apparently that doesn't translate to an interest in analysis at the poker table. This position seems more focused on the field than the felt. Troy Aikman? Too busy calling games for FOX. John Elway? Too busy running the Broncos. Brett Favre? Too busy selling shaving razors and copper-fit sleeves on TV.
RUNNING BACK
Emmitt Smith: It seems former Cowboys have a penchant for card-playing and the NFL's all-time rushing leader (18,355 yards, 164 TDs) has several tournament appearances including small cashes in events in Tunica, Miss. A three-time Super Bowl champion and member of the Pro Football Hall of Fame, Smith represented FullTilt Poker and even recorded heads-up knockouts of Phil Ivey in the Celebrity Invitational Charity Tournament and David Williams in the National Heads-Up Poker Championship, according to the Dallas Morning News. Smith jumped in the WSOP Main Event in 2010, but was eliminated when his set of 10s were bested by a set of jacks.
"I'm learning more about the game," Smith told the Morning News after his elimination. "From that last hand, I learned a little bit, but at the end of the day, it is what it is. You've got to be able to get the cards. You've got to be able to understand when to bet, when not to bet. And then you just go from there."
Fred Jackson: As a member of the Buffalo Bills and Seattle Seahawks, Fred Jackson rushed for more than 5,700 yards and 30 TDs in a stellar 10-year career. Away from the field, Jackson has occasionally sought out some competition on another green playing surface – the poker felt. Jackson may not have cashed in a ton of tournaments, but has made several Day 2s on the Mid-States Poker Tour. A keen competitor who helped out many fantasy teams during his playing days, no doubt he'll be looking to change his poker track record and rake some cold cash.
Herschel Walker: The former Dallas Cowboy and Minnesota Viking (and a member of Donald Trump's New Jersey Generals USFL team) is a bit of a renaissance man – moving from football to mixed martial arts and even an occasional poker appearance. The 1982 Heisman Trophy winner also has competed in Olympic bobsledding, taekwondo, track and field, performed with the Fort Worth Ballet in 1988, and even won a cooking reality show on the Food Network. When it comes to poker, Walker has been an occasional guest in charity events, and also appeared on the season of Celebrity Apprentice that was won by Annie Duke.
WIDE RECEIVER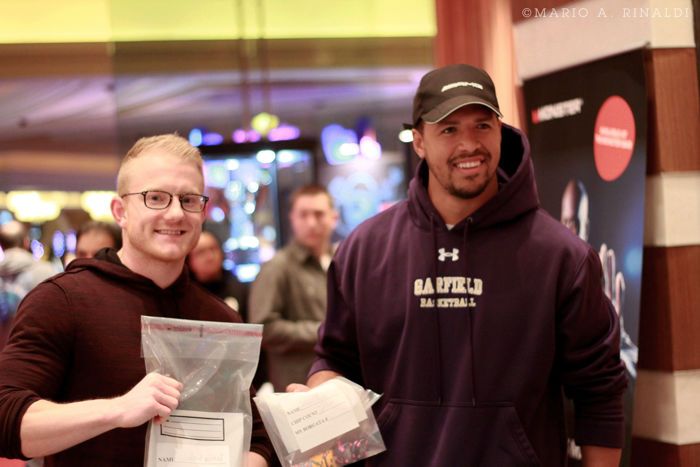 Sammy Watkins: The former Buffalo Bill was traded to the L.A. Rams before the season began and is known to be a fan of the felt. Watkins, who had more than 2,500 yards and 17 TDs in just over three seasons coming into 2017, made waves in April 2016 after skipping Bills' offseason workouts and posting a photo online of himself ready to play cards at the Harrah's Cherokee Casino in North Carolina.
With his trade to the Rams, Watkins will have plenty of nice poker options should he choose to get in on more action in the Los Angeles area. The Players Poker Club in Ventura is only a 25-minute drive away from the Rams' training facility in Thousand Oaks. The iconic Bicycle and Commerce casino card rooms are about 60 miles away. Should the Rams miss the playoffs (it seems like a real possibility), Watkins can head north a bit in January to the Thunder Valley Casino in Lincoln for a California WSOP-Circuit stop. He may not have a Super Bowl ring yet, but can take a shot at another type of championship ring.
Miles Austin: The former Dallas Cowboy, Cleveland Brown, and Philadelphia Eagle is a regular at the poker table and even helped head up charity poker tournaments while playing in Dallas. This author actually served as a dealer in one of those and witnessed former Cowboy and Bronco DeMarcus Ware eliminated at his table. Ware was obviously a rookie card player. Austin ended his career with more than 5,000 receiving yards and 36 touchdowns. He made it to Day 3 of the WPT World Championship in 2014, but is still looking for that breakthrough poker performance.
TIGHT END
Shannon Sharpe: Along with amassing three Super Bowl rings, Shannon Sharpe has also been seen at the tables occasionally – even being signed by AbsolutePoker to represent the now-defunct site in the 2005 WSOP Main Event. During his storied 12-year career with the Broncos and Ravens, Sharpe accumulated 10,060 yards receiving and 62 touchdowns. He was inducted into the Pro Football Hall of Fame in 2011. A former CBS commentator and now a co-host of FS1's Undisputed, Sharpe has fared quite a bit better in securing media jobs than cashes at the poker table – the Hendon Mob database lists no cashes for this talking-head tight end.
CORNERBACK
Antoine Winfield: In a 14-year career with the Buffalo Bills and Minnesota Vikings, Winfield recorded 27 interceptions and also has a small cash in a WSOP $1,500 No Limit Hold'em event. The Texan apparently spends plenty of time at the tables and has also played in the WSOP Main Event. He grew up playing with family and told the Casino City Times in 2016: "It's fun. I love it. I love the competition and I love meeting all the guys. I've been competitive all my life, and this is no different. You're competing against a huge field so it's hard to make it, but it's a lot of fun."
DEFENSIVE END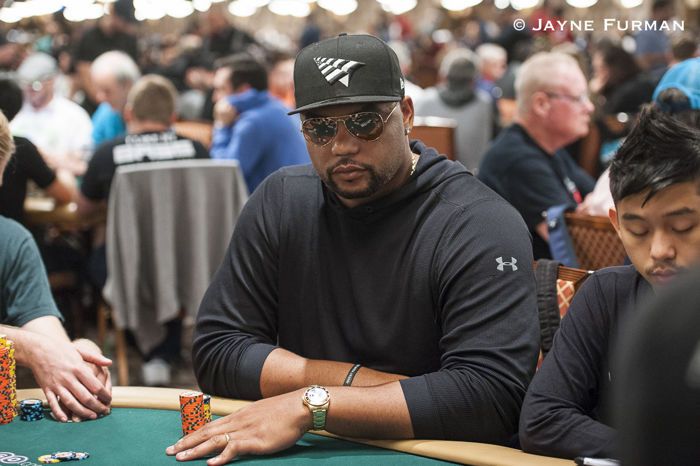 Richard Seymour: A few of the NFL's defensive players seem to be establishing a track record as real competitors on the felt and Seymour may be the best. A seven-time Pro Bowler who played 12 seasons with the New England Patriots and Oakland Raiders, Seymour recorded 57.5 career sacks. A three-time Super Bowl champion while in New England, Seymour has become someone to watch out for at the poker tables. With more than $139,000 in tournament winnings, Seymour has cashed at the WSOP, Mid-States Poker Tour, and other tours. His best finish? Taking 18th at the WPT Five Diamond World Poker Classic for $52,174. Seymour also had a pretty good run this summer at the WSOP:
Calais Campbell: This Jacksonville Jaguar and former Arizona Cardinal may be a beast on the defensive front, but is also looking to tackle some poker hardware. The 30-year-old Campbell has 60.5 career sacks and dominated in a Week 1 win for the Jags with four sacks. At the tables, Campbell has notched about $3,000 in tournament winnings, and has said publicly that one of his goals is to win a WSOP bracelet. He competed in the Main Event in 2016, and even hosted a charity tournament while playing in Arizona. Campbell may be among the NFL's sack leaders this year, and is hoping to have similar success in poker.
Finding a trustworthy room to play online poker can be a monumental burden. That's all the more true if you're just looking for a place to play poker for free. We've listed five of the best play-money poker sites to enjoy and help hone your skills.