EPT Barcelona Hands of the Week: Bluffing Into Quads & "Nine-six off?!" F***!"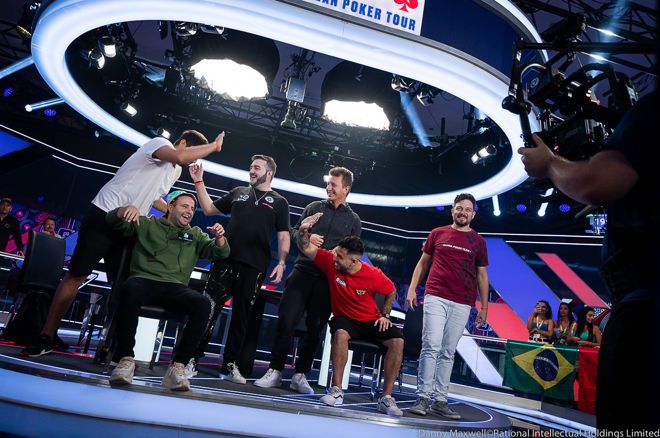 PokerNews is known throughout the world for our industry-leading live updates for both live and online events. In fact, right now we're offering various updates right here.
Over the years, we've captured memorable hands, many of which have become a part of poker history. In this column, we will bring you some of the biggest hands that took place during latter stages of the PokerStars and Barcelona© Casino European Poker Tour (EPT).
Remember, if you're playing an event PokerNews is covering, you can get in the updates via the MyStack App. You can download the app for iPhone or Android now to get started. Then, create a new PokerNews account or update your current one to start updating your status immediately. Your followers can see all the live action that you're involved in.
Click here to download the My Stack app for iPhone, or click here to download the My Stack app for Android.
Read Part 1 of Big Hands from EPT Barcelona here!
Maltez Runs Stone-Cold Bluff into Martino's Quads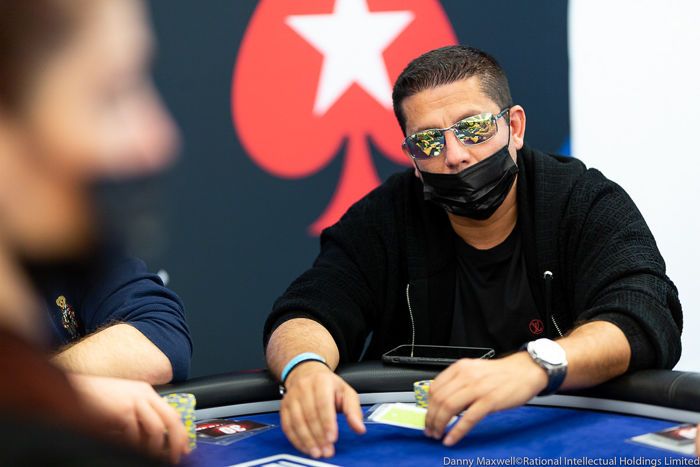 In the 2022 PokerStars EPT Barcelona €3,000 Mystery Bounty Championship, a big hand went down early in Level 2 (100/200/200). In a massive pot with the board reading
, Fabrice Maltez moved all in on Fiodor Martino and was snap-called.
Fabrice Maltez:

Fiodor Martino:
Unfortunately for Maltez, he made the wrong move at the wrong time as he ran his stone-cold bluff into Martino's quad kings and was plenty dead. The
completed the board.
Click here to see who won the €3,000 Mystery Bounty Event!
Davies and Sorensen Chop After Both Backing Into Quads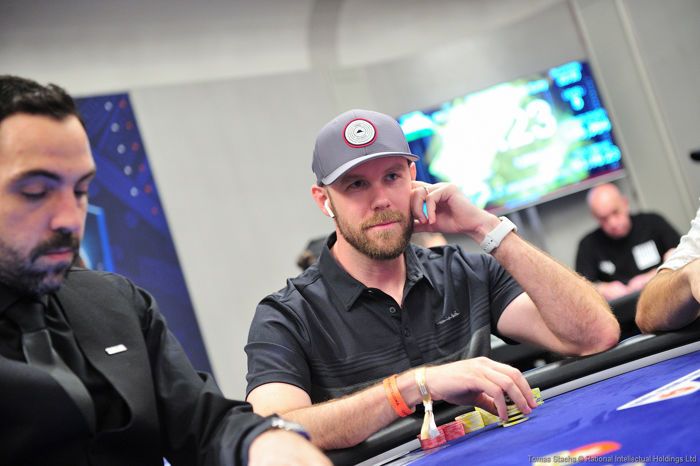 On Day 3 of the EPT Barcelona €5,300 EPT Main Event, it was Level 17 (3,000/6,000/6,000) when Seth Davies and Torben Sorensen played a very memorable hand at Table 21 that ended in the two chopping with the nuts.
PokerNews picked up the action on
with Davies in the cutoff and Torensen on the button. Davies checked the flop and Torensen fired a bet of 30,000. Davies called.
Davies checked again on the
turn and Torensen sized up to 55,000. Davies, with his face concealed by a grey baseball cap pulled over his eyes, used a time bank and called.
The
river put quads on the board and Davies again used a time bank as he sat stoically in his chair. Eventually, he announced "all in," only to get snapped off by Sorensen. Davies tabled
for the stone nuts with quad sixes and an ace kicker. But holding the nuts wasn't enough to earn Davies the pot as his Danish opponent also held the nuts with
.
"That's one of three rivers where I don't have a hard decision," Davies said after the hand.
"It's funny: One of you is bluffing on the turn and the other is bluff-catching. Then you both have the nuts on the river!" laughed Gergely Kulcsar from the one seat. "It's fun to watch you guys."
"It was a fun hand," agreed Davies.
Aksu Makes Kings Full as Chegdane Folds What Would've Been Quads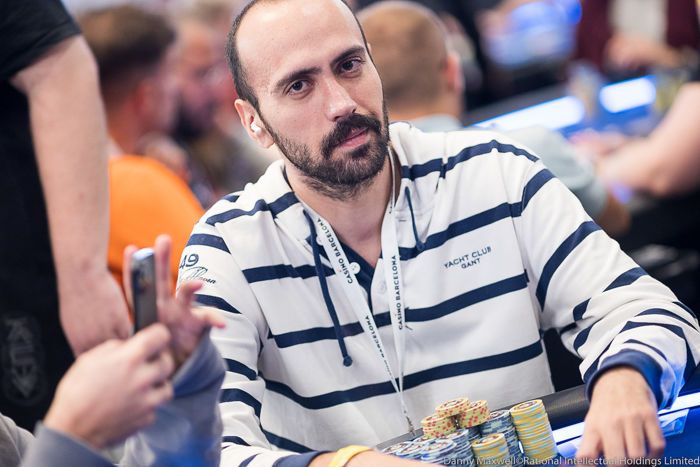 Also on Day 3 of the Main Event, albeit in Level 20 (6,000/12,000/12,000), there was a hand that made the table go nuts, Ibrahim Aksu opened from the cutoff and Benjamin Pollak three-bet jammed a stack of around 350,000 from the small blind.
Said Chegdane then went into the tank for over a minute in the big blind before folding, while Aksu called with a bigger stack. Ahead of the runout, Chegdane said he made a big laydown with jacks.
Benjamin Pollak:

Ibrahim Aksu:
Chegdane had apparently made the right laydown and the flop came
, which would have given him a set to still be behind the set of Cowboys of Aksu. However, the board then finished out
and Chegdane stared with glazed-over eyes at the board that would've given him quads.
Someone at the table attempted to grab the muck to see if Chegdane had indeed folded jacks before the dealer stopped them. But Chegdane's face said it all.
"I believe him. He looks like he wants to kill himself!" exclaimed Giuliano Bendinelli.
In the middle of all the excitement, Pollak quietly hit the rail.
Click here to see who won the EPT Barcelona Main Event!
"Nine-six off?!" F***!"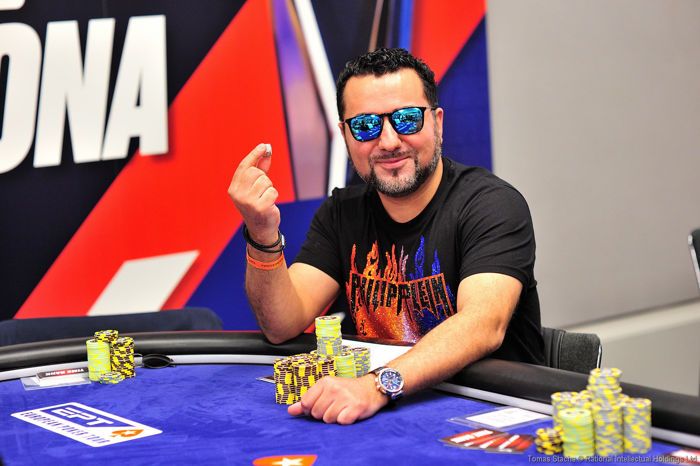 On Day 3 of the €10,300 EPT High Roller, just 14 players remained in Level 26 (25,000/50,000/50,000) when Ehsan Amiri had been dominating the table with a series of raises and three-bets. In one big hand, Amiri opened from the cutoff and a fed-up Eric Rabl on the button three-bet the chip leader, who then called.
Amiri checked on the flop of
and Rabl bet 180,000. Amiri called. Amiri checked again on the
turn and Rabl checked back.
The river brought the
and Amiri checked for a third time. Rabl took a moment before pushing out his stack of 845,000 for an all-in bet. Amiri went into the tank and stared down his opponent behind a pair of blue-tinted sunglasses. After using two time banks, Amiri called.
Rabl tabled a stone bluff with
for nine-high and Amiri let out a gasp that was equal parts in relief and in shock before he tabled
for trips, more than enough to win the pot. Rabl hit the rail in 14th place for €58,350 as those at the table tried to wrap their heads around the meltdown they had witnessed.
"Nine-six off?!" F***!" Amiri exclaimed after extending his already massive chip lead.
"Wow," contributed Ramon Colillas.
Wilson on Fumes After Broadway vs Boat Collision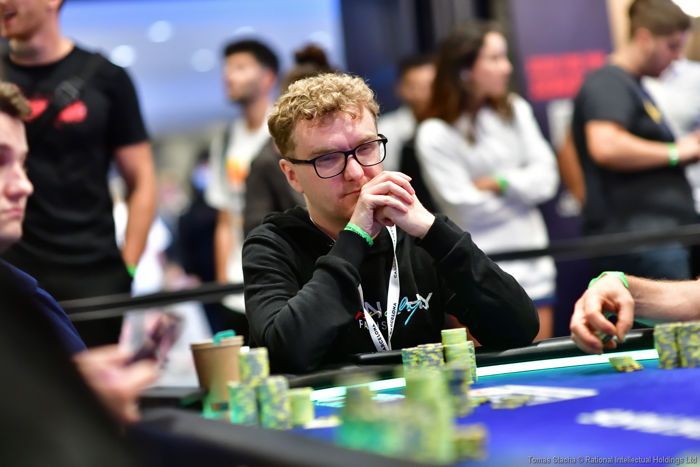 In the same tournament with 10 players remaining in Level 27 (30,000/60,000/60,000), there was a blind-versus-blind confrontation when Laszlo Molnar opened from the small blind and Andrew Wilson three-bet to 480,000 from the big blind. Molnar called.
The flop landed
and Molar checked. Wilson bet 275,000 and Molnar called. Molnar checked again on the
turn and Wilson sized up to 400,000. Molnar used through a time bank and called.
The river brought the
and Molnar again checked. Wilson used a time bank before fired a third barrel of 645,000, which Molnar met with a snap-call.
Wilson proudly tabled
for a Broadway straight, which he surely thought was good to win the pot. But Molnar then tabled
for tens full of queens. Wilson had flopped the nut straight with a redraw to the nut flush but Molnar boated up on the turn to leave the Brit visibly flustered and riding fumes after the gut-wrenching cooler.
Wilson's luck may be turning around as he doubled up his nub of 175,000 through Stefan Schillhabel a few hands later when his
held up against the
of the German.
At the other table, Kyriakos Papadopoulos doubled up through chip leader Ehsan Amiri when his
dominated the Aussie's
.
Portugal's Rui Ferreira Takes Down €10,300 EPT High Roller for €767,750
Executive Editor US, PokerNews Podcast co-host & 2013 WSOP Bracelet Winner.