Billy_Slater Secures 888poker $100K Mystery Bounty Title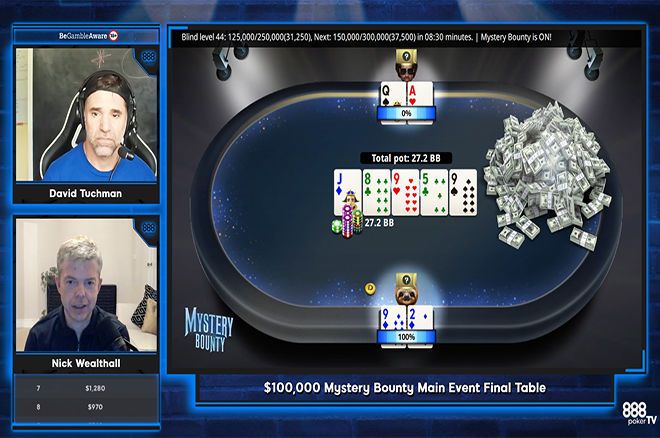 888poker continues pulling out all of the stops regarding its mystery bounty tournaments, as it hosted another $109 buy-in $100,000 guaranteed affair this weekend.
A total of 945 players competed, made up of 785 unique entries and 160 rebuys, leaving 888poker with a slight overlay on the generous $100,000 guarantee, not that those who finished in the money places minded because it represented even more value for them.
The largest of the mystery bounty payments tipped the scales at $10,000, a welcome addition to any poker player's bankroll. Brazil's "beijamyrola" got their hands on this huge bounty despite falling in 112nd place! The $10,139 they took home was more than any of the other entrants, including "Billy_Slater," the eventual champion!
A special mention also goes to 888poker ambassador Ian "Simpioni" Simpson. The popular grinder crashed out in 60th place for a $145 score, but Simpson pulled out several bounties, including one worth $3,000, to make for a profitable evening at the virtual felt.
$100,000 Mystery Bounty Main Event Final Table Results
| Place | Player | Country | Bounties | Prize | Total Prize |
| --- | --- | --- | --- | --- | --- |
| 1 | Billy_Slater | Chile | $1,286 | $7,740 | $9,026 |
| 2 | Diguiry | Brazil | $1,972 | $5,645 | $7,617 |
| 3 | Luciole16 | Kazahkstan | $1,619 | $4,150 | $5,769 |
| 4 | GuyWhite14 | Canada | $1,012 | $3,075 | $4,087 |
| 5 | ProudToBeNIT | Belarus | $433 | $2,275 | $2,708 |
| 6 | J0nSn0wShow | Denmark | $3,026 | $1,700 | $4,726 |
| 7 | ChristaBorg | Canada | $826 | $1,280 | $2,106 |
| 8 | fjreis | Brazil | $526 | $970 | $1,496 |
| 9 | somebody888 | Lithuania | $93 | $740 | $833 |
Lithuania's "somebody888" sat down at the final table with only 9.4 big blinds, so it was unsurprising to see them become the first casualty. They only last one hand after raising to seven big blinds with king-queen before calling the shove from "GuyWhite14," who jammed with pocket jacks. somebody888 failed connect with the board, and was gone.
It took another 40 minutes before the final table lost another player. Brazil's "fjreis" saw their stack dwindle to only 3.3 big blinds when they open-called with king-nine of diamonds in a clash with "ProudTobeNIT," who three-bet with ace-eight of hearts. An eight on the flop proved enough to reduce the player count by one.
Seventh place and a total of $2,106 went to "ChristaBorg." First, they lost a chunk of their stack when their ace-queen lost to pocket jacks. They then min-raised with ace-king of diamonds in the cutoff, "Luciole16" clicked it back to four big blinds in the small blind, before ChristaBorg jammed for 13.1 big blinds in total. Luciole16 instantly called, as would you had you been dealt pocket aces. ChristaBorg flopped a flush draw but the turn and river bricked.
"J0nSn0wShow" was sent packing 20 minute later when they open-shoved for only 3.4 big blinds with pocket threes from the button. Billy_Slater called in the big blind with ace-queen, which flopped a queen to send J0nSn0wShow home in sixth. J0nSn0wShow took home $4,087 thanks to opening $3,026 worth of bounties before busting.
A few moments after J0nSn0wShow's demise, ProudToBeNIT joined the list of eliminated players. They moved all-in for 3.2 big blinds from the button with ace-four on the button, and Luciole16 called in the big blind with the dominated four-deuce. Luciole16's hand only remained dominated until the flop because two deuces appeared; ProudToBeNIT was drawing dead by the turn.
The final four became three when Canada's GuyWhite14 was wiped out by Luciole16. From the button, Luciole16 min-raised with pocket queens, and called the 11.6 big blind shove from GuyWhite14, which they made with ace-four from the small blind. An eight-high board was no help to GuyWhite14, and they headed to the showers.
Get The PokerNews 888poker Bonus
Luciole16 bowed out in third despite being the chip leader going into three-handed play. They lost a decent percentage of their stack bluffing into a pair of queens, then got a little too frisky with a straight draw when their opponent had a straight. Luciole16 committed their last 9.3 big blinds with ace-ten after Billy_Slater had min-raised with ace-deuce. Billy_Slater called, and flopped a deuce, turned an ace, and busted the dangerous Luciole16.
Billy_Slater held a two-to-one chip lead going into the one-on-one clash with "Diguiry." The battle was over after only a couple of hands. Billy_Slater moved all-in with nine-deuce of diamonds, and Diguiry called off their 13.5 big blind stack with ace-queen. A nine on the flop and another on the river brought the latest $100,000 Mystery Bounty event to a thrilling conclusion.