Exciting Changes Hit WPT Global; PLO Cash Leaderboards Launched & More Multi-tabling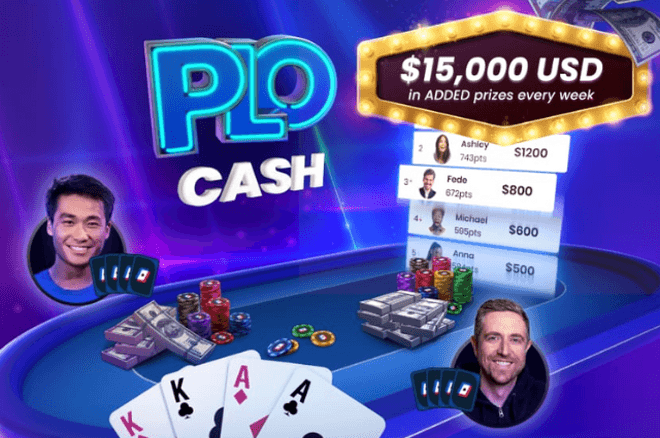 WPT Global continues to make player-friendly changes to its platform, which looks to enhance user experience as well as reward its players.
The site's clientele can now take part in an epic PLO Cash Leaderboard where players can win a slice of $15,000 in rewards. And to make things sweeter, climbing the leaderboard is about to get a whole lot easier as WPT Global is increasing the number of tables you can play on at once.
Epic Rewards Await Leaderboard Winners
The new PLO Cash Leaderboard gives players a chance to win their share of an impressive $15,000 in Sunday Slam tickets and cash prizes each week by killing it Pot-Limit Omaha (PLO) cash games.
From May 15, players can earn raffle tickets by playing PLO cash game hands at WPT Global. For every 100 hands played, participants will receive one raffle ticket for a random draw that occurs at the end of each week. Players can further enhance their odds of success during the Double Points hours, which occur from 6 p.m. to 10 p.m. ET nightly. During these peak hours, every PLO cash hand played will earn players two raffle tickets, effectively doubling their ticket accumulation rate.
The random draw boasts a diverse array of prizes, including various cash rewards and highly coveted $110 Sunday Slam tickets, which is great for those looking to try out the site's new Sunday Majors. This combination of cash prizes and tickets culminates in a staggering total of $15,000 in rewards, guaranteeing an exciting and competitive environment throughout.
PokerNews Invites You to Some Awesome WPT Global Freerolls
WPT Global PLO Cash Leaderboard Prizes
| Position | Ticket Prize | Cash Prize | Total Prize |
| --- | --- | --- | --- |
| 1st | $1,100 Prime Spring Festival | $2,000 | $3,100 |
| 2nd | $1,100 Prime Spring Festival | $1,200 | $2,300 |
| 3rd | $1,100 Prime Spring Festival | $600 | $1,700 |
| 4th | $550 WPT500 Spring Festival | $500 | $1,050 |
| 5th | $550 WPT500 Spring Festival | $400 | $950 |
| 6-10th | $110 Sunday Slam | $250 | $360 |
| 11-20th | $110 Sunday Slam | $125 | $235 |
| 21-30th | (2) $22 Sunday Slam Satellite | $50 | $94 |
| 31-40th | $22 Sunday Slam Satellite | $30 | $52 |
| 41-50th | $11 Mini Sunday Slam | $20 | $31 |
Multi-tabling Gets Bigger on WPT Global
The PLO Cash Leaderboard isn't the only new change on WPT Global, as the site now allows players to engage in more simultaneous games than ever before. A bigger multi-tabling offering is particularly advantageous for those seeking a more action-packed and immersive poker experience.
For Windows users, the update permits players to participate in up to seven Multi-Table Tournaments (MTT) at the same time, presenting an opportunity to compete in multiple tournaments and increase their chances of success. Additionally, Windows users can now join up to three cash game tables. However, Pace Poker and PokerFlips tables are still capped at one table.
MAC users, while slightly limited compared to their Windows counterparts, still benefit from the update. They get all the same benefits as Windows users except that MTT's are capped at four tables instead of seven, ensuring that the gameplay remains manageable and enjoyable.
Don't Miss the Incredible Value in WPT Global's New Sunday Majors
Join WPT Global Today
The launch of WPT Global means that poker players around the world now have the chance to win their way to WPT events, win prizes and enjoy exciting games such as Poker Flips. As one of the world's largest cash game poker networks, WPT Global is available in over 50 countries and territories worldwide.
WPT Global offers a large deposit match bonus: 100% on deposits up to $1,200 (using any payment method). New players depositing a minimum of $20 automatically receive this match bonus which is unlocked in $5 increments (credited straight to the cashier) for every $20 of rake contribution.
Both tournaments and cash games count towards bonus unlocking; new players have 90 days from the date of first deposit to unlock and claim their full bonus amount.