Issam Benhaddou is the Winamax SISMIX Champion (€62,250)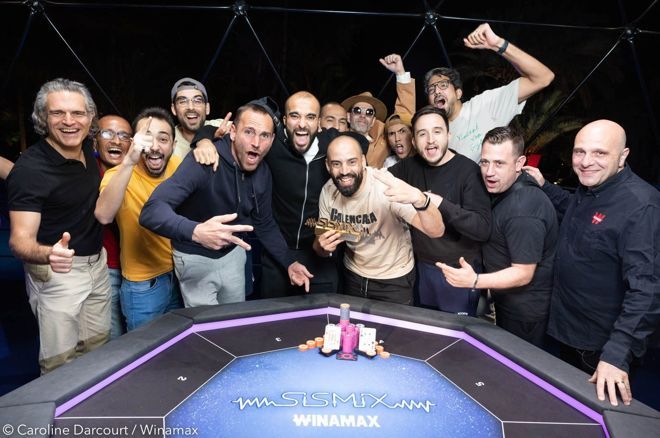 Table Of Contents
The 5,500 dirham Winamax SISMIX Main Event, running at the Casino de Marrakech at the El Saadi Resort, has now wrapped up and a new champion has been crowned.
Issam Benhaddou has been crowned the champion. He takes 937,500 dirham for his efforts (€86,250). Benhaddou outlasted a field of 1,900 entrants to win the tournament.
According to Hendon Mob, Benhaddou has $17,724 in live tournament winnings. His previous biggest prize was 46,000 dirhams in the WSOPC Marrakech event in 2020. This, then, is by far his most impressive and lucrative score.
After only around 10 minutes of heads-up play, Benhaddou got the better of Christophe Beyer to win the tournament. Beyer made a bluff that didn't pay off before shoving his short stack from the button and getting called by his opponent. Benhaddou held up to end what has been an intense, exciting and fun five days of poker.
Luis Cabello of Spain came third for 520,000 dirham, Ewen Trevidy came fourth for 370,000 and Mehdi Chaoui came in fifth place for 270,000 dirham. Gonzalo Serrano came sixth for 200,000 dirham, and Alexis Plumet came seventh for 145,000 dirham.
SISMIX Final Table Results
| Place | Player | Country | Prize (MAD) | Prize (Euros) |
| --- | --- | --- | --- | --- |
| Winner | Issam Benhaddou | Morroco | 937,500 | 86,250 |
| 2 | Christophe Beyer | France | 787,500 | 72,450 |
| 3 | Luis Cabello | Spain | 520,000 | 47,840 |
| 4 | Ewen Trevidy | France | 370,000 | 34,040 |
| 5 | Mehdi Chaoui | Morocco | 270,000 | 24,840 |
| 6 | Gonzalo Serrano | Spain | 200,000 | 18,400 |
| 7 | Alexis Plumet | France | 145,000 | 13,340 |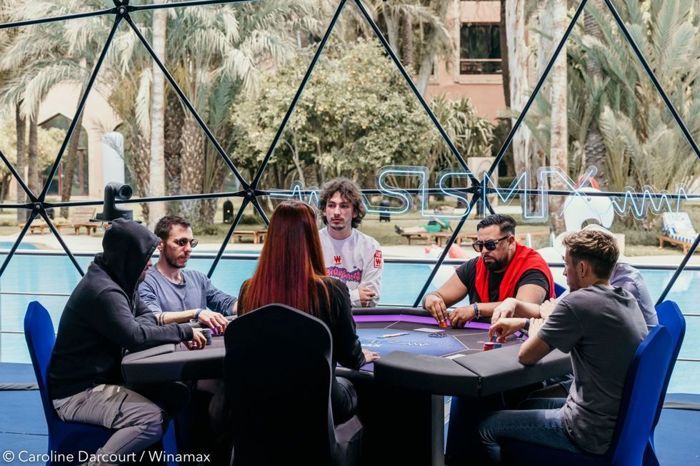 WWinner's Interview
"There are a lot of things going through my mind right now," said Benhaddou. "Most of all I'm very pound of my performance, and it makes me so happy to win at home."
"I'm a local, typical, authentic and original product. So I can't be anything but happy."
"My secret is that I called my mom at every break. She prayed for me so I can win my triple barrel bluffs. And I tried to manage my game, to put pressure on when needed, and it worked for me."
"I had a good energy. After my Day 1b, I went to the swimming pool to chill and relax to be in the best conditions for the rest of the tournament."
Bustouts Happen Fast on the Final Day
The first few hours of the final day were nothing short of intense. Of the 18 players who returned to the felt, Adil Oubaaous was the first to his the rail. Less than 10-minutes later, Rui Tiago Pinto Campo and Jordi Garcia had both joined him, followed by Javier Ortiz and Enis Chetita, all within the first hour of play.
Action didn't slow down after that. The all ins continued to come with relentless speed. Victor De Sa Camboa was on the wrong end of a bad beat and was knocked out by Alexis Plumet. Then, Rachid El Yaacoubi hit trips, only to find himself outkicked by Benhaddou's, who was also holding trips.
Inigo Naveiro lost an all in against Ewen Trevidy to bust in 11th place and then Antoine Guidez lost a flip against Mehdi Chaoui to bust in 10th.
Sylvain Neyroud, who started the day as chip leader, was involved in a huge all in and got his kings cracked by Benhaddou to bust in 9th place. By this point, Benhaddou was accumulating chips and positioning himself nicely for what was to come.
His stack was further improved when he got it in good to eliminate Mohamed Mehalleg in 8th place to bring about the final table redraw. When the final table began, Benhaddou had 30,000,000 chips and close to a 2-1 chip lead over second place Luis Cabello.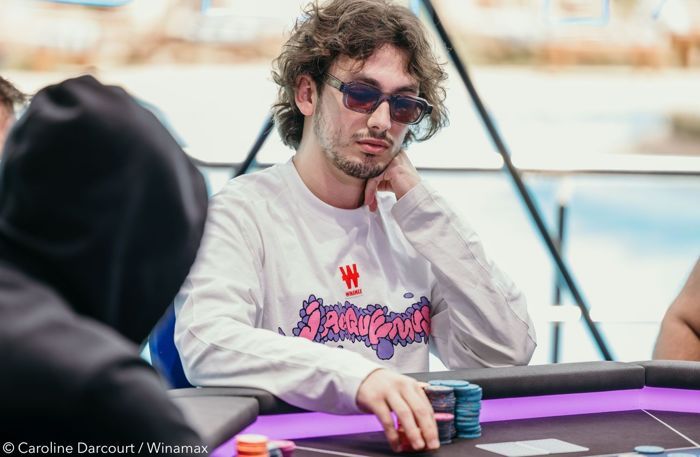 SISMIX Final Table Action
Benhaddou continued his reign, winning a coinflip against Alexis Plumet, who was the first to leave the final table. Gonzalo Serrano was the next to go. He shoved pocket sixes and was called by Cabello, whose tens held up to send Serrano to the rail.
Winamax Pro Mehdi Chaoui got it in ahead against Benhaddou, but Benhaddou hit trips to knock Chaoui out of the tournament in 5th place.
With four remaining, Benhaddou still had the chip lead. Christophe Beyer closed the gap when he doubled up through Trevidy and then again through Benhaddou. Trevidy then got it in against Cabello, whose pocket jacks held up to knock Trevidy out of the tournament. Just a few minutes later, however, Luis Cabello busted when he got his cards in behind against Beyer and lost.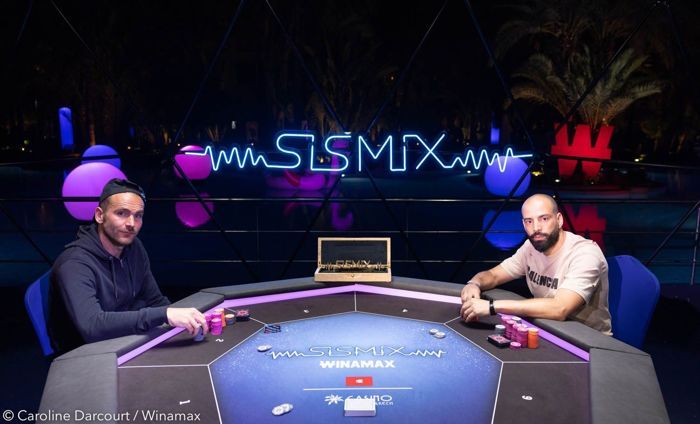 Christophe Beyer went heads up against chip leader Benhaddou. Despite his lead, Benhaddou was happy to make an even spilt deal with Beyer to leave 150,000 dirham to play for.
The heads-up battle lasted only a matter of minutes before Benhaddou picked off Beyer's bluff to get well ahead. After a shove and a call, it was all over. Benhaddou was crowned the SISMIX Main Event champion.