Ramin Hajiyev Conquers $200,000 Luxon Invitational in Cyprus For $4.1 Million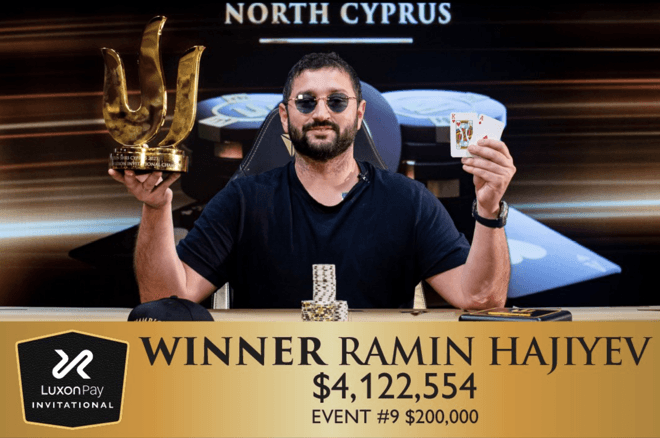 It was a good day for Ramin Hajiyev, who walked away from The $200,000 Luxon Invitational with the biggest live cash of his career. In fact, his first-place prize of $4,122,554 was more than every other live cash on his Hendon Mob put together.
Hajiyev's victory came at the expense of Tobias Duthweiler, who took second place, and a specially selected field of 86 poker, business, and celebrity sharks. Hajiyev has had a rough run of it at Triton events, but this event should set that all to rights.
"There was, I would say, a quite not good run," Hajiyev told Ali Nejad in his post-win interview. "And I was maybe running a bit worse in Triton events. When I came here last year, I just loved the event, the organization. I said, Wow if you're gonna win something, that's the one."
The $200,000 Luxon Invitational Complete Event Results
| Position | Name | Country | Prize |
| --- | --- | --- | --- |
| 1st | Ramin Hajiyev | Azerbaijan | $4,122,554 |
| 2nd | Tobias Duthweiler | Germany | $3,606,446 |
| 3rd | Patrik Antonius | Finland | $2,100,000 |
| 4th | Sean Winter | United States | $1,640,000 |
| 5th | Punnat Punsri | Thailand | $1,325,000 |
| 6th | Wai Kiat Lee | Malaysia | $1,030,000 |
| 7th | Sosia Jiang | New Zealand | $820,000 |
| 8th | Wai Yong | Malaysia | $636,000 |
| 9th | Ben Heath | England | $481,000 |
| 10th | Orpen Kisacikoglu | Turkey | $369,500 |
| 11th | Philip Sternheimer | England | $369,500 |
| 12th | Eng Ewe | Malaysia | $350,000 |
| 13th | Linus Loeliger | Switzerland | $350,000 |
A Fearsome Final Nine
The Luxon Invitational was a special event in the Triton Poker Series Cyprus. Players were selected from a number of VIPs who, in turn, were allowed to invite a plus one. Some brought pros they wanted to mix it up with.
There were plenty of returning faces from last year's event edition (sponsored by Coin Rivet). Linus Loeliger managed to cash this year after making the final table in 2022. That event was won by Sam Grafton.
The event's unique makeup made for a star-studded final table.
Patrik Antonius putting on a MASTERCLASS in the $200k Luxon Invitational in a 4-bet hand where @Patrik_Antonius fin… https://t.co/PvbllLJrox

— Triton Poker (@tritonpoker)
Patrik Antonius and Sean Winter were on hand to represent the poker establishment. Not that they were likely to have an easy time of it. Every other player at the final table was either a recognizable pro like Sosia Jiang or Punnat Punsri or a VIP with a history of playing high rollers. All of them had seven-figure Hendon Mob pages.
Hajiyev was a VIP, not a pro. Plus, he had gone nought for nine so far at the Triton Series Cyprus. It may have been a sharks-only final table, but Hajiyev was among a school of megs.
Boredom And Terror At The Final Table
The final table had a very slow start, with no eliminations or even much in the way of big pots for the first three hours.
Then finally, Ben Heath ran his A♠J♠ into Punsri's A♣K♦ and hit the rail. Just a few hands later, the eventual runner-up, Duthweiler tripled up, taking a chunk out of Sean Winter's stack and the entirety of Wai Yong's.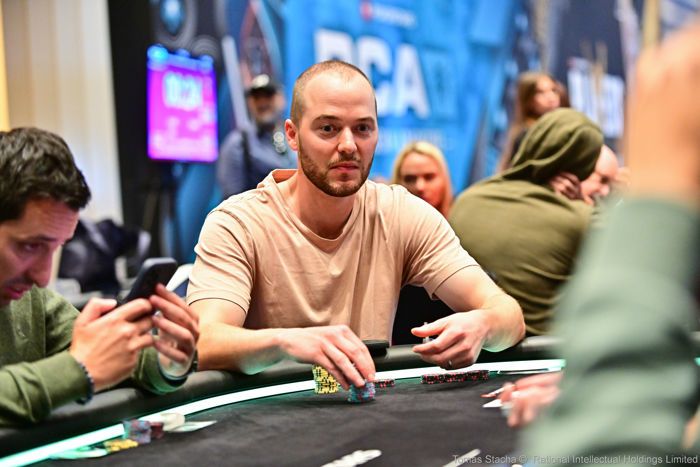 This set the pattern for the table with hours of slow play, followed by eliminations separated by minutes.
By the time Jiang and Wai Kiat Lee were eliminated in seventh and sixth place, respectively. Hajiyev now had the biggest stack at the table and was up against four top pros, including Winter and Antonius.
What a flip for Ramin to put an end to the $200,000 Luxon Pay Invitational. The newly # Champion takes home $4,122,… https://t.co/Y4osLNbsXZ

— Triton Poker (@tritonpoker)
Hajiyev's mojo had momentum now, and within forty-five minutes, there was just one pro left. Duthweiler was already at a chip disadvantage with 8.1 million in chips to Hajiyev's 17.7 million.
Duthweiler's stack had shrunk to 5.6 million when—with blinds at 200k/400k with a 400k big blind ante—he picked up two red eights. Duthweiler limped from the button, allowing Hajiyev to move in with A♦K♥. Duthweiler called, and the dealer did her thing.
A king on the flop for Hajiyev was good enough for the title, and Duthweiler took second place and $3.6 million.
It was an intense heads-up battle, and VIP, ## Ramin Hajiyev emerged as the winner! # Congratulations to Ramin Haji… https://t.co/mHqiP3zfp7

— Triton Poker (@tritonpoker)
Lead photo courtesy Triton Poker via Twitter