Jones, Weinman and Walton to Battle for 2023 WSOP Main Event Title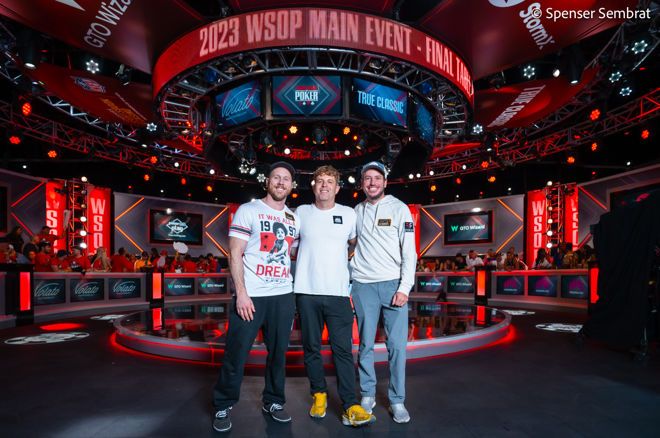 Table Of Contents
The record-breaking 2023 World Series of Poker Main Event is one step closer to crowning a winner at the Horseshoe and Paris Las Vegas. Out of a staggering field of 10,043 entries who ponied up the $10,000 buy-in for the biggest live poker event of the year, only three players remain in contention for the largest portion of the gargantuan $93,399,900 prize pool.
Steven Jones soared to the top of the leaderboard and boasts 238,000,000 to his name, while Daniel Weinman (199,000,000) and Adam Walton (165,500,000) follow suit not far behind. The chip leader holds 119 big blinds, while Walton still has almost 83 big blinds at his disposal, promising deep-stacked action for the tournament's conclusion.
Seat Assignments for the Final Day
| Seat | Player | Country | Chip Count | Big Blinds |
| --- | --- | --- | --- | --- |
| 1 | Steven Jones | United States | 238,000,000 | 119 |
| 4 | Adam Walton | United States | 165,500,000 | 83 |
| 5 | Daniel Weinman | United States | 199,000,000 | 100 |
The penultimate tournament day lasted a total of 116 hands, during which the field was reduced to just three contenders, all from the United States. Chances of a potential Main Event champion from Germany for the third time within the last five years came to an end when Jan-Peter Jachtmann was knocked out in fourth place.
Having lost several pots in quick succession to tumble towards the bottom of the leaderboard, the German businessman and Pot-Limit Omaha aficionado three-bet jammed for 27 big blinds with king-queen right into the pocket aces of Walton. Once it was his turn to act, Walton instantly grabbed his cards and triumphantly slammed them on the felt before heading to his rail and high-fiving everyone. There was no miracle escape for Jachtmann, and the action for the evening concluded.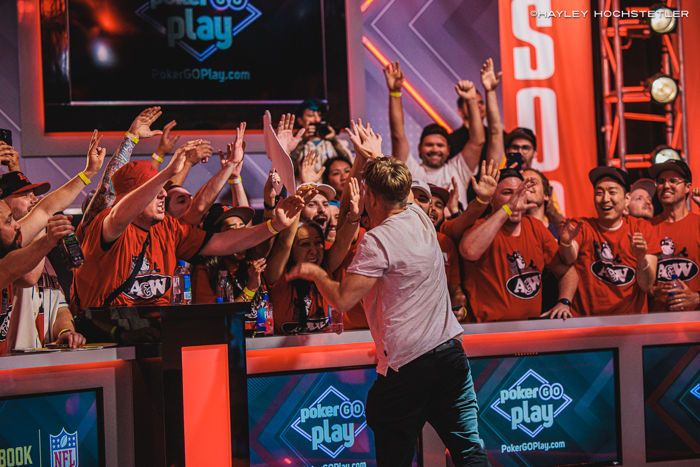 Loud "USA, USA, USA" chants could be heard all over the Horseshoe Event Center when it came time to bagging and tagging, and the first winner from the United States will be crowned since John Cynn back in 2018.
Jones started the penultimate tournament day second in chips and was responsible for several eliminations to bring the event one step closer to a winner.
"Yeah, I expect tomorrow to be a battle." -Steven Jones
"It feels amazing. Everything came into plan as I wanted to do it today. Worked out really well, picked up some big hands at some key spots," Jones confirmed.
Second in chips is Walton, who entered with the most chips but experienced a roller coaster ride that would have left many others frustrated. However, his boisterous rail ensured he stayed on track and finished on a high.
"I mean, frustrated? No, Obviously, I was wishing for something better. But like, this is obviously, like such a fun time. Everybody's here. Yeah, Not. Not especially by the end."
The previous best WSOP Main Event finish for Weinman was 173rd place, but he is now guaranteed at least $4 million with pay jumps worth millions of dollars. He relaxed on the golf course with fellow finalist Toby Lewis on the day off prior to the first final table stage. Lewis' bid for a maiden WSOP gold bracelet and next major live poker title was cut short in seventh place, while Weinman retained his chances of more WSOP honors.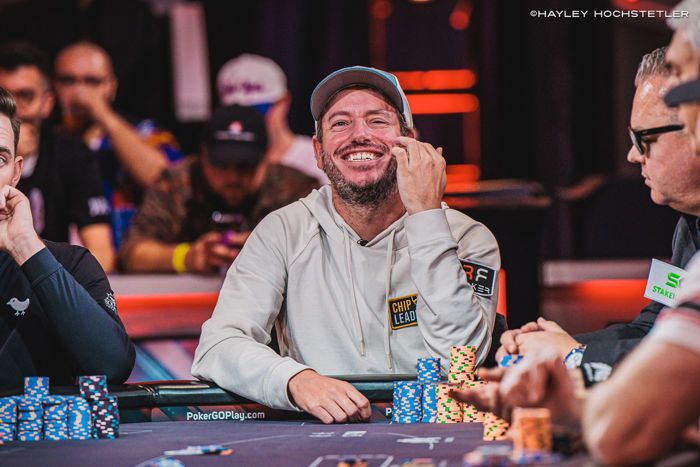 "The day couldn't have gotten much better," he concluded. "I thought I had a lot of big hands early, made some chips, didn't really get put to too many tough decisions, which was fortunate because there were a couple of spots where Adam really could have put me in the blender and kind of got fortunate that he gave up on a couple of hands, kind of just had the cards. I don't really think I did anything too special. Just played really solid poker, made a few hands at the right time, and looking forward to a battle tomorrow."
All three Americans now have one night to prepare for the final stage, which will again be shown on the PokerGO live stream platform. There are 43:33 minutes left in level 40 at blinds of 1,000,000-2,000,000 with a big blinds ante, which makes for an incredible average of 100 big blinds to chase the $12,100,000 top prize.
"Yeah, I expect tomorrow to be a battle. It's probably going to be a really long day. Obviously, some good players left. It's going to be a long day," chip leader Jones predicted after bagging and tagging for the night.
Final Table Action
It only took slightly more than two and a half levels to wrap up the day but the first elimination only unfolded in hand #43 but caused fireworks thereafter. In the span of eight hands, three of the finalists were sent to the payout desk and half a dozen players suddenly remained.
First to depart was Italian apple tree farmer Daniel Holzner who had navigated a shorter stack for a long time leading up to the nine-handed final table. He was chipped down to a short stack and doubled only to then lose a flip with ace-jack against the pocket tens of Jones.
Only two hands later, it was game over for Juan Maceiras. The Day 7 chip leader experienced a torrid run all day long and ultimately saw his hopes of a comeback cut short by Lewis when king-nine ended up second-best versus ace-ten. Despite winning that pot, Lewis remained a short stack and bowed out seven hands later when Jones once more prevailed in a flip with pocket tens versus king-jack.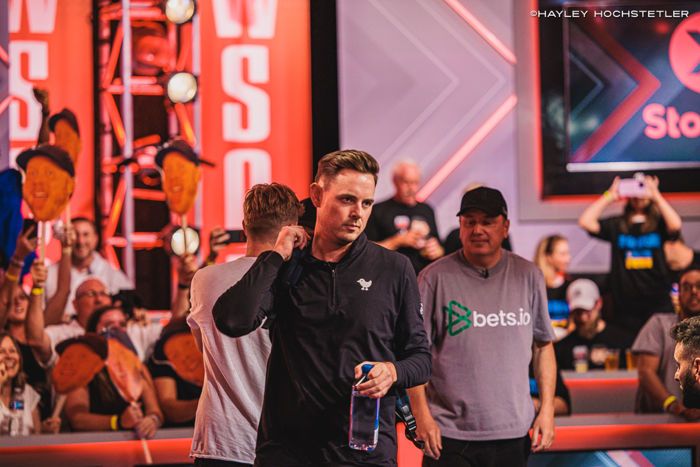 Dean Hutchison boasted one of the loudest rails in the Thunderdome but never pulled away from a short stack. In the final hand ahead of the second break, the Scotsman put his hopes on pocket fives but Jachtmann had him pipped with pocket sevens in the big blind.
That elimination ensured a pay jump for fellow short stack Ruslan Prydryk, who went on to double once the action resumed. However, Prydryk saw his stack cut down throughout several hands without a showdown and Weinman dealt the final blow in a preflop contest. Prydryk collected $2.4 million for his efforts and jumped into fifth place on the Ukrainian all-time money list according to The Hendon Mob.
Tournament staff informed the final four players to wrap up with three remaining or upon conclusion of the next level. It would only take another ten hands for Jachtmann to become the distinct short stack and he jammed two paint cards at the worst possible time to settle for a career-best score of $3 million.
Final Table Results and Remaining Payouts
| Place | Player | Country | Prize (in USD) |
| --- | --- | --- | --- |
| 1 | | | $12,100,000 |
| 2 | | | $6,500,000 |
| 3 | | | $4,000,000 |
| 4 | Jan-Peter Jachtmann | Germany | $3,000,000 |
| 5 | Ruslan Prydryk | Ukraine | $2,400,000 |
| 6 | Dean Hutchison | Scotland | $1,850,000 |
| 7 | Toby Lewis | United Kingdom | $1,425,000 |
| 8 | Juan Maceiras | Spain | $1,125,000 |
| 9 | Daniel Holzner | Italy | $900,000 |
All three Americans have already locked up $4 million, but each remaining elimination comes with a massive seven-figure pay jump. The action resumes the following day as of 1 p.m. local time, and the PokerNews live reporting team will be back to provide hand-for-hand coverage according to the delay of the PokerGO live stream as of 2 p.m. local time on Monday, July 17, 2023, until the new WSOP Main Event champion has been crowned.