2023 WSOP Main Event Registration Closes w/ 10,043 Entries & $12.1M to Winner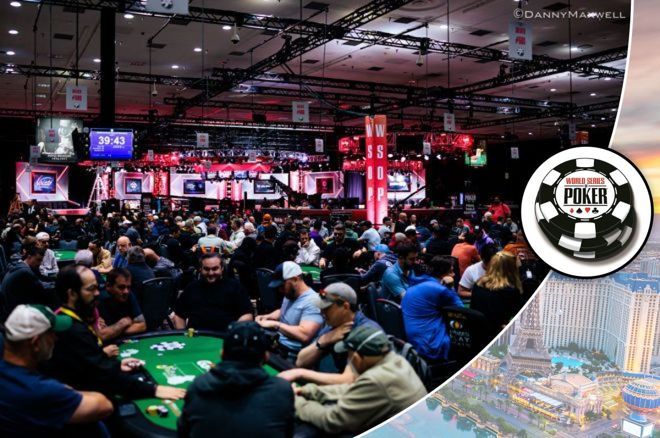 Table Of Contents
Following the conclusion of Level 7 on Day 2d on Saturday, registration has closed in the 2023 World Series of Poker (WSOP) Main Event with 10,043 players, creating a prize pool of $93,399,900.
When this record-breaking tournament wraps next week. The winner will take home a cool $12,100,000, the largest first-place Main Event prize ever. No one knows exactly who that lucky and skilled individual will be — the tournament hasn't even reached the money bubble — but it won't be the defending champion, Espen Jorstad, who was sent to the rails on Day 2abc Friday when his flopped set ran into a straight.
2023 World Series of Poker Hub
Bookmark this page! All you need to know about the 2023 WSOP is here.
There are plenty of other previous world champs still standing, including Jamie Gold, Ryan Riess, Joe Cada, and the 1983 winner Tom McEvoy.
The top 1,507 players will make the money, with the min-cash confirmed at $15,000. Anyone who makes the final table will lock up $900,000, with seven-figure payouts taking place when eight players remain.
2023 WSOP Main Event Payouts
| Place | Prize |
| --- | --- |
| 1 | $12,100,000 |
| 2 | $6,500,000 |
| 3 | $4,000,000 |
| 4 | $3,000,000 |
| 5 | $2,400,000 |
| 6 | $1,850,000 |
| 7 | $1,425,000 |
| 8 | $1,125,000 |
| 9 | $900,000 |
| 10-11 | $700,000 |
| 12-13 | $535,000 |
| 14-17 | $430,200 |
| 18-26 | $345,000 |
| 27-35 | $280,100 |
| 36-44 | $229,000 |
| 45-53 | $188,400 |
| 54-62 | $156,100 |
| 63-71 | $130,300 |
| 72-80 | $109,400 |
| 81-89 | $92,600 |
| 90-98 | $78,900 |
| 99-161 | $67,700 |
| 162-224 | $58,500 |
| 225-287 | $50,900 |
| 288-350 | $44,700 |
| 351-413 | $40,000 |
| 414-476 | $37,500 |
| 477-539 | $35,000 |
| 540-602 | $32,500 |
| 603-665 | $30,000 |
| 666-764 | $27,500 |
| 765-863 | $25,000 |
| 864-962 | $22,500 |
| 963-1004 | $20,000 |
| 1005-1249 | $17,500 |
| 1250-1507 | $15,000 |
Top 10 Largest WSOP Main Events in History
| Year | Entrants | Winner |
| --- | --- | --- |
| 2023 | 10,043 | ? |
| 2006 | 8,773 | Jamie Gold |
| 2022 | 8,663 | Espen Jorstad |
| 2019 | 8,569 | Hossein Ensan |
| 2018 | 7,874 | John Cynn |
| 2010 | 7,319 | Jonathan Duhamel |
| 2017 | 7,221 | Scott Blumstein |
| 2011 | 6,865 | Pius Heinz |
| 2008 | 6,844 | Peter Eastgate |
| 2016 | 6,737 | Qui Nguyen |
Follow Continued Live Coverage of the 2023 WSOP Main Event