Hustler Casino Live to Host Nosebleed PLO Games w/ Tom Dwan and Nik Airball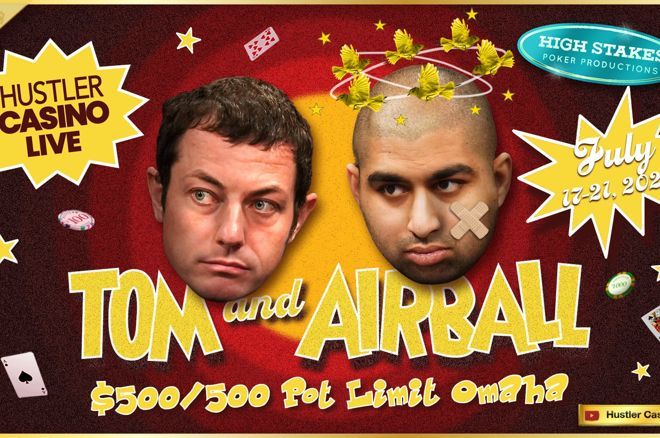 Table Of Contents
Hustle Casino Live is changing things up a bit with some upcoming massive stakes pot-limit Omaha games headlined by Tom Dwan and Nikhil "Nik" Airball.
The action runs July 17-21 on the popular live-stream cash game show from Hustler Casino in Los Angeles. There will be plenty of huge pots as the blinds will start at $500/$500 with a $2,000 big blind ante.
Full lineups for the games aren't yet locked in, but there will likely be a number of other familiar faces at the table.
Mixing it Up at Hustler Casino Live
For the past two years, no-limit hold'em has been the game of choice on Hustler Casino Live, and nearly every other poker show. That's because it is the most popular poker variant in the world. But there is an audience out there for other games, including, as Joey Ingram likes to say, the great game of pot-limit Omaha.
In the past, HCL hosted a few PLO games but at smaller stakes and without the familiar faces. Nick Vertucci, Hustler Casino Live's co-owner, anticipates a much larger audience this time around given how big the games will play. Ingram will certainly be among the fans in the YouTube chat.
https://twitter.com/Joeingram1/status/1677074342109409280
Competing with the $1 Million Games?
In May, Hustler Casino Live hosted four days of $1 million minimum buy-in games and they were a rousing success. Can the upcoming pot-limit Omaha streams compete with those epic games in terms of viewership and fan interest? That is the question that will be answered later this month.
Dwan competed in the most memorable of those $1 million games and won the largest pot in live-stream history — $3.1 million — when he caught "Wes Side" Wesley bluffing. He also won a seven-figure pot against Doug Polk, who was also bluffing.
On the final day of the $1 million games, there were more than 50,000 viewers tuned in throughout much of the night, and the other streams had over 25,000 viewers locked in consistently. There isn't an expectation for the PLO games to reach those lofty numbers, but the shows could serve as a barometer for PLO's popularity, and if all goes well, could potentially lead to more PLO on live-streams.
Tom Dwan Wins Largest Pot in Live-Stream Poker History