Nicholas Rigby Busts Chance Kornuth in a 200 Big Blind Pot on Day 5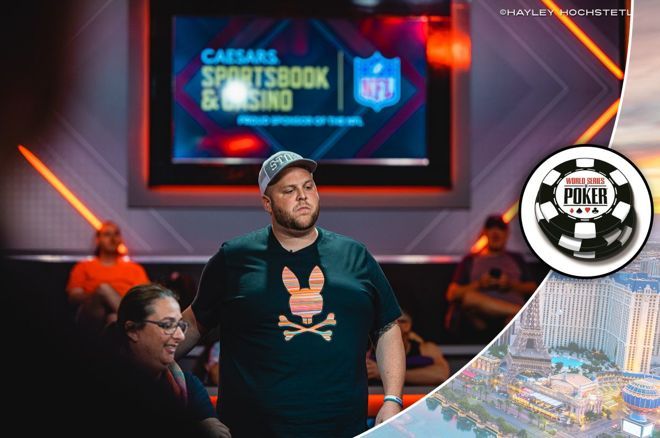 Day 5 of the 2023 World Series of Poker (WSOP) Main Event has provided some memorable moments, none more so than a huge pot played between Nicholas Rigby and Chance Kornuth, who busted in the hand.
Shortly after moving to the PokerGO feature table, Kornuth ran into a tough situation against one of the loosest and most aggressive players in the field, who also just so happened to be among the chip leaders.
2023 World Series of Poker Hub
Bookmark this page! All you need to know about the 2023 WSOP is here.
Tough Situation to Get Away from
With the blinds at 15,000/30,000 and players dropping like flies on Tuesday, Kornuth and Rigby were both in great shape above 100 big blinds. Action folded around to the button where Mr. Dirty Diaper looked down at A♦A♣ and raised it up to $100,000, a standard large-sized raise for the Pittsburgh poker player.
Kornuth, in the big blind, also had a monster — A♥K♥ — but was well behind the pocket aces. Still, the standard play with that hand in that spot is to three-bet it, which he did to the tune of 385,000, leaving about 2.7 million behind. Rigby then had a decision to make — four-bet or slow-play and just call. He went for the former and jammed all in.
When action returned to Kornuth, he took no time in making the call against the loose-cannon who isn't afraid to pull the trigger on a massive bluff. This time, however, the Chip Leader Coaching founder ran into Rigby's monster and needed some help if he were to win the 208 big blind pot (6,265,000). If not, he would be out of the world championship event on Day 5.
The flop came out J♦2♥9♦, leaving Kornuth only with backdoors to suck-out. When the 4♦ appeared on the turn, Rigby ran over to his rail and shouted, "let's f*****g go," as he knew it officially wrapped up the hand for pocket aces. Kornuth was out in 301st place, which paid $44,700, while Rigby chipped up to well over 6 million.
https://twitter.com/PokerGO/status/1678910904099020800
Rigby had bluffed off a significant portion of those chips, and lost a number of other pots, and was down to under 2.3 million at the time of publishing. He finished 52nd in 2021 in the Main Event after running through a monster stack. His loose-aggressive style of play and willingness to play nearly any two cards works at times and works against him at others.
Follow Continued Live Coverage of the Main Event