Daniel Negreanu Beats Doug Polk in High Stakes Duel 4 Round 2 to Win $200K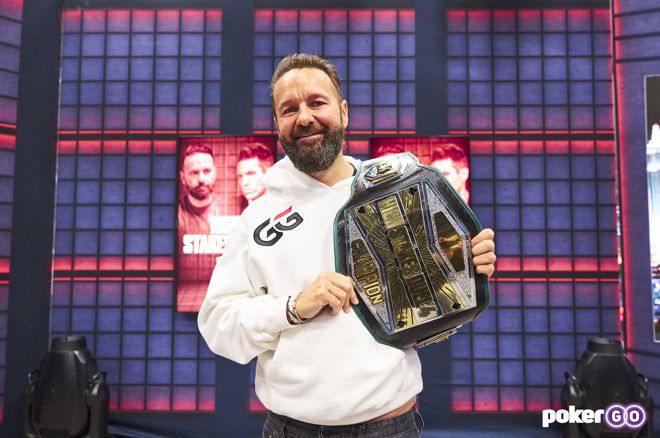 On Thursday night, High Stakes Duel 4 Round 2 took place at the PokerGO Studio in Las Vegas. The first round, which took place back in May, saw Daniel Negreanu defeat Eric Persson to win $100,000, which was the buy-in for the second-round match against his one-time nemesis Doug Polk.
Ali Nejad and Brent Hanks were on commentary as Polk and Negreanu, who back in 2020 and into 2021 squared off in a highly-publicized heads-up match that ultimately saw the latter lose $1.2 million, started with 100,000 in chips apiece and played 30-minute levels.
After approximately three hours of play, it was Negreanu defeating Polk in a match defined primarily by small pots with occasional medium ones, almost all of which went Negreanu's way. It was a relatively slow and methodic match between two players well-versed in heads-up play.
Negreanu now has the option to cash out of the Duel, which would net him a $150,000 profit, or he could offer Polk a rematch in which, if accepted, both players would put up $400,000. As of press time, Negreanu hadn't declared his intention either way.
Here's a look at some of the noteworthy hands played in the match.
"I Think They Would Be Annoyed"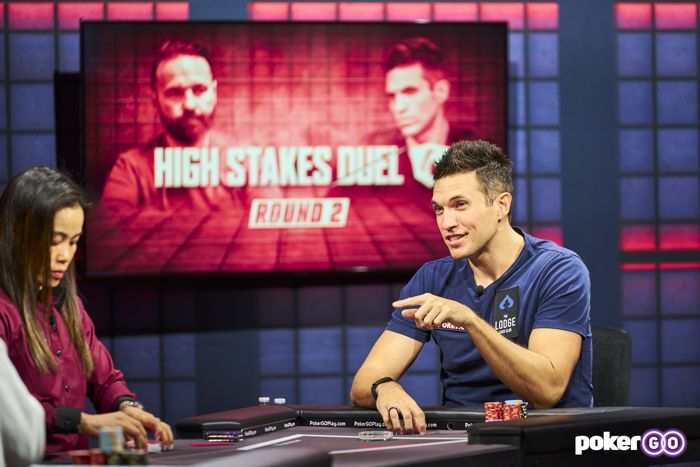 The first notable hand took place about 15 minutes into the episode and began when Polk raised the button to 1,000 holding the 5♣4♣ and Negreanu three-bet to 4,000 with the A♠J♦. Polk called and the flop fell A♦7♣3♣ to give Negreanu top pair, which he bet to the tune of 4,000.
Polk, who had a double gutshot straight draw to go along with a club flush draw, then raised to 12,000 and Negreanu called to see the K♠ turn. Negreanu check-called a bet of 21,000 and the 2♣ appeared on the river.
Negreanu checked and Polk, who made his flush, moved all in for 56,600 into the pot of 74,000. Negreanu gave it some thought and chirped, "I think they [the production] would be annoyed if I paid off and we were done for the day."
He gave it a minute or so of further contemplation before making the laydown. Polk then showed his hand before taking a 130K to 70K chip lead.
https://twitter.com/PokerGO/status/1645153919973343233
Flopping the Stone Nuts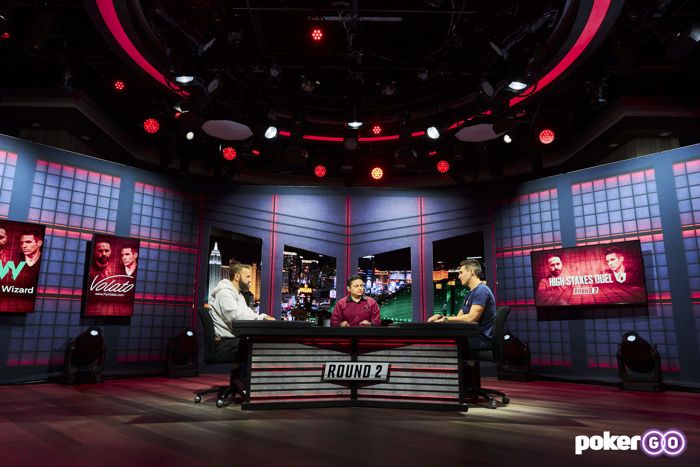 The pair jostled in small pots for more than an hour before some fireworks happened. It happened when Negreanu raised to 1,500 holding the A♣J♣ and Polk three-bet to 6,000 with the K♣3♦. Negreanu wasn't going anywhere and called only to flop the joint when it came down 4♣8♣10♣.
Polk had the second-nut flush draw and continued for just 2,000, which "Kid Poker" flatted. The 2♠ turn was a brick but Polk kept the pressure on with a bet of 11,000 into the pot of 16,000. Negreanu, who held the stone-cold nuts, just called yet again and the 7♦ completed the board on the river.
Polk missed the flush, fortunately for him, but he didn't slow down as he fired a third barrel by tossing out 26,000. Negreanu paused for a few beats before moving all in and Polk snap-folded. With that, Negreanu took the lead for the first time in the match up approximately 125K to 75K.
https://twitter.com/PokerGO/status/1694884799138459831
River Takes Away Chopped Pot
With the blinds at 500/1,000, Polk raised the button to 2,300 with the A♣2♥ and Negreanu defended with his A♠3♥. Action went check-check on the 10♣8♣J♦ flop and the dealer burned and turned the A♥.
Negreanu checked, Polk bet 4,400, and Negreanu called to see the 3♦ on the river, which gave him two pair and took away the chopped pot. Negreanu checked again and Polk, no doubt thinking that he was betting for value, put out 9,400.
"Ace," Polk said confidently.
"Aces up," Negreanu responded while tabling his hand. It wasn't a huge pot, but did allow Negreanu to pull out to a 3:1 chip lead.
Final Hand of the Match
In what would be the final hand of the match, the blinds were 600/1,200 when Polk looked down at the 9♠7♠ on the button and raised to 2,500. Negreanu held the A♦10♥ and called to see a flop of 6♣K♣8♦.
Negreanu checked and then called a bet of 1,700 from Polk, who flopped an open-ended straight draw. The A♥ on the turn paired Negreanu and he check-called another bet, this time 8,400.
The Q♣ river was of no consequence and Negreanu checked for the third time. Polk emptied the barrel by moving all in for 54,100 and Negreanu gave it just a little thought before calling to close things out.
"Good game," Polk offered.
"Good game, bud," Negreanu replied.
https://twitter.com/PokerGO/status/1694907455879139819
High Stakes Duel Records
| Player | Record |
| --- | --- |
| Phil Hellmuth | 9-2 |
| Daniel Negreanu | 2-3 |
| Tom Dwan | 1-1 |
| Jason Koon | 1-0 |
| Antonio Esfandiari | 0-3 |
| Scott Seiver | 0-1 |
| Eric Persson | 0-1 |
| Nick Wright | 0-1 |
| Doug Polk | 0-1 |
*Images courtesy of PokerGO.
Executive Editor US, PokerNews Podcast co-host & 2013 WSOP Bracelet Winner.