How Phil Hellmuth Won $800,000 With His Perfect Reads in High Stakes Duel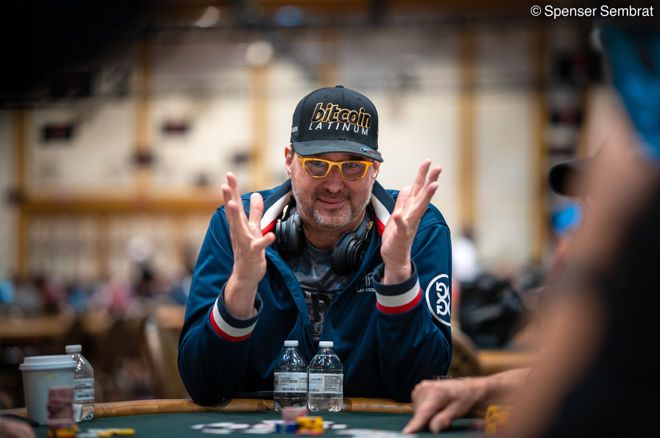 In Round 4 of the High Stakes Duel, Phil Hellmuth battled last-minute opponent Scott Seiver for a staggering $800,000. This poker hand highlights exactly why Hellmuth should still be considered one of the greatest poker players ever.
Time and time again in these heads-up matches he has come from behind and defeated his opponents. Daniel Negreanu, Tom Dwan and Antonio Esfandiari have all felt the painful losses to the poker brat.
In this hand, Hellmuth goes into zoom-zoom mode on the river when he check-raise bluffs Seiver who has just hit a pair.
Did he use his famous white magic once again and make the perfect read? Or can Seiver figure out this weird line and make the correct call?
Read about Hellmuth's Round 5 duel against Jason Koon!
The hand kicked off with blinds of 2,000/4,000 and Seiver completing on the button with
. Hellmuth in the big blind then raised to 29,000 holding
. Seiver called.
Seiver's limp is a fine strategy playing 29 big blinds effective, especially if you think your opponent will move in on you sometimes when you raise. Because you really don't want to raise and then have to fold a hand like nine-eight suited. Hellmuth then makes a standard raise and Seiver makes a fine call with his suited connector.
The flop landed
to miss both players and Hellmuth checked. Seiver bet 18,000 and Hellmuth called.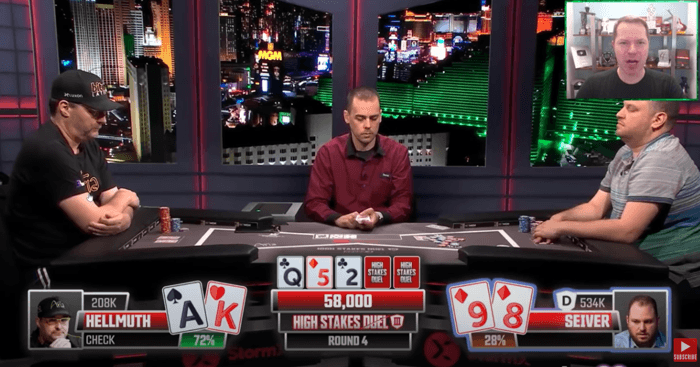 While some players may think they should continuation-bet every time they raise before the flop, that is not the case. Especially from out of position, you need to mix in some hands as a check. And some of those hands include those that can confidently check-call, including ace-high hands with an additional overcard. So I like Hellmuth's check here.
I like Seiver's small bet with his backdoor draw that has no showdown value, because if Hellmuth folds Seiver wins the pot and if Hellmuth raises Seiver can easily fold. And if Hellmuth does call, he can continue bluffing if he turns a draw.
Hellmuth checked again on
turn and Seiver checked back, which I think is the right play as this card completely misses him. He should check with the intention of folding if Hellmuth bets the river or possibly going for a river bluff if Hellmuth checks.
The
landed on the river to give Seiver the best hand with a pair of eights and Hellmuth checked. Seiver bet a small 30,000 to put Hellmuth in a tricky spot.
What would you do as Hellmuth in this spot with
?
If you said raise, that's exactly what Hellmuth did as he bumped it up to 110,000. This puts Seiver in a tough spot on the river because players who check-raise here are usually going to have something like a straight. That said, does Hellmuth's range really include the random seven-six on the river after check-calling the flop?
In this scenario, I think Seiver's blockers to the straight don't actually matter all that much. Instead, I think Seiver wants to block random two pairs whenever he calls. But there aren't a lot of two pairs that would make sense for Hellmuth on this board, so I think the best hands Hellmuth would have here are aces, kings or ace-queen.
This is a weird spot where Seiver has to figure out if Hellmuth has it. And if you've watched any of my videos or ready my strategy columns, you know that opponents usually have the goods when they check-raise the river.
Seiver ended up folding, which I do not fault him for at all in this scenario. Hellmuth shows us once again why he is not a normal player by finding the river check-raise and getting a fold out of Seiver.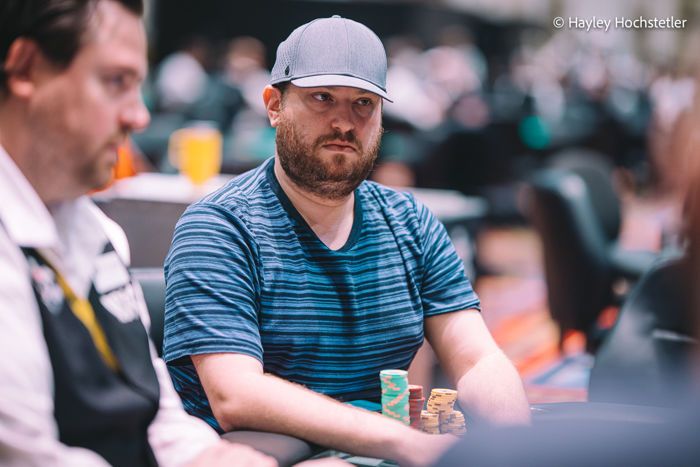 Hellmuth won the pot and continued running hot to win the the heads-up match for $800,000 and to extend his High Stakes Duel record to 9-1.
For more on this hand check out my breakdown in the following video:
Jonathan Little is a professional poker player and author with over $7,000,000 in live tournament earnings. He writes a weekly educational blog and hosts a podcast at JonathanLittlePoker.com. Sign up to learn poker from Jonathan for free at PokerCoaching.com. You can follow him on Twitter @JonathanLittle.